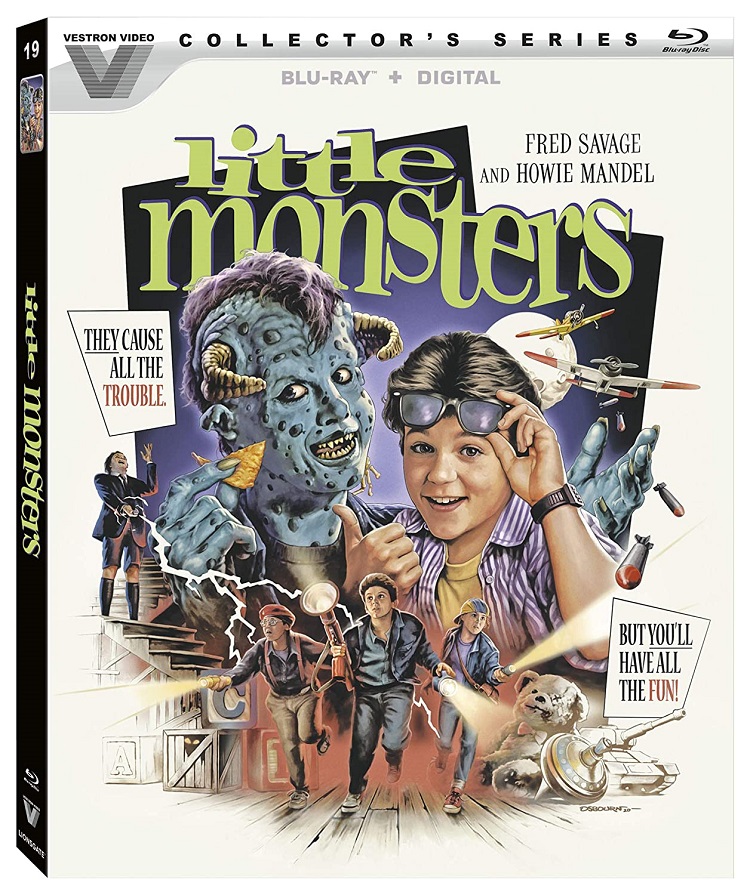 Richard Alan Greenberg's Little Monsters (1989) is definitely a kid's film. Not a family film nor a film for young children, but a film created with a kid's, specifically a young boy's, sensibilities, and in that sense it succeeds.
Eleven-year-old Brian Stevenson (Fred Savage) and his family have just moved into a new home. Something suspicious happens in the middle of the night. His father Glen (Daniel Stern) assumes it was Brian, but Brian's younger brother Eric (Ben Savage) claims it was a monster. To prove his brother wrong, Brian sleeps in his bedroom only to discover a blue-skinned monster named Maurice (Howie Mandel). They become friends and Maurice reveals to Brian a monster underworld that is reminiscent of Pleasure Island from Pinocchio if it were run by Beetlejuice. It is kid's dream filled with games and junk food and it lacks parental supervision so everyone can do what they want.
At first, Brian has a blast befriending Maurice, even when Maurice pranks the school bully by pissing in his apple juice; however, when they venture out with a group of monsters to scare an infant, it's too much for Brian and being a monster no longer seems fun. His rejection leads another monster to kidnap Glen, who Brian has to rescue, which is complicated because Brian discovers he's turning into a monster.
Little Monsters presents a familiar story about a boy discovering a world without rules or parents can only be fun for so long. The plot offers an interesting twist about Maurice's motives not being all that they seem, but then things confusing as when the villain, Boy (Frank Whaley) is introduced. He seems to want Brian specifically although it's not clear why he would want one kid over another. The rules of the monster underworld are explained by magic, which means they don't have to be explained.
Fred Savage embodies the character well and never feels like he's acting. It's a treat to see him on screen with Daniel Stern, who plays his future self on The Wonder Years. Howie Mandel brings the right amount of manic energy to Maurice. The production design team led by Paul Peters do a fantastic job creating the monster underworld.
The video has been given a 1080p AVC/MPEG-4 encoded transfer displayed at aspect ratio of 1.78:1. Color hues are bright. Blacks are inky, but can crush, especially in dark monster underworld sequences. Image exhibits film grain, which gets too busy in some scenes, like when Brian's mom gives him a flashlight. Occasional white specks are noticeable.
The audio is available in DTS-HD Master Audio. The dialogue is clear and comes from the front speaker. David Newman's score fills the surrounds, but the music during the sequence of Brian setting traps causes the subwoofer to distort.
There are new special features. The ones with video are in HD:
Audio Commentary with Jarret Gahan, Editor-in-Chief of CultofMonster.com
Isolated Score Selections and Audio Interview with Composer David Newman
"Call Him Maurice" (19 min) – Actor Howie Mandel discusses working on the film, amusing.
"Beneath the Bed" (14 min) – Producer Andrew Licht talks about what it took to make the film. Very informative about the business, including tidbits that Brad Bird and Macaulay Culkin were almost involved.
"Monsters Big & Small" (15 min) – Special Makeup Effects Creator Robert Short offers his entry and early career in show business, started as a stunt man. Includes archival material.
As well as old special features in SD:
Vintage Interviews (SD, 29 min) with Actors Fred Savage, Ben Savage, Special Makeup Effects Creator Robert Short, and Director Richard Alan Greenberg
Behind-the-Scenes Footage (SD, 12 min)
"Making Maurice" (SD, 16 min) – Vintage Footage of Howie Mandel's Makeup Transformation
Vintage EPK & VHS Promo (SD, 9 min)
Theatrical Trailer (SD, 1 min)
Still Gallery
Little Monsters is a fun romp for children, but adults with no nostalgic attachment to it might find it too silly and gross. The Blu-ray from Vestron Video offers a satisfactory high-def presentation and a number of special features that will please fans wanting to learn more about it.