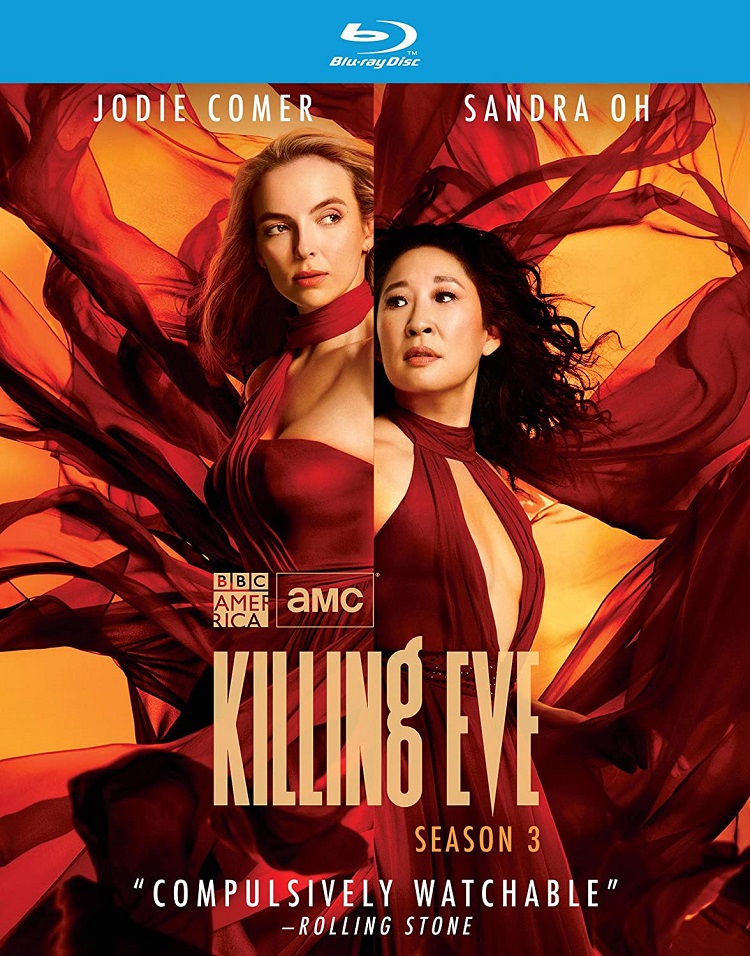 Killing Eve is a weird and wonderful show. The cat and mouse attraction/repulsion between British intelligence agent Eve Polastri (Sandra Oh) and a female assassin who calls herself Villanelle (Jodie Comer) has sustained audience interest since its premiere in 2018. Its first season was outrageous and acclaimed – by critics and the public – and highly awarded. Phoebe Waller-Bridge (Fleabag) was the head writer and executive producer for the first series, and her trademark wit was evident in the show's mix of girl power and black humor.
The second season upped the ante (especially violence) and was produced and written by Emerald Fennel (The Crown, Call the Midwife). Throughout that series, Eve and Villanelle were involved in a desperate, push-pull dance to the death (almost).
The newly released on Blu-ray third season had a lot to live up to. Could it top the theatrics and high-stakes emotions of the first two seasons? Wisely, this season's show runner, Suzanne Heathcote (See, Fear the Walking Dead), has taken the show and its two female protagonists in a slightly more introspective direction. One of the best but strangest aspects of the show is how assassin-for-hire Villanelle, who murders her victims in ever more brutal and inventive ways, can still capture not only the audience's (and Eve's) interest, but our sympathy. Part of this is due to Jodie Comer's great performance as the mercurial killer. But season three takes Villanelle (real name Oksana) on a trip into her past. The well-dressed psychopath may or may not learn and grow from her experience of looking into her roots, but the viewer certainly does, as we meet her family and learn more about her origins. We also meet Dasha, Villanelle's original trainer and recruiter – and a former Olympic gymnast turned assassin – brilliantly played by Harriet Walter.
Conversely, Eve, whose single-minded pursuit of Villanelle was beginning to border on annoying last season, is now plunked in the middle of a whole new set of characters, who open up the cast and help both Eve and Villanelle function in a less airless environment. The always wonderful Fiona Shaw (Fleabag, Harry Potter films) returns as Eve's supervisor Carolyn, and we meet her crunchy granola daughter (Gemma Whelan), who vainly tries to break through her icy reserve. Also great is Kim Bodnia (Bron/Broen) as Konstantin, Eve's ex-handler. Sometimes adding more cast members can seem like a bad move for an established show, but these characters only add to the proceedings, reminding us (and Eve and Villanelle) that their relationship really is something undefinable.
And that is the crux of Killing Eve and why we keep watching. Two strong women, whose ever-evolving relationship goes beyond love, hate, or sex. They are bound together in ways they don't even understand. This stylish show may pile on one more ridiculous, improbable, or impossible set piece after another, but it all somehow works. Killing Eve gets to the etheral pleasure of watching televsion, and it is as colorful and outrageous as Eve's fabulous fashion choices.
Killing Eve Season 3 is in color. It includes two Blu-ray disks with a running time of 5 hours, 36 minutes. It is in high-definition widescreen format, 1080p/aspect ratio 1.78:1. It is in English with SDH subtitles available. Audio is DTS-HD Master Audio 5.1. Blu-ray extras include 24 minutes of bonus behind-the-scenes featurettes: "The Spice Kill," "The Bitter Pill," "Meet the Team," "Konstantin's World," "The Family Home," "The Locations," "Dasha," and "Psychology of a Killer."