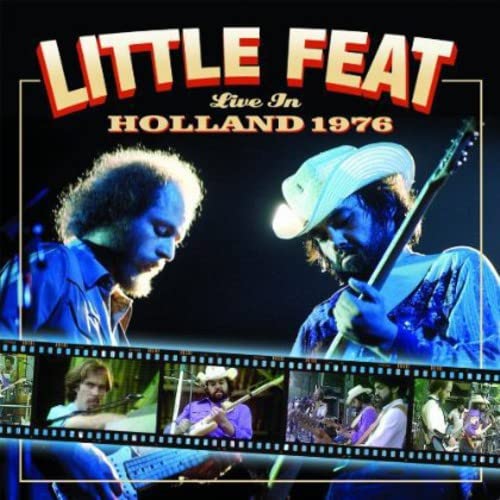 They call themselves "Featfans," and are to Little Feat what the Deadheads are to the Grateful Dead. Recently the Featfans networks lit up in a big way over the announcement that Eagle Rock would be releasing Little Feat's Live in Holland 1976, in a DVD + CD package. There is precious little footage of the Lowell George years, and this set adds another 54 minutes to the existing stock. Featfans, rejoice for the group are in their prime here.
Little Feat were probably the musician's band of the Seventies. They never reached the stratospheric sales of Led Zeppelin, and none of them had the kind of name recognition of an Eric Clapton, but both Jimmy Page and Clapton were major fans. The group have had numerous lineups since forming in 1969, but the biggest blow came in 1979 when founder Lowell George died.
I first got into them with the double-live Waiting for Columbus album from 1978. As much as I love that record, it is always a little sad to know that I will never have the chance to see them with George. I have seen a couple of clips with him on YouTube, but that was all I thought there was. And now we have a full performance, with Little Feat playing the Pinkpop Festival on June 7, 1976.
The four-camera coverage is excellent, and the film has been well-preserved. The line-up is still the "classic" Little Feat, with Lowell George (vocals, guitar), Bill Payne (keyboards, vocals), Richie Hayward (drums), Paul Barrere (vocals, guitar), Sam Clayton (percussion), and Kenny Gradney (bass). Those in the know consider this to be the peak of the group, and their final two years would see them in a bit of a decline. We now know that situation mirrored what was going on with the decline of founder Lowell George himself.
This being a festival rather than a Little Feat concert, the band play an abbreviated set of 11 songs. Nine of these are on the DVD, which omits "One Love Stand" and "Oh Atlanta." The band chose the songs well though, and open with a searing version of "Skin it Back" followed by "Fat Man in a Bathtub" for a powerful one-two punch.
On the DVD, "Rock and Roll Doctor" keeps up the energy, but it is "All That You Dream" that gets my nod as the first major highlight. Although George did not write this tune, he invests it with a strong vocal, and the introductory guitar solo from Paul Barrere is a stinger. His greatest guitar-hero moment comes during the ten-minute "Dixie Chicken," jam, as he positively lights the stage on fire.
The band go from peak to peak during the final two numbers, "Triple Face Boogie" and "Feats Don't Fail Me Now," which bring the crowd way up. They encore with a still-smoking "Teenage Nervous Breakdown," in which George solos with his slide, leaving everyone wanting more.
The big knock against Little Feat was that they were too laid back on stage, but that was their style. I suppose they could have been a little more animated and charismatic in delivering it, but ask a Featfan if that makes the slightest bit of difference to them.
Live in Holland 1976 is a treasure for fans, without question. It is also the perfect place to begin for the curious. The songs are some of their finest, this is the classic lineup, and the quality is excellent. There is really no excuse for anybody who likes music to not own this one.