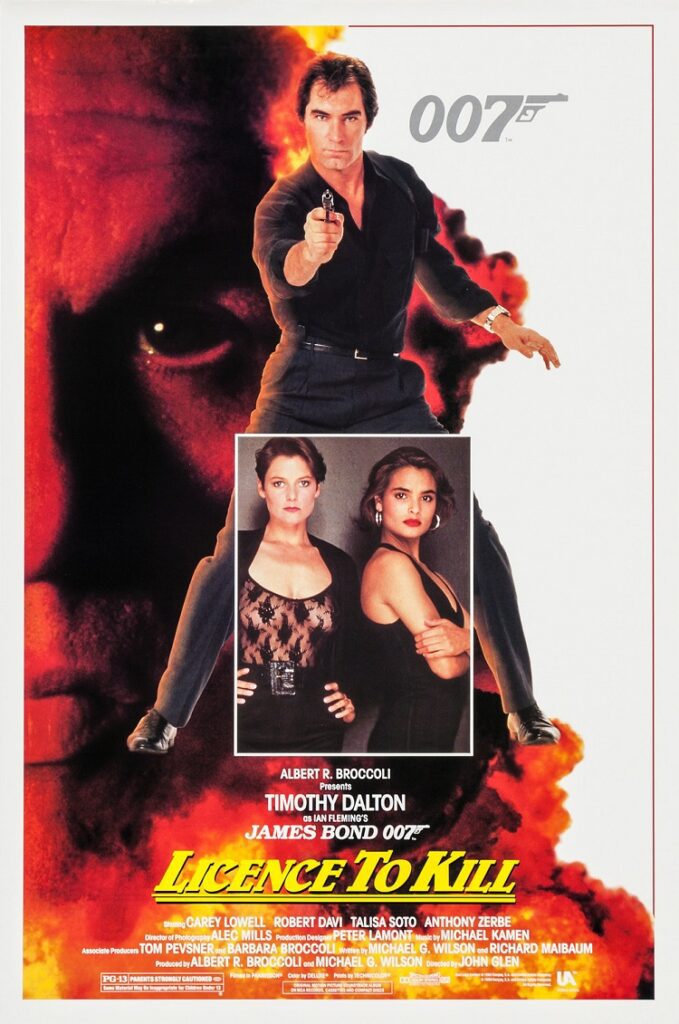 Licence to Kill is the 16th installment in the James Bond franchise and was the second and ultimately final appearance for Timothy Dalton. The film has a bad reputation, which is likely influenced by its grim tone and poor box-office performance. Though it may appear Dalton's departure was a response to the latter, he was originally contracted for three films, but as a result of legal matters tying up the production for so long, he eventually moved on in 1994. After rewatching Licence to Kill, it was much better than I remembered and I'm not sure why it's held in such low esteem.
As previously mentioned somewhere, Roger Moore was my first James Bond in For Your Eyes Only, and as the franchise progressed, I didn't care for how the films and the character grew increasingly cornier. After Moore's tenure ended, the producers of The Living Daylights decided on a more serious treatment of the material, which was very refreshing and resulted in a cinematic Bond that at the time most resembled the character in Ian Fleming's novels. Licence to Kill pushed things even farther, telling a gritty, realistic story that is personal for Bond rather than the usual fantasy about a cartoon villain attempting to take over the world or obtaining great wealth.
The film opens with Bond in Miami, accompanying CIA agent Felix Leiter (David Hedison, who last played the role 16 years previously in Live and Let Die) to his wedding. But duty calls and the two are whisked to the Bahamas where drug lord Franz Sanchez (Robert Savi) has surfaced. There's some very good stunt work early on as Bond is lowered by cable from a helicopter onto Sanchez' plane in order to capture him.
While in custody, Sanchez offers $2 million to anyone willing to help him escape. Naturally so early into the film, someone takes the deal. As he is being transported across a bridge, the truck goes into the water and scuba divers rescue Sanchez. The drug lord gets his revenge by having Leiter's bride raped and murdered and feeding Leiter to a shark.
Bond is furious, and though not mentioned, fans of the character know his anger is fuelled in part because his own wife had been murdered due to the enemies gained through his line of work. M (Robert Brown) orders Bond onto his next mission but he refuses, offering his resignation from MI6. M revokes his licence to kill, but that's not going to stop Bond. He goes after Sanchez, first by disrupting his drug shipments, and then he poses as an assassin in order to infiltrate his operation and destroy it. Look for a young Benicio del Toro
But Bond doesn't do it alone. In his inimitable fashion, he receives help from two beautiful women: Lupe Lamora (Talisa Soto), Sanchez' girlfriend who sees Bond as her escape, and Pam Bouvier (Carey Lowell), a CIA agent and pilot. Also offering assistance (unofficially) is Q (Desmond Llewelyn), who lightens the film's dark mood with his genial nature. Aside from gadgets, he also gets to do some fieldwork, which is a treat for fans.
The film concludes with an action sequence involving tanker trucks, desert roads, and explosions. There is an absolutely ridiculous stunt with a truck when Bond avoids a stinger missile by popping one side of the truck up in the air. As silly as it is, damn if some stuntman didn't pull it off, which always earns a bit of respect.
Not only was Licence to Kill Dalton's last Bond film. Many others also made their last contribution to the franchise. They include producer Albert R. Broccoli, although he was credited as a consulting producer on GoldenEye. Title designer Maurice Binder worked on all but From Russia with Love and Goldfinger, though in those they reused his gun barrel sequence from Dr. No. Screenwriter Richard Maibaum wrote all but You Only Live Twice, Live and Let Die, and Moonraker. John Glen directed the five films of the '80s and served as film editor and second unit director on On Her Majesty's Secret Service, The Spy Who Loved Me, and Moonraker. Robert Brown played M four times consecutively, starting with Octopussy. He also played a similar character, Admiral Hargreaves, in The Spy Who Loved Me. Editor John Grover worked on For Your Eyes Only, The Living Daylights, and Licence to Kill. Caroline Bliss played Moneypenny in both Dalton films, which also saw Alec Mills serve as cinematographer. He was a camera operator on many others.
Licence to Kill is a gripping thriller that believably finds the character at his darkest. Fans of Fleming's novels should enjoy it, but for those who watch Bond films purely for escapism and amusement, this film won't be the one for them. I wish Dalton had been able to return to the role, but maybe it's for the best because the Pierce Brosnan films were very disappointing in this writer's opinion.
Operation: BOND will return with GoldenEye.