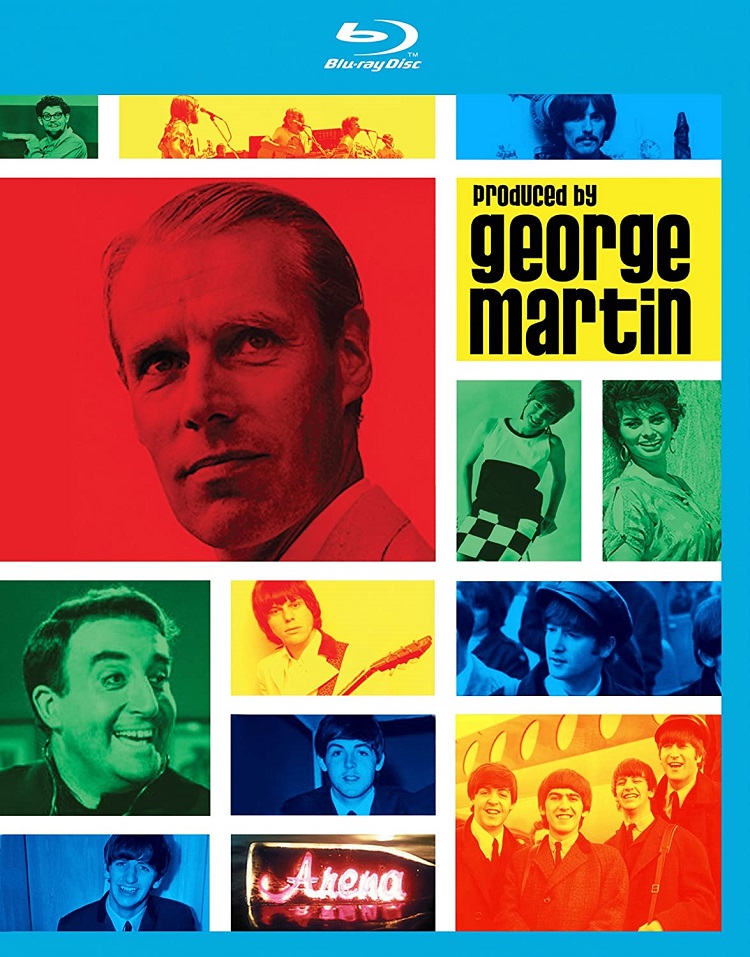 "Produced by George Martin." Those four words rightly conjure up images of The Beatles, as Martin was considered by many to be their fifth member, bringing to life the wild ideas they had in their endlessly creative minds. It's also the name of a new documentary, originally shown on BBC television and now available on Blu-ray, that shows Martin was far more than just The Fab Four.
Martin, who originally fancied himself as "Rachmaninoff the Second," wanted to be a classical composer but World War II got in the way. Martin joined the Royal Air Arm, where he served as an observer on flight missions, a skill that Paul McCartney says in the documentary served him well in his later life as a producer as while he wasn't flying the plane, he was the boss. After Martin's time in the service, he went to the Guildhall School of Music, where his oboe teacher was the mother of Peter Asher of Peter and Gordon fame. Needing a paid job, he found work at EMI, which he had never heard of. He got work and later became the head at Parlophone, the smallest label at EMI. There he not only produced classical pieces, but also comedy albums by the likes of Peter Sellers and novelty children's records such as "Nellie The Elephant" by Mandy Miller. The onset of rock and roll however meant that Parlophone had to change with the times. A chance meeting with Brian Epstein was soon to change Martin's life. Epstein introduced him to The Beatles' music, playing him a tape, which Martin thought was "rubbish." Still, he liked their charisma and invited them to the studio to perform, eventually signing them to the label. Little did he know they'd become the biggest band of all time.
Martin's story could have ended there and still be remarkable, but there is much more to the picture. In the mid 1960s, he became independent from EMI, producing such acts as Gerry and the Pacemakers and Cilla Black. He built a series of studios, most notably AIR Studios in Montserrat, where artists such as Paul McCartney, The Police, and Stevie Wonder recorded. After the Beatles, he worked with the likes of Jeff Beck and America, playing piano on their track "Tin Man." The studio in Montserrat was ravaged by Hurricane Hugo in 1989. George and Judy Martin visited the site for the documentary, and the after effects still pain him to this day. His later opened a new AIR Studios in London.
While at EMI, Martin met his future wife, Judy. Their son, Giles, followed in his father's footsteps as a record producer himself, coproducing The Beatles' Love album. Much of the documentary is done as a conversation between Giles and George Martin, with additional interviews by Paul McCartney, Ringo Starr and Monty Python's Michael Palin, among others. Each offers their own unique take on Martin's career, with Palin focusing on the comedy and McCartney commenting that The Beatles wondered why they got stuck with the comedy producer initially.
The Blu-ray contains 52 minutes of additional interviews not shown on the original TV broadcast. The picture is in 1080i high definition widescreen 16×9 (1.78:1) with LPCM Stereo audio.
Throughout the film, Martin is portrayed as what he is — a great producer and a real gentleman in the industry. He and Judy open up their spectacular garden twice a year to the public for charity. Sadly, due to hearing loss, he is unable to listen to much music these days, as it is simply painful for him. Still, he takes everything in stride, enjoying the life he has had. Produced By George Martin is an interesting portrait of a remarkable man.