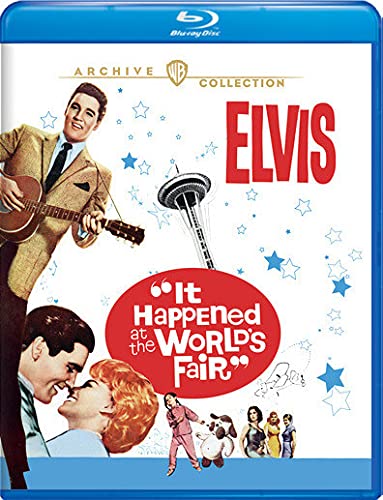 Elvis Presley starred in dozens of films in the '50s and '60s, and many of them were quite entertaining. This isn't one of the better ones. Elvis is totally fine in the film, but he's hampered by a bizarre script and a lackluster leading lady in the icy Joan O'Brien.
Elvis plays a pilot named Mike, not a commercial airline pilot but a journeyman single engine plane pilot who works wherever he can find odd jobs, such as crop dusting or making special deliveries. When his co-pilot and business partner Danny (Gary Lockwood) loses a bundle gambling, their plane gets impounded and they're forced to hitchhike to find work wherever the road leads.
A kindly Chinese gentleman travelling with his young niece picks up the hitchhikers and takes them to Seattle, where the World's Fair is conveniently open for business. Here's where the plot gets a bit dicey. The uncle decides to let his seven-year-old niece go to the World's Fair with this complete stranger (Elvis) he just picked up hitchhiking, then completely disappears when he gets in a car accident and gets hospitalized, leading to Mike becoming the de facto ward of the girl for days on end. Meanwhile, Mike just wants to scout the single ladies in town, such as the businesslike nurse Diane (Joan O'Brien) he meets when seeking assistance for the girl's tummy ache he caused by stuffing her with sweets from the fair.
O'Brien has zero chemistry with Elvis, even after her stoic character softens and falls for the dreamy stranger. The Elvis films are much better with fun leading ladies who can match his energy, such as Ann-Margret in Viva Las Vegas, or Shelley Fabares, who holds the record after co-starring with him in three films. The little girl and Gary Lockwood are okay, but nothing special. That leaves Elvis to generate all the charisma in the film, a feat he nearly pulls off with his natural charm and ten song performances. Oh, and he also gets an assist from a very young Kurt Russell, years before even his Disney career, who has a humorous bit part requiring him to kick Elvis. Seriously, look how young he is: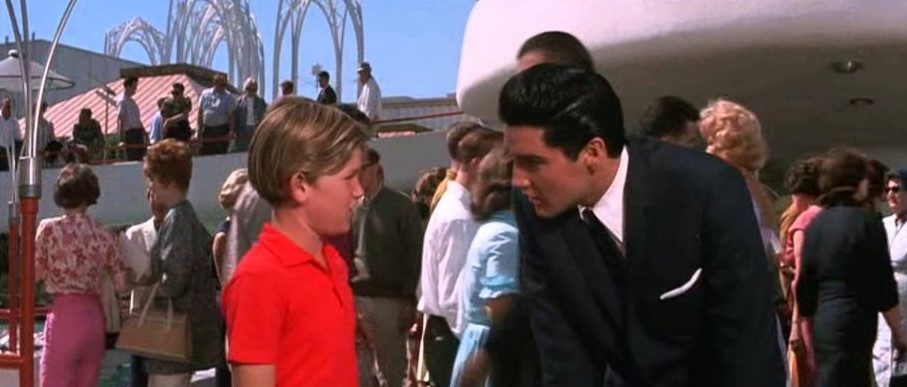 Unfortunately, the film is also saddled with its existence as a travelogue for the actual 1962 Seattle World's Fair, so scenes are shoehorned into the fairgrounds with no regard for plot. The most glaring example of this is when Mike is injured and needs food immediately, so the nurse drags him to the crowded restaurant at the top of the brand new Space Needle instead of just grabbing something fast from the nearest food vendor. Oddly, aside from that scene, the actors don't seem to have spent much time at the fair, as many other moments were shot on a soundstage with fair footage projected behind the actors, and the one musical performance in a crowd is clearly shot with a stand-in from far away, cutting to soundstage closeups of Elvis. It's somewhat understandable that the mega-star Elvis couldn't have maneuvered freely around the heavily populated fair, but it feels like a big cheat for the film to have that title and then not have much actually happen at the fair.
Thankfully, the super crisp and clean restoration makes the experience better for this debut Blu-ray release, as there's no evidence of any debris or scratches, and the DTS-HD Master Audio 2.0 mono soundtrack is burnished to perfection. There are no bonus features aside from the theatrical trailer.
It Happened at the World's Fair is now available on Blu-ray from Warner Archive and select retailers. For more information, visit the Warner Archive website.