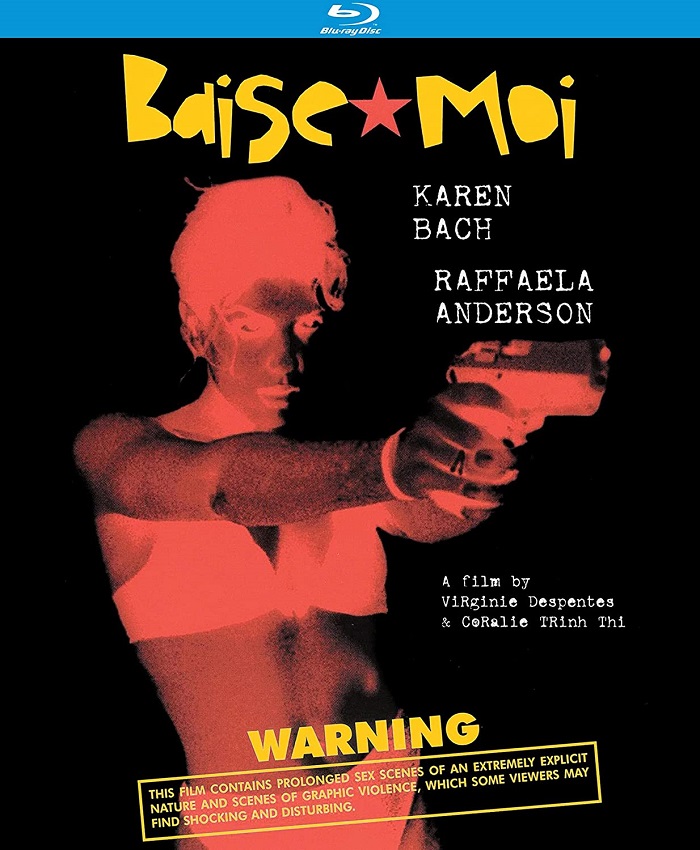 When it comes to seeking out new films to watch, I sometimes let my curiosity get the better of me. I want to keep an open mind and want to give lots of them the benefit of the doubt, but during certain cinematic experiences, I just can't help but wag my finger at them. Unfortunately, I have to say that filmmakers Virginie Despentes and Coralie Trinh Thi's controversial 2000 French extremity Basie Moi, is definitely ones of those.
Based on a novel by Despentes, the movie centers on two women: Manu (Raffaela Anderson), a passive young porn star, abused and neglected often. After killing her brother, she leaves on her own, only to encounter Nadine (Karen Bach), an equally passive, but fed-up prostitute. Feeling angry and rejected by society, they go on a wild and bloody crime spree, one that is filled with graphic sex and grisly violence. Feeling that there's really nowhere to go, and with the law after them, they decide to kill themselves. In the end, Manu is shot and killed in a gas station. Nadine wraps her up in blanket and sets her on fire. She goes to the sea to shoot herself, but is quickly captured and arrested.
That's pretty much it. It's essentially an 1 hour 17 minutes, twisted road trip paved with unnecessarily extended scenes of sex and violence that seems to be there just for shock value. It doesn't help that the two leads are really unlikable people who don't seem to have any shred of dignity and humanity. Ironically enough, both actresses are porn stars in real life, so their acting is uninspired and not engaging in the least. I hate to be very negative while doing this review, but this movie didn't win me over.
Despite that, I have to actually commend the filmmakers for making this movie as raw as they could get (for better or worse), and it looks more like a documentary on female rage. And it is a short feature, so I'll give it that, but not anything beyond that.
I was surprised that this was picked up by Kino Lorber. I thought that a movie like this would have been released by some underground studio. But, the Blu-ray does have some decent special features, like a new commentary by film historian Kat Ellinger; a 40-minute documentary featuring interviews with Despentes, Trinh Thi, Anderson, and Bach; a Q&A with Despentes and Trinh Thi, and trailers of this and 2009's Thirst.
Overall, I regret requesting this, I'm sorry to say. I obviously don't think that I'll revisit it in the future. I wanted to view it as a fearless feminist statement, but couldn't do that. If you happen to think that it's worth watching, then more power to you. Just prepare yourself.