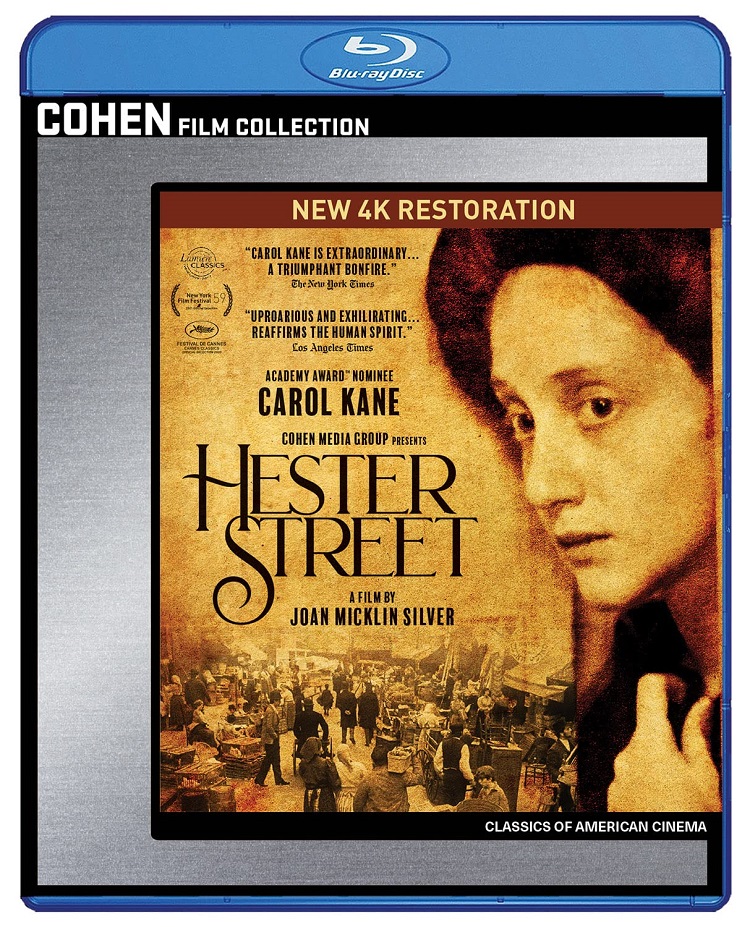 There have been so many films about immigrants trying to make a new life in America. Some of them immediately immerse themselves to their new existences, while others have tribulations about giving up their old ones. The late, great Joan Micklin Silver put her own feminist spin on this most relevant of themes/stories with her beguiling 1975 masterpiece Hester Street, which is one of the great examples of the hopes and tragedies immigrants face in their new world.
Based on a novel by Abraham Cahan, the film stars the late Steven Keats as Yentel, a Jewish immigrant living in 1890s New York City. He now calls himself "Jake", has a job in a sweat shop, and is an affair with Mamie (Dorrie Kavanaugh), a dancer. He has been living in the States for some time and has seamlessly adjusted to the American way of life. However, his self-involved comfortability is cut short when his wife Giti (the great Carol Kane in an astonishing, Oscar-nominated performance) arrives with their son Yossele (Paul Freeman), whom Jake now affectionately calls "Joey". Giti obviously has a difficult time trying to get used to her new life, while also being constantly ridiculed and rejected by Jake. When she finds out about his affair with Mamie, she decides that enough is enough, and with the help of Mrs. Kavarsky (the late Doris Roberts), she finally breaks free and reclaims her life, while also getting engaged to Bernstein (Mel Howard), a kind conservative, who has been living with the family to pay his rent while working with Jake. She divorces Jake and takes all of Mamie's money. In this case, she is liberated and now married to Bernstein, while Jake marries Mamie.
I'm in love with this film and find it a perfectly accurate depiction of immigrants finding their place in new, strange land. It also pulls off brilliantly the empowerment of women, who refuse to be bullied no longer and maintain their own traditions in typically violative surroundings. This is definitely one of the many reasons why Kane's work in the film is extraordinary. As Giti, her slow-burn transformation from pitiable, put-upon wife to self-assertive new woman is a revelation and is perhaps her best role to date. Keats, a wonderfully underrated character actor, is also great as the emotionally (and abusive) Jake. Howard has a great supporting turn as Bernstein, and Roberts steals every scene she's in as the wise Mrs. Kavarsky.
Often overlooked and almost lost in the shuffle of the more famous films of the 1970s, Hester Street definitely deserves a second chance. Silver's direction works like gangbusters, and now that she's unfortunately no longer with us, this and her other amazing films can now be remembered as an indispensable legacy of female filmmaking.
The new 4K restoration from Cohen Media is absolutely beautiful, and the special features aren't too shabby either. They include two new interviews with Silver by Shonni Enelow; archival audio commentary with Silver and her husband, producer Raphael D. Silver; archival interviews with Kane, Roberts, and both Silvers; restoration trailer; and alternate opening with commentary by author Daniel Kremer.