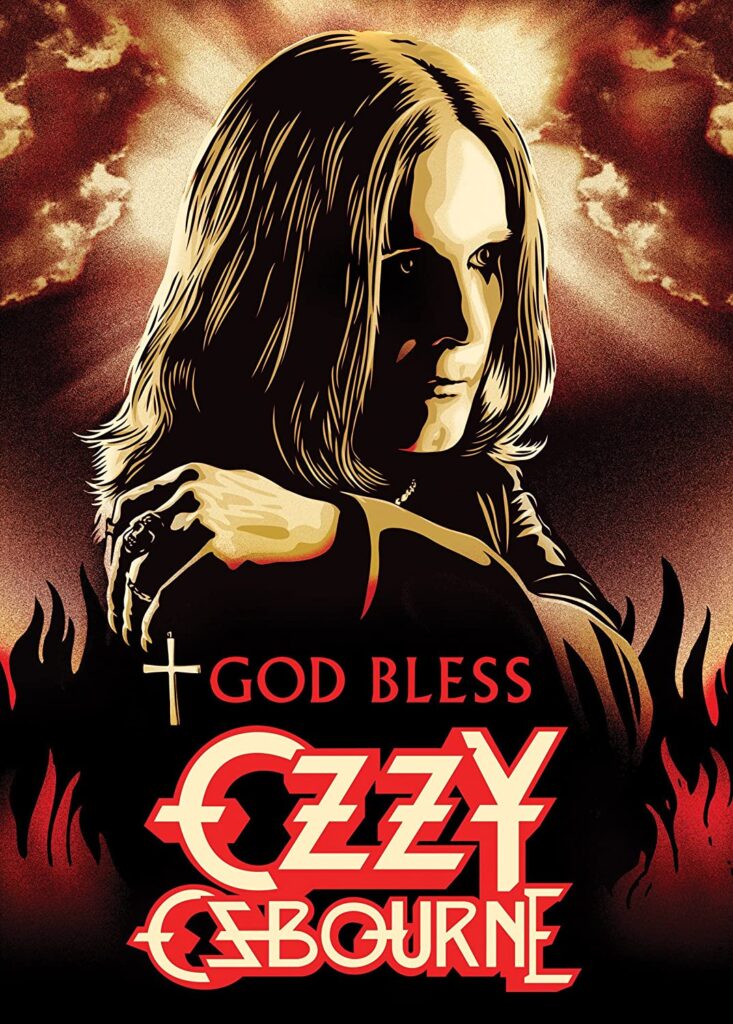 Ozzy Osbourne has become something of a cartoon character in recent years. The reality show, The Osbournes, portrayed him as a lovable oaf and the term "Prince of Darkness," has become a marketing catchphrase, rather than the appropriate metal term is was in the 1970s and 1980s. The documentary God Bless Ozzy Osbourne, produced by his son, Jack, attempts to rectify all this and help Ozzy reclaim his rightful legacy on top of the metal world.
The producers of the film spent two years on the road with Osbourne and the movie opens with scenes from his concert in Buenos Aires, Argentina. In a decidedly un-metal moment, we see Osbourne prepping before the show by doing vocal exercises and riding a stationary bike. This is not the dove- and bat-biting Osbourne, however, nor is it the peeing on the Alamo Osbourne. This is the now five-years-sober Osbourne. It wasn't always this way, of course.
Immediately following the healthy Osbourne clips is a montage of newsreels questioning how the metal legend was still counted among the living. This is a man who partied with Motley Crue and not only lived to tell about it, but also managed to gross them out in the process with his antics, as Motley Crue drummer Tommy Lee describes in excessively vivid detail. Osbourne's drug and alcohol intake was Herculean by anyone's standards.
The film goes back to Birmingham, England, where Osbourne grew up. There are interviews with his very much normal sisters and brother, along with his Black Sabbath band mates Tony Iommi, Bill Ward, and Geezer Butler, all of who paint a bleak picture for one's future in the city. Ward sums it up as three choices: prison, the factory, or the army and, in fact, Osbourne did do some time in prison. He had different ideas about his future, however.
Like many of his generation, Osbourne decided he wanted to become a musician after seeing the Beatles on The Ed Sullivan Show, and one of Osbourne's biggest heroes, Paul McCartney, is actually interviewed for the film, likening the appeal of Black Sabbath's dark music to that of Dracula. Indeed, it was the influence of horror movies that led to Black Sabbath taking a darker turn with their music. The move worked. The band had a successful first album and, by their second album Paranoid, had hit number one. The band was thrust into superstardom and with the money and fame came harder drugs and lots of them.
By the end of the decade, Osbourne was partying too hard for even Sabbath's standards and he was fired from the band. Osbourne fell into a deep depression, but managed to resurrect his career after meeting Randy Rhoads and recording two memorable albums. Their success was to be short-lived however as Rhoads died in a plane crash in 1982. Osbourne, blaming himself for everything from the breakup of his first marriage to the death of Rhoads, went on a bender that, on and off, lasted the better part of two decades and included multiple trips to rehab and one attempt at killing his wife, Sharon. It was only after Jack Osbourne got sober that Ozzy, ashamed his son could do it and not him, got the motivation to clean himself up too.
Given the producer, the movie could have easily been a love fest — and it certainly is in terms of Osbourne's musical legacy — but it definitely isn't in terms of Osbourne the man and father. All of his children from both marriages were in agreement that Osbourne was not even remotely a good father and only now, in his 60s, is Osbourne finally mending those fences. The DVD includes an interview with Ozzy and Jack Osbourne, along with a number of deleted scenes and an alternate ending
God Bless Ozzy Osbourne is a fascinating look at the musical and personal legacies of Ozzy Osbourne. What people thought they knew of Osbourne from his reality TV show was nothing close to the man he is today and it is what makes the film such interesting viewing.