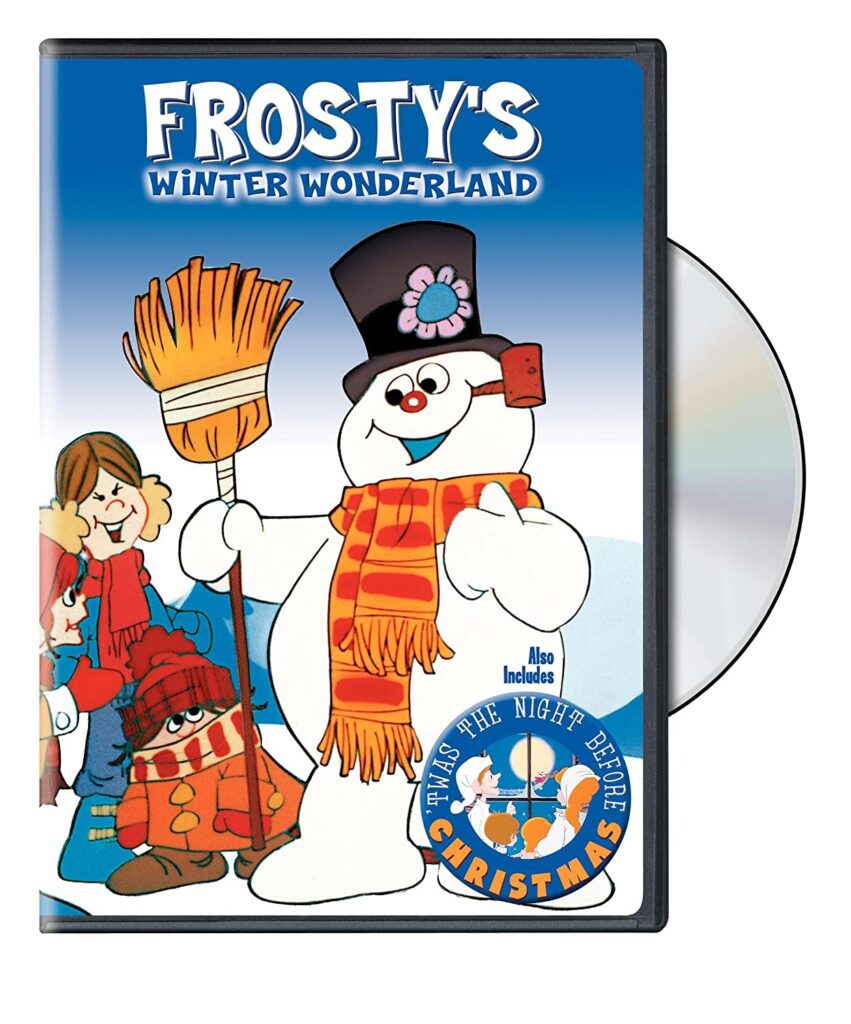 Written by Greg Barbrick
There are a lot of reasons that people enjoy the holiday season. For me it is the chance to see the holy trinity of Christmas classics again. I never tire of Frosty The Snowman (1969), A Charlie Brown Christmas (1965), and Rudolph The Red-Nosed Reindeer (1969). There were many others of course, and many more have been made since. But nothing compares to those three, in my mind. Frosty, which was originally hosted by the inimitable Jimmy Durante, returned in the sequel Frosty's Winter Wonderland. It was first broadcast in 1976, and in it Andy Griffith took over for Durante. Like the original, Frosty's Winter Wonderland was a 30-minute show. It also featured Griffith singing a couple classic songs Christmas songs, "Frosty The Snowman," and "Winter Wonderland."
All of the children in the small town that the story takes place in are very excited by Frosty's return. But this time around, they notice that Frosty seems very lonely, especially at night when he is outside all by himself. So they decide to build him a snowlady for companionship. There is a problem though. Frosty's magic hat is what brings him to life, but they do not have another one for the snowlady, named Crystal. Frosty is nothing if not creative however, and when he whips up a bouquet of frozen flowers and gives it to her, Crystal magically comes to life herself.
Unfortunately for everyone, Jack Frost is lurking about, and becomes insanely jealous of all the attention Frosty and Crystal are receiving. He whips up a blizzard and steals Frosty's magic hat. Crystal is a wise snowlady though, and realizes that since a bouquet of snow flowers given as a gesture of true love was what brought her to life. So she does the same, and suddenly Frosty says "Happy Birthday" and is back. Even Jack Frost's heart is warmed, and when he is welcomed by everyone, he never wants to allow winter to end. Andy Griffith has to gently remind him that winter gives way to spring, summer, and fall – for that is the nature of things. But it will be back again next year, as always.
The re-mastered deluxe edition of Frosty's Winter Wonderland contains a special feature titled "Frosty And The History Of The Snowman." The segment intersperses the story of Frosty with some fun facts. For example, how many individual snowflakes does it take to build the average snowman? The answer is an astounding ten billion. Another interesting bit of trivia asks how many movies have been made with the word "snowman" in the title. A total of 22 as of 2011. Also, we are shown how snowmen have changed over the years, with still shots from such films as Meet Me In St. Louis, and National Lampoon's Christmas Vacation. The segment runs nine-minutes.
The message of Frosty's Winter Wonderland is simple and timeless. Love really does conquer all. This is a heartwarming show that is recommended for the whole family, and holds a warm thought behind it for us all.