Pop Culture Ephemera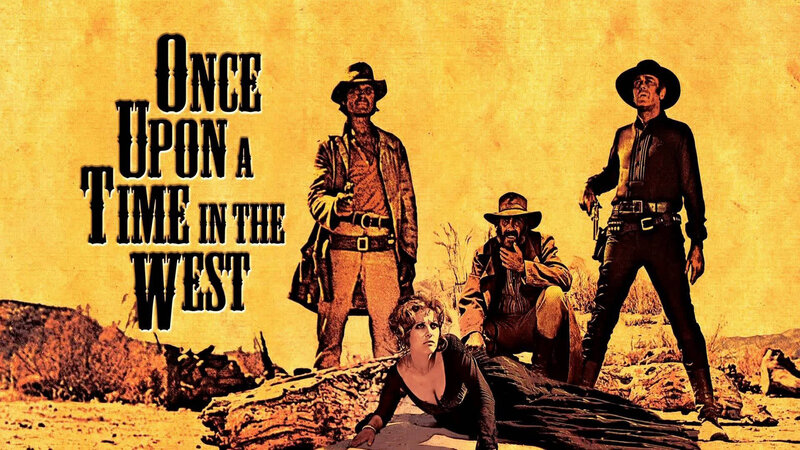 Once Upon a Time in the West (1968) (Directed by Sergio Leone): "Wobbles, how can you trust a man that wears both a belt and suspenders? Man can't even trust his own pants." – Frank. I tend to stop at the end of the Man With No Name Trilogy and The Good, The Bad & The Ugly (1966) when I do my every couple years Leone marathons. This year I continued on to the next Leone Western in which almost everyone has a name (or two). Now Leone has Paramount's funding. The story is developed by Leone, Bernardo Bertolucci, and Dario Argento. There are a number of American actors like Henry Fonda (one of his few times as a bad guy), Charles Bronson, and Jason Robards. The movie is over the top in a way that you would expect from the trajectory of the films. There are more and more closeups, the musical themes have become more complex and symbolic, and the story more philosophical. It is a story about "The West" as a concept and what it means to be a "man" vs. masculinity. Frank (Fonda), Cheyenne (Robards), and Harmonica (Bronson) form the same trilogy we found in the last film but now they face more mature issues and priorities. It's a beautiful film and illustrative of what the western genre can be at its best.
Poker Face – "The Hook" (S.1 E.10) (PEACOCK) (2023): I guess it says something about the episode to note that the best part was Burl Ives singing Bob Dylan. As much as I've enjoyed this season of the show, it's odd to end the season with an episode so far removed from the patterns of the previous nine stories. The death and solving of the crime doesn't involve Charlie (Natasha Lyonne) directly as much as she's a participant. It's good to close up some plot points and set up the next season but overall a disappointing end. That doesn't take away from this being one of my favorite shows of the year. Sterling (Ron Perlman) and Cliff (Benjamin Bratt) were good foils for Charlie and I like moving up the ladder to Beatrix Hasp (Rhea Perlman) next season. Like Sterling says, "The hook keeps bringing you back."
Tom Waits – "Ol' 55" (1973) (from Closing Time): "And the lights are all flashing / I'm on my way home from your place." – Tom Waits. As part of my 1973 Project, I've spent an inordinate amount of time with this album the past couple months. There are so many powerful songs on it but this one keeps returning to the top of mind. It can be about a breakup on the surface but the song has the build of a song about reflecting late in life about some of the best relationships of our lives before they begin to fade. Music is one of those things that can time travel you back to places and times and you can feel how it was before you had to leave "lickety split." The Eagles version adds a pedal steel guitar and too many harmonies that mute that message. I'd rather sit and listen to this original as I drive through the night.
Pet Sematary Two (1992) (Directed by Mary Lambert): "You bury your own." – Gus. Now that I'm more or less caught up on my Stephen King Project, I can get around to some of the ancillary works and films. I had forgotten about this sequel, as it gets virtually no love or cult following. Trust me, that's for good reason but I found it hard to hate this film. Directed by Mary Lambert, who directed the original Pet Sematary (1989), Chase Matthews (Anthony Edwards) and his son, Jeff (Edward Furlong) move back to Ludlow, Maine after the death of their wife/mother in a freak movie-filming accident. He befriends Drew Gilbert (Jason McGuire) and makes enemies with the school bully, Clyde (Jared Rushton). The film turns into a 66% remake of the original and throws in some elements of Cujo just to remind you of the inspiration. The best parts revolve around Drew's stepfather, Gus Gilbert (Clancy Brown), as a zombie sheriff. This should work as a fun cult horror film but it's just lacking chemistry and heart where I would expect it. The well is deep in this property and I'm not surprised to hear that it may be coming around again soon.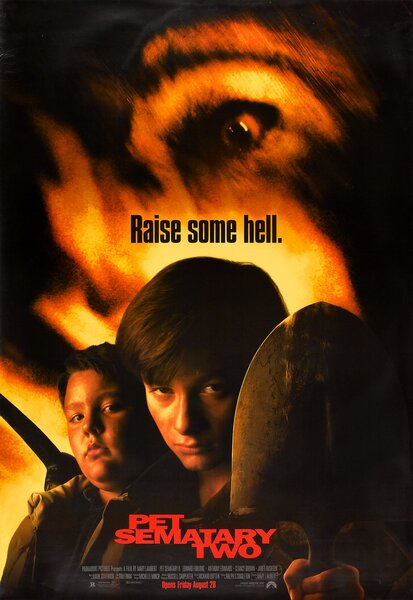 High Life (2018) (Directed by Claire Denis): "I'd rather sink into the Earth after I've lost you than to sit around and grieve once you've gone off into your destiny." – Tcherny. Remember how I raved on about Solaris (1972) in a previous FTCH? Well, despite all the vibes the you might get from the trailer and plot description, this isn't Solaris. Robert Pattinson, Mia Goth, Andre Benjamin (Andre 3000), and Lars Eidinger are criminals from Earth from an unnamed near future who volunteer for a mission to space. The don't realize that it's a reproductive experiment run by Juliette Binoche until after the ship is hit with cosmic rays and beyond our solar system can never return. The story is told in bits of flashback as Monte (Robert Pattinson) tries to maintain the ship and raise his daughter, Willow, as the ship hurtles towards a black hole. The direction is solid and Claire Denis is a talent. Robert Pattionson is an actor I ignored until The Batman (2022) but now I see he's got something about him. All of these pieces and it just doesn't fit together into a cohesive total for me. I know this film has its fans and I'd be curious to know what they got out of the film.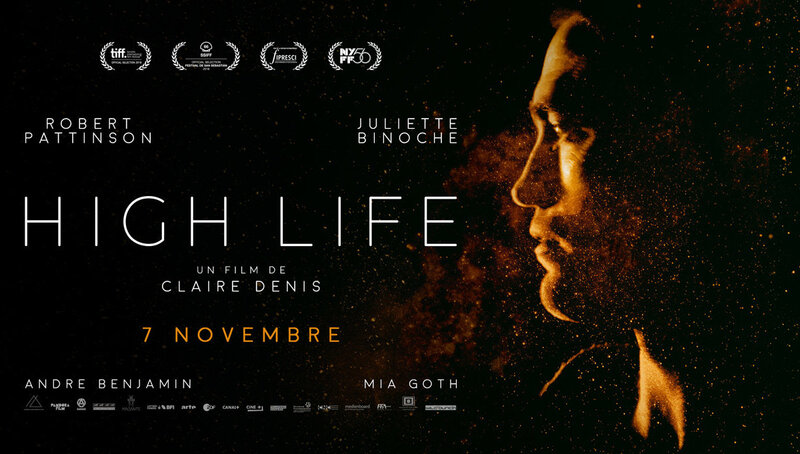 Best of the Rest
A young woman finding inspiration to embrace her unwanted facial hair is the theme of this Olivia Wilde-directed ad for Prime. Throw in an underrated Queen song and you've got a fun and unique ad coming out at a time of year that is usually short on new commercials.
I might debate the claim on "Best Concert Movie Ever" (I would submit Sign o' the Times and Woodstock) but I'm excited for certainly a Top Ten Concert Movie to be released to theaters again. Stop Making Sense (1984) is directed by Jonathan Demme and features the Talking Heads at the height of their popularity. I saw it originally in 1984 at the Bijou Theatre in Kalamazoo on their meek tinny speakers. I'm excited to see it in 4K later this year.
I can make up lots of things. Coors-icles are something I can't. For when your bracket is busted at 2pm on Thursday of the first day. These are non-alcohol for people who just "love the flavor of Coors Light"???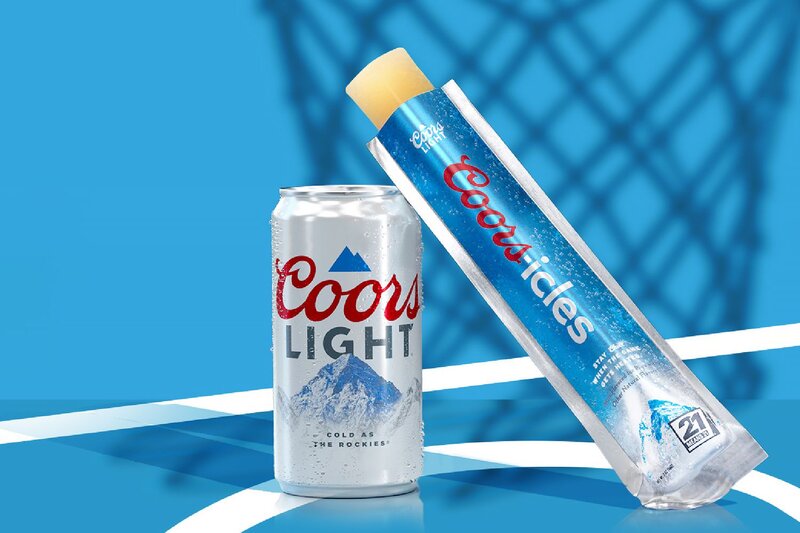 Sunday Morning Tuneage Flashback
On the Sunday Morning Tuneage of 10/07/2007, it was the typical Texas fall week with temps in the 90s. I spoke forth going to the Fonz statue in Milwaukee that I would accomplish in 2019. My #50 Favorite Film was listed as Terminator 2: Judgment Day (1991). As always, the first impression of this film on the big screen at the Big Newport had much to do with my enjoyment of the film. It was on television earlier this week and spending just 30 minutes with it, I think it's a Top 40 film for me now. I was still enjoying Heroes and less curious about Reaper (CW) and Back to You (FOX) (an attempt to recapture Kelsey Grammar's magic from Frasier). There was a new show that I had a good feeling about that I didn't ever watch until this week.

Pushing Daisies – "Pie-lette" (S.1 E.1) (2007): "I'd kiss you if it wouldn't kill me." – Chuck. Five minutes into the first episode (a brilliant introduction to the premise of the show that is a whole thing unto itself) and I realize why people are incredulous that I haven't watched this show yet. One more minute and I see that Ned (Lee Pace, Halt and Catch Fire) owns a place called The Pie-Hole and I'm hooked. I don't usually like shows with constant narration but I'll make an exception for Jim Dale (the Carry On series, voice of Harry Potter audible adaptations). In a word, amazin'. I love the quirky Tim Burton influences on Barry Sonnenfeld's direction and the sly humor of Bryan Fuller's (American Gods) script. I'm hooked.
1973 in Review
March 12 – The last episode of Rowan & Martin's Laugh-In airs.
March 1 – The Xerox Alto I, the first desktop computer that looks like what we would come to know about the PC market, debuts to a price tag over $30,000 (over $100,000 today).
March 14 – Murat "Chic" Young, creator of the comic strip Blondie, passes away at 72. He drew the strip until the time of his death.

What the Hell Did I Put in My Mouth?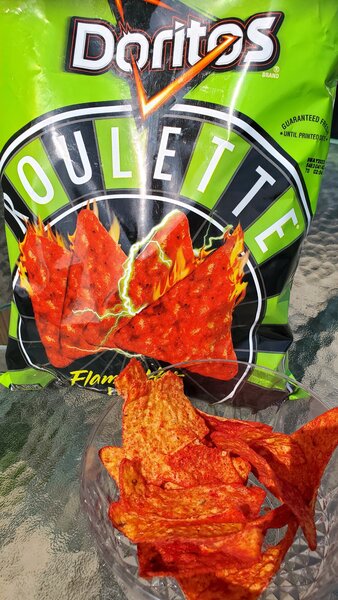 Doritos Roulette: Flamin' Hot Limon
These originally hit the shelves in 2020 near the start of the "flamin' hot" revolution in the snack aisle. The flavor has been hard to find over the past couple years but it has returned along with the previous two Doritos Roulette flamin' releases (Nacho Cheese and Cool Ranch) in time for March Madness. The lime really hits you and the heat is pretty serious for a Dorito chip. The Roulette is a sour chip that will pucker you up for minutes at a time. Not for the timid.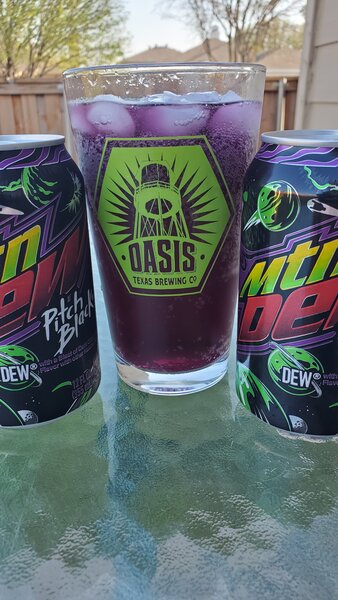 Mountain Dew: Pitch Black
I have been a fan of this dark citrus-flavored magic since the first release in 2004. It's called "Pitch Black" but it's purple and it's easy to fool your brain that it's grape flavored. I think it's pretty close to grape with a bit of citrus added. The flavor has never gone away for a long time, especially if you are willing to track down gas station and convenience store exclusives. The original is back in cans, bottles, and fountain for the spring. It's nice to have an old friend back for the patio season.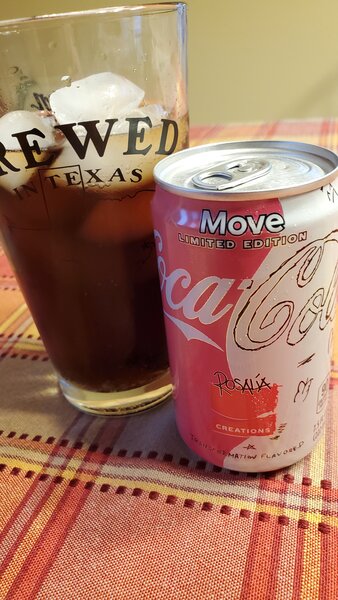 Coca-Cola: Move
I tried the Zero Sugar version to some success last week. The regular version of Move is a bit more of a conundrum. The official description is an "homage to all the versions of ourselves that coexist within us, and that forms our very own personality." That isn't the flavor I get though. I got more of the coconut taste here and some vanilla cherry notes. Not terrible but of these oddball releases, Starlight is still the best of the bunch.
"Stars beginning to fade
And I lead the parade
Just a-wishin' I'd stayed a little longer
Oh Lord, let me tell ya that the feeling getting stronger" – Tom Waits
Stay Hard.
sb