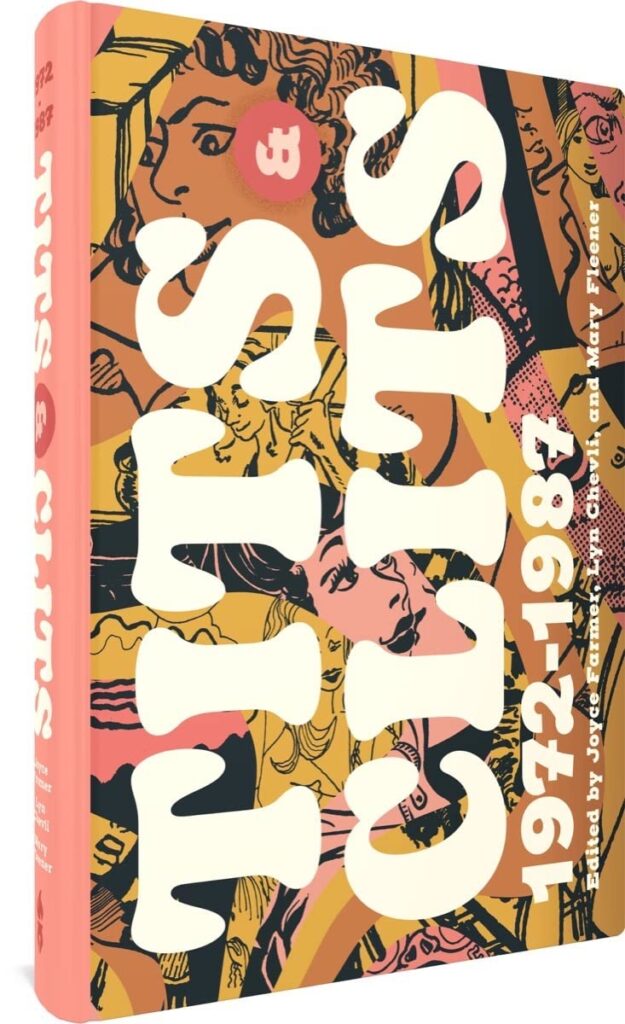 Out this month, Tits & Clits 1972-1987 (Fantagraphics Books) compiles for the first time (in a single, handsome volume) all seven issues of the ground-breaking, underground Tits & Clits comix.
Inspired by the work of cartoonists Robert Crumb and S. Clay Wilson, Joyce Farmer (who worked at a bail bondsmen's office) and Lyn Chevli (who co-owned a Laguna Beach bookstore, Fahrenheit 451) designed their creation as a lewd riposte to the male-dominated Zap Comix of the time. Farmer & Chevli set up shop as independent editors. They were the first American women to publish their own comic book line. In bringing their antidotal vision of a feminist comix to life, they hired over two dozen female cartoonists: Mary Fleener, Roberta Gregory, Krystine Kryttre, Lee Marrs, Carel Moiseiwitsch, Trina Robbins, Dori Seda, Leslie Sternbergh, Sharon Rudahl, and others. In '73, Farmer & Chevli even came under fire from conservative authorities in Orange County, who (as the back cover says) found the series obscene.
The tone of each issue is rowdy and unapologetic. Tits & Clits takes a frank, often-satiric look at the rise of sexual liberation through a feminist lens. The stories tackle sensitive topics—among them, abortion, birth control, menstruation, and masturbation. And the drawings range from deceptively crude sketch-work to more detailed and illustrative inking. I dig the art.
As a time capsule, Tits & Clits 1972-1987 gives a valuable history lesson. Beyond that, though, the line entertains. Each issue offers at-times laugh-out-loud funny, incisive acid baths. I enjoy the soak. Of course, I'm not the target audience for what Farmer & Chevli produced—yet I appreciate the flag these fierce warriors planted. The open-minded reader should find plenty here with which to relate. Or at least giggle about.
Fantagraphics Books memorializes Tits & Clits in style. Aside from the original run, the anthology collects two one-off comix from the '70s (written and drawn by Farmer & Chevli): Abortion Eve and Pandora's Box. An introduction by Samantha Meier, "A Tip of the Teat to Nanny Goat Productions," does a superb job of contextualizing Farmer & Chevli's achievement in the history of women's cartooning.
The book goes on sale Tuesday, March 21, 2023.