Pop Culture Ephemera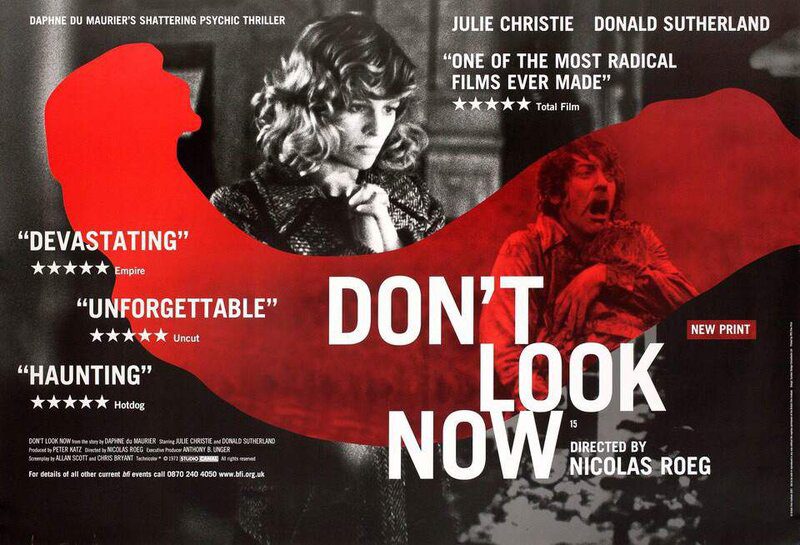 Don't Look Now (1973) (Directed by Nicolas Roeg): "This one who's blind. She's the one that can see." – Laura Baxter. Nicolas Roeg's third film is in that weird nether world genre of Psychological Horror. Other entries into this category like The Shining (1980), Rosemary's Baby (1968), and the more current Hereditary (2018) are easy to Venn Diagram more into the Horror genre. The thing they all have in common is a study of the breakdown of the modern family. John (Donald Sutherland) and Laura (Julie Christie) are in Venice after the death of their daughter. The death takes place in the first few minutes and the focus of the remaining part of the film is a remarkable study in grief and recovery from emotional, rational, and supernatural angles. This might be the most honest depiction of marriage in a film as they deal with what has happened to them. Venice is dark, cold, and sinister in the -inter. This is a Master Class on creating tension and telling a story with a premium on dialog to the point that no word is wasted. Based on a Daphne Du Maurier story, the plot is a haunting if you just describe the plot. There is a reason this has been so influential on the alt horror genre today.
The Fall of the House of Usher – "Murder in the Rue Morgue" (S.1 E.3) (NETFLIX) (2023): "First you roll out a multi-media campaign to convince people lemons are incredibly scarce, which only works if you stockpile lemons, control the supply . . ." – Roderick Usher. I like where this series is headed the past two episodes. We get some backstory of the creation of the Usher Empire, we get the more recent history of the Usher children, and we are likely to see the death of one child per episode (if I am doing my math correctly). It's hard to talk about much specific without spoiling the end of the previous episode. There's a good bit of fun family spin in the press and more of the ethical storyline over the animal experiments. This is the best episode so far and you have to give it credit as the best-looking cinematography of current shows. The title applies to an important (no spoilers) scene but as Roderick narrates, there's more elements linking to "The Fall of the House of Usher" original Poe story. Roderick is showing much more of the insane tendencies that we know are there. What a wonderful series so far.
Ringo Starr – "Photograph" (1973) (from Ringo): "I want you here to have and hold / As the years go by, and we grow old and gray." Co-written with George Harrison, I rank this among Ringo's best solo efforts and it would be easy to mistake it for a late-era Beatles' song. The song speaks to the pangs felt over the picture of a lost love (which can symbolically stand in for the breakup of the Beatles). What sounds like resignation that it isn't coming back is offset by the uptempo beat that tells us that there's always hope. The drums are featured (as they should be in a Ringo song) but the Spector Wall of Sound is what gives this lush feeling that makes me all happy and toe tappy. This song makes me wish that Harrison and Starr had collaborated for a whole album at some point in this era.
The Masque of the Red Death (1964) (Directed by Roger Corman): "If a god of love and life ever did exist… he is long since dead." – Prospero. Corman finds himself making his first film in England, but he is still directing his powerhouse actor, Vincent Price, adapting another story by Poe, and for once, he has a slightly bigger budget. Price dives into his role as Prince Prospero with evil glee. The Prince is holding a demonic ball in his castle while the peasants are being overrun by the Red Death. This adaptation stands out for me among the Poe adaptations. The British crew gives it the feel of a Hammer Production. The camerawork by a young Nicolas Roeg shows that he is already learning just how to place the camera to create tension. Today, the comparisons to Covid are a little too obvious but applicable. At the time, the Red Death is symbolically the Cold War. The older generation was locked behind their castle walls while the younger generation was the one paying the price. A young Jane Asher plays the virginal Francesca. She is the stand-in for the generation that was taking over. She was dating Paul McCartney at the time, who was on set and met Corman before his first London performance. This 1964 film is an interesting bridge to the Hammer films and the effects hint at the rise of Italian horror in the next decade. Well worth another viewing.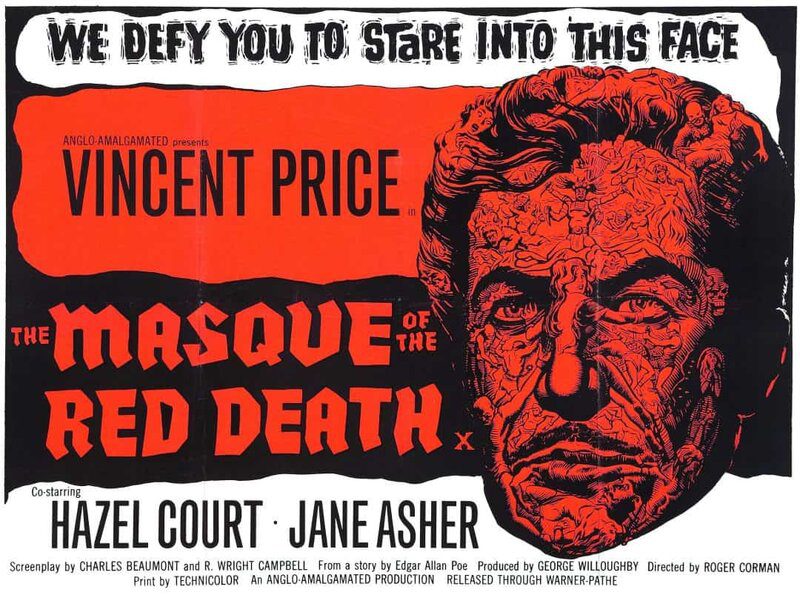 Who Saw Her Die? (1972) (Directed by Aldo Lado): "In this type of killing, the motive is psychological. Whoever did it is insane." – Inspector De Donati. A year before Don't Look Now (1973), there are very similar aspects of the story, including death of a child, suffering parents, and most notably, Venice. There's something about this city in the early decade that lends itself to stories about suffering. In both of these films, Venice is a dark, foggy city with winding streets where you can easily get lost. George Lazenby plays Franco Serpieri who is the Donald Sutherland of this film. At no point was I reminded that he played James Bond. It is on the border of being true Italian Giallo. The blood is brilliant red but the violence is limited to a couple violent deaths. The Morricone score is what really compliments the tone of the film. Much like Don't Look Now, in a cold dark city, red is a powerful symbol and used to great effect. I wouldn't compare the two films because they don't focus on the same part of the story. This is much more of a traditional horror film and it does manage to be entertaining.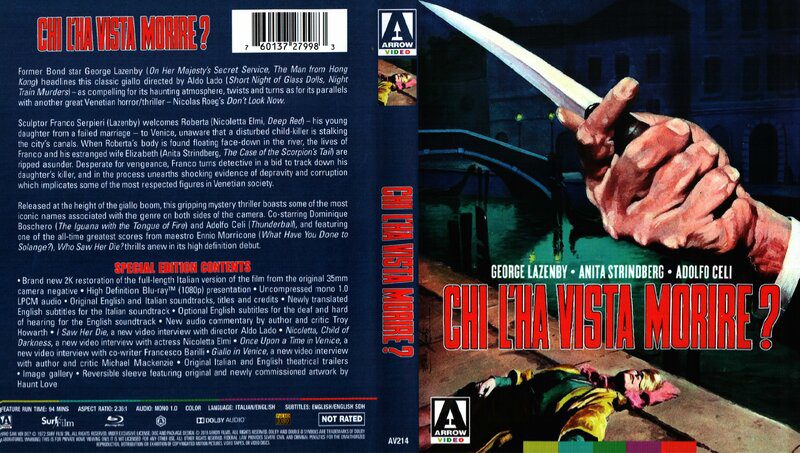 Best of the Rest
Since I'm not going to see more Poker Face until 2024, I'll settle for this short but fun double shot of Natasha Lyonne in Old Navy ads. There are at least two so far and this is my favorite. She will have to solve this multiverse mystery.
I hadn't imagined how well this song would translate to late '80s and early '90s alt-rock. Camper Van Beethoven / Cracker have always had an appealing twangy guitar sound to me. This does what I like a cover to do: it doesn't completely negate the original and it adds their own sound interpretation to the song. I did see them in concert in this time period but I don't recall that they did this cover that night.
I didn't have "The Beatles will release a new song" on my 2023 Bingo card. Next week, we'll get "Now and Then" from the same Lennon demos that gave us "Real Love" and "Free As a Bird" that were remixed for The Beatles Anthology (1995). I'm curious/excited to see how technology has improved since 1995, especially after the amazing sound from Peter Jackson's Get Back (2021).
Sunday Morning Tuneage Flashback
On the Sunday Morning Tuneage of 5/18/2008, more of the same back then with working Saturday, baseball games and lawn work. I was finalizing the Summer Projects for my children. That might be one of the favorite things I did with the children, especially Christian and DeeDee, as they grew up. Dee had some Beatles on her list, of course. The Simpsons and King of the Hill were coming to an end and Austin City Limits opens Season 34 with R.E.M. playing songs from Accelerate. I had an intriguing list that might be out of style in the current environment.

THE BEST TV THEME SONGS OF ALL-TIME (2008)

10. Barney Miller (ABC) (1975-1982): This is the best bassline in a television theme song. Thank you, Jack Elliott.
9. All in the Family (CBS) (1971-1979): In front of a live studio audience.
8. Sanford & Son (NBC) (1972-1977): Quincy Jones' "Streetbeater" is easily the funkiest tune to become a theme song.
7. Dukes Of Hazzard (CBS) (1979-1985): Waylon Jennings "Good Ol' Boys" is an outlaw singing about outlaws and as an eleven year old, it was the best thing ever.
6. WKRP In Cincinnati (CBS) (1978-1982)
5. Taxi (ABC/NBC) (1978-1983): It wasn't the same Bob James in the first few episodes so they just moved further down the album and picked the more mellow "Angela".
4. The Simpsons (FOX) (1989-Present): The Couch Gag portion of the theme has become almost as iconic as the theme.
3. M*A*S*H (CBS) (1972-1983): Every day for years I came home from school and when I turned on the television, this is the first song I heard. In later years of my youth it was every single weeknight at 11:00pm.
2. The X-Files (FOX) (1993-2002, 2016-2018): This song was remixed a number of times for different sources and eventually even got radio airplay enough to become a charting single.
1. Twin Peaks (ABC/SHOW) (1990-1991, 2017): I still maintain that this is the series that changed the momentum of television shows towards the Golden Age we are still in today. The ethereal theme is part of the whole package.

THE BEST TV THEME SONGS OF ALL-TIME (2023)

10. Stranger Things (NETFLIX) (2016-Present): This is what I don't get enough of anymore. The electronic score feels like something John Carpenter wrote for a movie he didn't make and easily places us in the place and time of the show.
9. Malcolm in the Middle (FOX) (2000-2006): The theme song was They Might Be Giants "Boss Of Me" and it was catchy and fit the times. I didn't want to have such a '70s and '80s heavy list, so this is one of my favorites of the Modern Era. "Life is unfaaiiirrr".
8. Curb Your Enthusiasm (HBO) (2000-Present): It's hard not to think that "Frolic" by Luciano Michelini was written for a 1974 Italian film, La Bellissima Estate, and not for this show that it has so associated that you only need to play the first couple notes for people to identify something as a "Larry David moment".
7. Taxi (ABC/NBC) (1978-1983): An opening that's just a taxi trip over the Queenboro Bridge with the super chill Bob James song "Angela".
6. The Simpsons (FOX) (1989-Present): Danny Elfman wrote this iconic theme before he really became the Danny Elman that we know and love today.
5. The Muppet Show (SYND) (1976-1981): How did I leave this off the first list? Crazy. Even more than most of the ones on this list, I get goosebumps of excitement every time I hear it.
4. M*A*S*H (CBS) (1972-1983): The movie version of "Suicide Is Painless" becomes strictly an instrumental and it fits the mood of the series.
3. All in the Family (CBS) (1971-1979): "Those Were The Days" is a simple and descriptive song for the series but more remarkable for having the cast sing it in front of the audience.
2. The X-Files (FOX) (1993-2002, 2016-2018): Mark Snow created a theme that is now used anytime someone brings up a conspiracy theory. I always thought of this as a distant relative to the Doctor Who (BBC) (1963-Present) theme.
1. Twin Peaks (ABC/SHOW) (1990-1991, 2017): Angelo Badalamenti has had a number of great scores but teaming up with David Lynch for a television show that had very little chance of success is one of his best. The imagery combined with the music that feels futuristic and nostalgic at the same time made me love this show before Agent Cooper ever walked onto the screen.
I didn't have any specific rules to make this list. I did randomly exclude a show like The Walking Dead (AMC) (2010-2022) because, while an effective theme, it's only 34 seconds long. That's an opus compared to the 15 seconds of ambient noise on Lost (ABC) (2004-2010). I didn't want to give credit to established hits, so that left off The Wonder Years (1988-1993) (Joe Cocker) and all of the CSI: franchise (The Who).
1973 in Review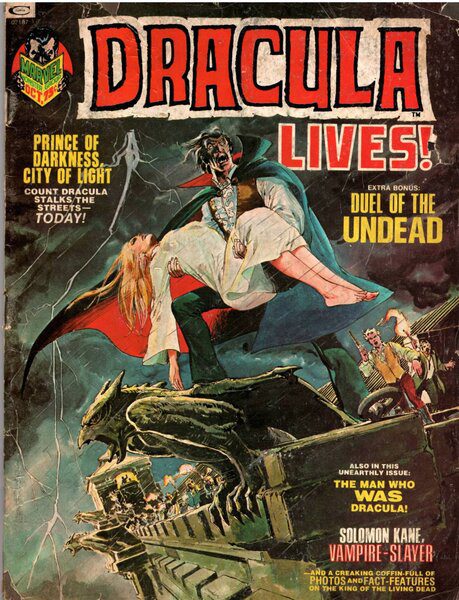 October – Dracula Lives! #3 (Marvel). Cover by Neal Adams. In 1973, you could get monthly comics with Dracula, Frankenstein, and a Werewolf. What a time to be alive! Gene Colan draws one of the four B&W stories in this book and Roy Thomas wrote a different story.
October 30 – WBAI radio station in New York City plays George Carlin's "Seven Dirty Words" album cut, launching a landmark case that will eventually become the Supreme Court "FCC v. Pacifica Foundation" decision.
October 28 – Fran Tarkenton is in his 11th season. He started with the Vikings, went to the Giants, and found his way back to the Vikings in 1972. Today, they beat the Los Angeles Rams (led by John Hadl) who will also finish 12-2 this year, by a score of 10-9 to go to 7-0 on the year. He is on his way to a 12-2 season. Chuck Foreman is his rookie running back. I love this card because so many cards were posed and this was actual game action, albeit without the Vikings helmet logo.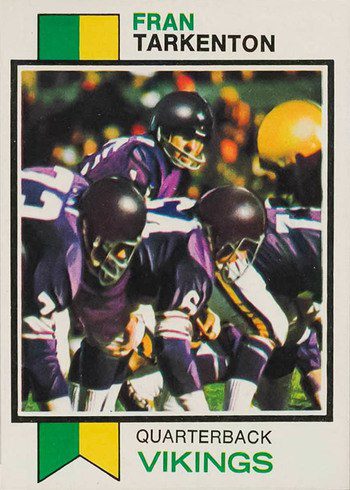 What the Hell Did I Put in My Mouth?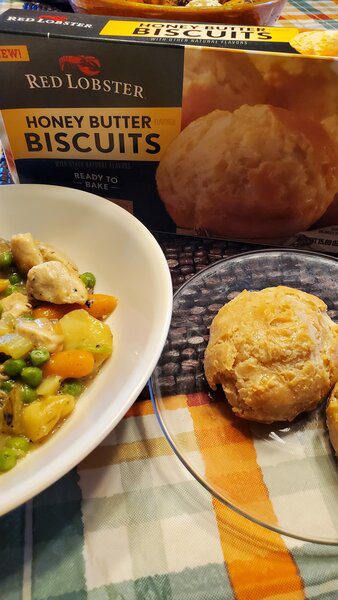 Red Lobster: Honey Butter Biscuits
These iconic restaurant biscuits have been available in a mix for a year or two. I just noticed them in the frozen food aisle and I assume they are new. Is it like sitting at your table awaiting your shrimp scampi? Not exactly. I should have gone with the mix. The frozen biscuit is fine. Only fine really. Nothing really shouts "restaurant quality."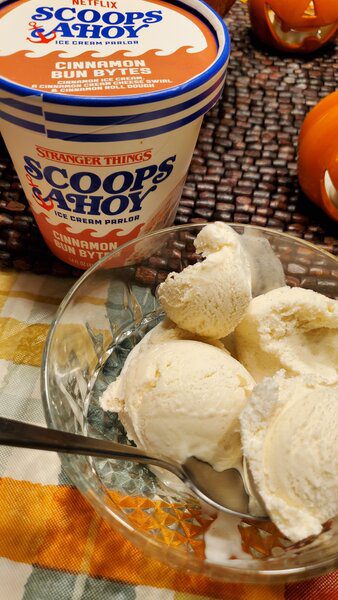 Scoops Ahoy: Cinnamon Bun Bytes
Cinnamon ice cream, cinnamon cream cheese swirl, and cinnamon swirl dough. This sounded like a wonderful entry into the Stranger Things ice cream line. It's my biggest letdown so far. The cinnamon flavor just wasn't what I've had at my local parlors. The swirl dough is good and I would have liked more of those little treats in the ice cream. Not my favorite of the bunch so far.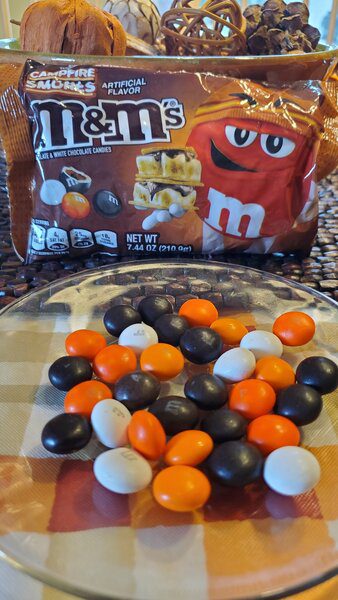 M&M's Campfire Smores
There was a S'mores flavor in 2016, so maybe the difference is some kind of smoky campfire flavor? They've dropped the apostrophe and dropped any kind of crunchy texture. I'm missing the graham cracker crunch and I'm not getting any marshmallow flavor. It's got the chocolate goo in the middle and it's not a bad experience. I remember the previous version giving off much more of the s'mores flavor. This just tasted more artificial. This isn't a flavor I'll go buy another bag but if I had to give any props, it would be to the nice Halloween color mix.
"Every time I see your face
It reminds me of the places we used to go
But all I've got is a photograph" – Ringo Starr
Stay Hard
sb