Pop Culture Ephemera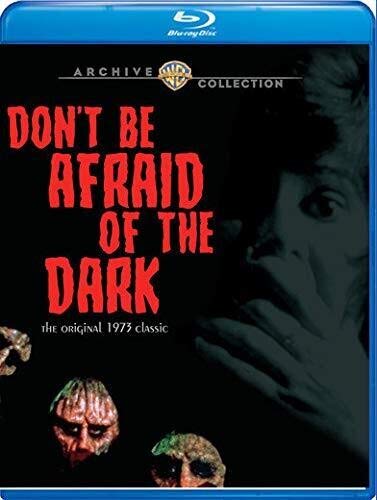 Don't Be Afraid of the Dark (1973) (Directed by John Newland): "But it's been so long. So many years. When will she come and set us free-set us free!" – The Creatures. I reviewed this back in 2011 and you can read about my obsession with the film. It's been too long since I walked back into the house that was inherited by Sally (Kim Darby of True Grit) and Alex Farnham. After opening a bricked up fireplace, Sally becomes the obsession for the whispering gnome-like creatures who lived in there. This made-for-TV movie is efficient, well scored, and has judicious use of effects. The plot doesn't waste any time getting started. Darby is a wonderful choice for the lead as a confident woman who slowly loses her grip on reality. Is this a subtle stab at the patriarchy leaving women behind at home? This was part of the ABC Movie of the Week and a big part of why they are so fondly remembered. This film played into all of my fears of the dark as a child and it still fuels my imagination today.
Fall of the House of Usher – "A Midnight Dreary" (S.1 E.1) (NETFLIX) (2023): "Remember what Mother Teresa said, 'Pain and suffering are like the kiss of Jesus.' It just means you've come so close to him that he can kiss you." – Eliza. The new Mike Flanagan (Midnight Mass, Haunting of Hill House) series isn't a direct adaptation of Poe's The Fall of the House of Usher (1839). Flanagan does lean into all the works of Poe in a huge way. In just the first episode of eight in the series, there are references to The Raven, The Masque of Red Death, and The Imp of the Perverse just to mention a few. Frederick Usher (Bruce Greenwood) is the elderly head of Fortunato Pharmaceuticals. His soothing tones narrates the flashbacks to the rise of the family in the early '80s and the downfall after a trial in current times. The first episode is like comfort food for me. The cast is full of Flanagan favorite actors, clever references to Poe, and the structure that allows for self-contained flashback stories like his other shows allowed. The comfortable way Flanagan handles multiple narratives gives me even more confidence with his eventual adaptation of The Dark Tower series.
Daryl Hall & John Oates – "One On One" (1982) (from H2O): "Oh, oh, I can feel the magic of your touch / And when you move in close a little bit means so much." This was the big radio hit when I went to go see my first "big boy" concert without parental escort. Hall & Oates were a pretty safe bet at Wings Stadium in 1982. This hit doesn't get much airplay anymore. The vocals have that smooth soul Daryl Hall sound that we expect. I don't think the band gets enough credit. The drums here are keeping Daryl on the beat and allow for that '80s sax solo to shine. The lyrics about a short, intense attraction and staying in the moment have helped this song remain timeless.
Crawlspace (1972) (Directed by John Newland): "God, I wish they'd kill him." – Alice Graves. A year before he directed Don't Be Afraid of the Dark (1973), John Newland helmed a warm-up for made-for-television horror on a CBS Movie of the Week. Working with a small budget, the need for commercial breaks and television censorship, Newland makes another enticing and dramatic movie. The older Graves couple (Arthur Kennedy and Teresa Wright) befriend a young homeless man, Richard (Tom Harper). He will only live in their basement crawlspace and while they treat him like a surrogate child, things go horribly wrong. I view this a part of a trilogy of alternative haunted house stories. These two by Newland and Bad Ronald (1974) bring the horror into secret places of the home that are going to kill you. Your own home turning on you is interesting. The two Newland films start out innocently enough until what feels like quirky events become more disturbing. By the time we get to 1979 and another film called Crawlspace with Klaus Kinski, the home is much more actively evil. This isn't particularly plot heavy nor is there really a message, but it's a compelling watch.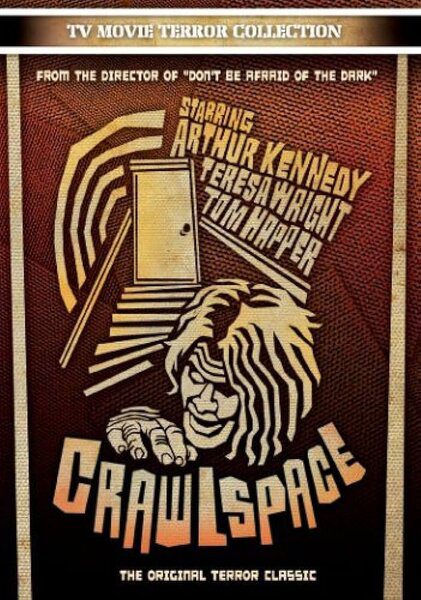 Don't Be Afraid of the Dark (2010) (Directed by Troy Nixey): "They don't like bright lights, you know, those things." – Sally. This remake was promising on paper. It is "presented" by Guillermo del Toro and is free from the constraints of a made-for-television movie. This time Alex (Guy Pearce) and Kim (Katie Holmes) move into the old mansion. They are not married and Alex's daughter Sally (Bailee Madison) comes to live with them. Changing the contact from a housewife to a ten-year-old child changes so much of the dynamics that made me love the first film. This becomes an "adults don't believe the child" until they are forced to when it's almost too late. That's a different type of scary that can lead more to frustration in the viewer. Madison does a great job of selling her fear. I can't totally dismiss the remake because of the changes they made. The creatures are much better designed and the manor is creepy in an Edgar Allan Poe way. Trying to establish a plausible explanation for the creatures doesn't add or subtract to the film. Don't skip the original but this has some well-crafted scenes to keep you engaged.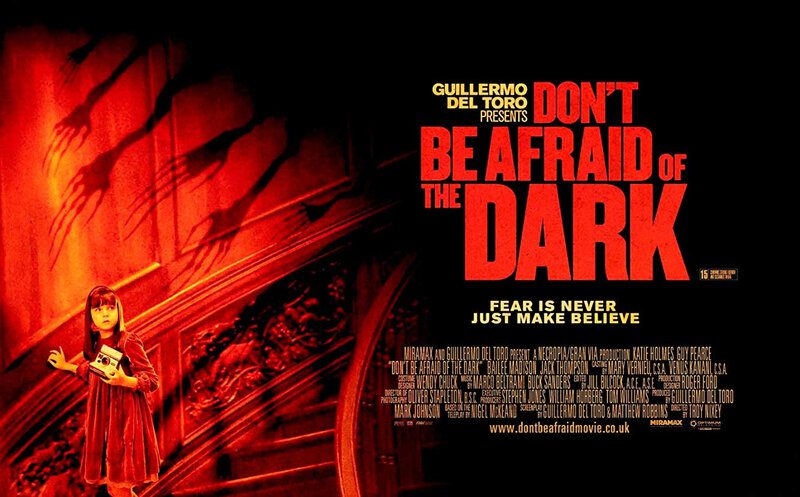 Best of the Rest
I love Donald Glover. I love that Donald Glover is able to play a character that's Donald Glover. This ad should be a television show.
There aren't many covers of "One On One", a testament to the quality of the original. The best effort is this dreamy version by The Bird and the Bee on their wonderfully titled Interpreting The Masters Volume 1: A Tribute to Daryl Hall and John Oates. It feels like the relationship is part of a wonderful dream.
The Langoliers (1995) directed by Tom Holland is one of those Stephen King miniseries that critics never gave credit but is often fondly remembered by fans. I enjoy it and felt like other than the terrible CGI effects, it captured the written work well even if it compromised on the finale. Talk of a remake doesn't excite me much. I haven't watched Rob Savage's The Boogeyman (2023) yet but reviews didn't strike me as a director who should step up to remaking an already decent product.
Sunday Morning Tuneage Flashback
On the Sunday Morning Tuneage of 5/11/2008, I had just worked the 13-hour day of Graduation at UNT and boy, I don't miss those days at all. My #30 Favorite Film of All-Time was The African Queen (1951). This might be shocking but I'm not sure this is still a Top 100 film for me. It's really good and I've praised it over the years, but I've discovered so many good movies since this point that the slow middle of the film isn't as charming to me as it once was. May was finale season back then with Survivor (CBS), American Idol (Fox), The Office (NBC), and Boston Legal (ABC) ending their seasons this week. I made a bold list that deserves a second look.

THE BEST GAME SHOWS OF ALL-TIME (2008)

10. Truth or Consequences (Syndicated) (1966-1978): Bob Barker was a great fit for this show. You get a chance to answer a trivia question that no one ever gets and then your consequence is to do some zany physical challenge. For a child under 10 years old, this was the best.
9. Match Game (CBS): The after-school standby for years.
8. Hollywood Squares (NBC) (1966-1980): The show that gave us the brilliance of Paul Lynde.
7. Family Feud. (ABC) (1976-1985): The Richard Dawson era was one of the first shows I watched for the host more than the game or contestants.
6. The Joker's Wild (Syndicated): "The game where knowledge in King and Lady Luck is Queen."
5. The Newlywed Game (Syndicated) (1977-1980, 1985-1989): Bob Eubanks was an interesting host. This show had a peak here when the double entendre worked but wasn't as forced as in later days.
4. The Price Is Right (CBS): So fondly remembered by my generation as the "I was home sick from school" game show.
3. The Pyramid (CBS/ABC/Syndication) Starting with $10,000 and going through $25,000 up to $100,000 eventually. A nearly impossible game to win.
2. Password (ABC/NBC) (1971-1989): Includes Password Plus and Super Password in one of the best vocabulary building shows I watched. Very helpful for crossword puzzles.
1. Jeopardy! (Syndication): It's hard to think of a show more associated with being "smart" in order to win, totally discounting the strategy of other shows where you have to guess words or answer questions. It's still as fun to play along as most any show ever.

THE BEST GAME SHOWS OF ALL-TIME (2023)

10. QI (BBC) (2003-Present): I debated about shows like this that are as much comedies as game show competitions. The panel-based show fits within the format of other non-serious game shows of previous decades and you can't ignore the popularity.
9. Match Game (CBS) (1973-1979): This show had it's heyday in the middle of its run with a reboot in 1973 with Gene Rayburn as the host and Richard Dawson leading the cast. Another example of a game show that felt much more about the humor than the results.
8. What's My Line (Syndication) (1968-1975): I would later catch the interesting initial run on Game Show Network. This early evening version in the 1970s introduced me to Soupy Sales and a number of older Hollywood stars.
7. Card Sharks (NBC) (1978-1981): This game was one of the more complicated to win. You guessed the answer to a Family Feud-type of question and your opponent guessed if it was high or lower and if you got it correct you got a card. Then you proceeded to guess if the next card was higher or lower. I love the strategy of this game above all.
6. Joker's Wild (Syndicated) (1977-1986): Host Jack Barry is underrated. I loved the theme by Alan Thicke in these syndicated episodes.
5. The Price Is Right (CBS) (1972-2007): The Bob Barker reboot had much more pizazz and sheer fun than the original version. The bidding round to get onstage was my favorite part and an ingenious way to feel like a contestant "earned" their way to compete in the games.
4. The Pyramid (CBS/ABC/Syndication) (1973-1988): I prefer the Dick Clark-hosted episodes but don't sleep on the Bill Cullen episodes. The "stars" weren't always motivated but the gameplay was fun to double guess and Dick Clark was the best at being the Monday Morning Quarterback when he had a week to think of the best clues.
3. Tic-Tac Dough (CBS/Syndication) (1978-1986): Wink Martindale was the perfect host for this show. Not simply an "answer the question and get the box" show, it had some fun variations that required a secondary strategy and knowledge.
2. Password (ABC/NBC) (1971-1989): Host Allen Ludden brought the best gravitas to the show but as he had health issues, Bill Cullen and Tom Kennedy both added some flavor to the show where you let the words be the stars.
1. Jeopardy! (Syndication) (1984-2021): I'm a fan of the Art Fleming era but the show acquired it's cache once Alex Trebek got the host seat. I enjoy what is essentially still the show it was 40 years ago. The answers are a bit too smart for their own good sometimes but it's the best format of competition and I love it.
1973 in Review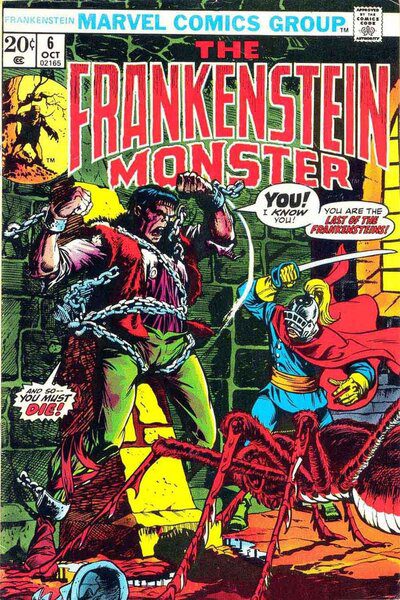 October – Frankenstein Monster #6 (Marvel). Art and writing by Mike Ploog. Cover by Ploog with assistance of John Romita. John Buscema will become the penciller after this issue. The monster is back to the castle where he was created and wrestles a big spider.
October 16 – The Tomorrow Show (NBC) debuts at 1:00 a.m. after The Tonight Show (NBC) at a time when programming this late hour only happened on weekends.
October 9 – Sly and the Family Stone are on Don Kirshner's Rock Concert. The show recorded in September is one of their most amazing television appearances with wonderful versions of "Stand!", "If You Want Me To Stay" and "Thank You."
What the Hell Did I Put in My Mouth?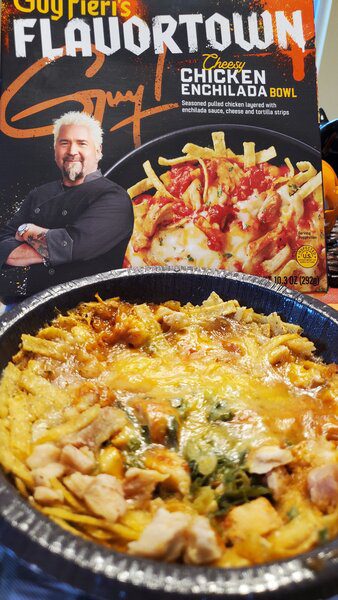 Guy Fieri's Flavortown: Cheesy Chicken Enchilada
If mushy was a food, it would be this enchilada bowl. There isn't any reason now that I would try the other foods in this line of frozen foods. The cover picture didn't even look great but I thought it would be hard to ruin a cheesy chicken enchilada. Sadly I was wrong.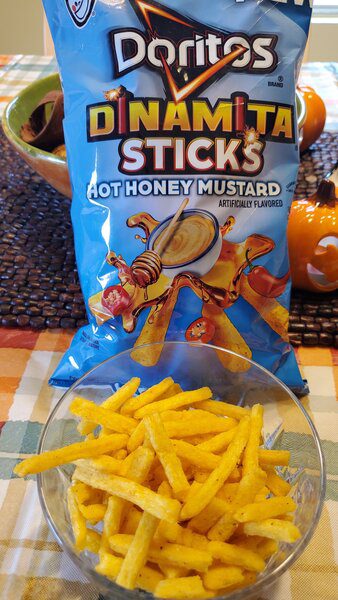 Dinamita Sticks: Hot Honey Mustard
Much better than the Spicy Chili Queso Dinamitas that I had last week. The Hot Honey Mustard is close to a dipping sauce flavor. It's like you dipped an Andy Capp's Frie in a Hot Mustard sauce. A good crunch and a quick heat that doesn't last. It's much less heat than the typical Asian hot mustard that clears out your sinuses. This one is a keeper.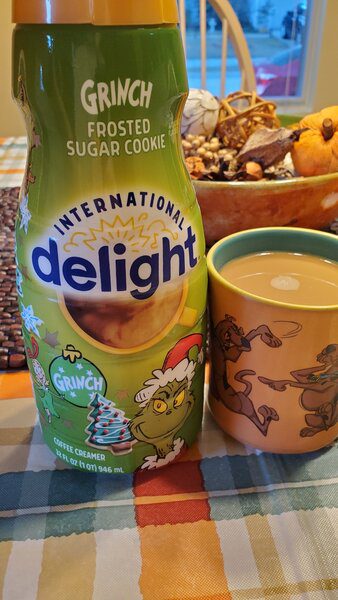 International Delight: Frosted Sugar Cookie
The arrival of the Monster Cereals meant that it was Halloween Season. The arrival of the International Delight: Frosted Sugar Cookie creamer is the sure sign that the Thanksgiving and Christmas Holidays are here. It's a calming friend and I sat at the kitchen table doing a crossword, sipping my coffee, and thought that it's time to put up the tree soon. Tastes just as good as the past years.
"You can't tell me you don't miss me girl
I think I might know you too well
Wonder what you'd say if you knew that I was coming tonight
(Want to) I want you can't you tell" – Daryl Hall & John Oates
Stay Hard
sb