Pop Culture Ephemera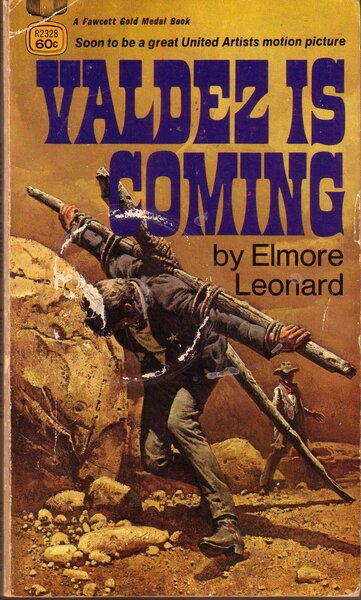 Elmore Leonard – Valdez Is Coming (1969) (Bantam): "A man can be in two different places and he will be two different men." – Valdez. A quick read, especially after having done 4-5 Leonard Westerns in the past year or two. Roberto Valdez is tricked by Tanner into shooting a man innocent of the crime that the mob accused him of. Valdez tries to raise funds for the widow. It's a simple revenge story after that but there's a nice subtext of Valdez the sheriff and Valdez the man doing what is right for justice. As Inez says, "Bob wears a starched collar" and "Roberto makes war." The respect he gives and is shown by Segundo is the stuff of just about every Tarantino film. There might only be 200 pages but that's because there's no waste and it speeds along.
Doctor Who – "The Mind Robber: Episode Five" (S.6 E.10) (BBC) (1968): "Sausages! Man will become like a string of sausages – all the same!" – The Doctor. This five-part series has had some of the most surreal moments of the series up to this point. The Doctor (Patrick Troughton) is accompanied by longtime companion Jamie (Frazer Hines) and relatively new companion Zoe (Wendy Padbury). Zoe is definitely a nod to the women of The Avengers. This out-of-time story takes place in a weird world with fictional characters like Princess Rapunzel, Gulliver, and Medusa. The world is at the mercy of a man called the Master of the Land of Fiction (Emrys Jones). The final battle has the Master and our Doctor summoning fictional characters to story battle against each other. It's a five-part story that could have used some editing to be a three parter but it is a nice respite from the past few closed-room stories that started to feel repetitive.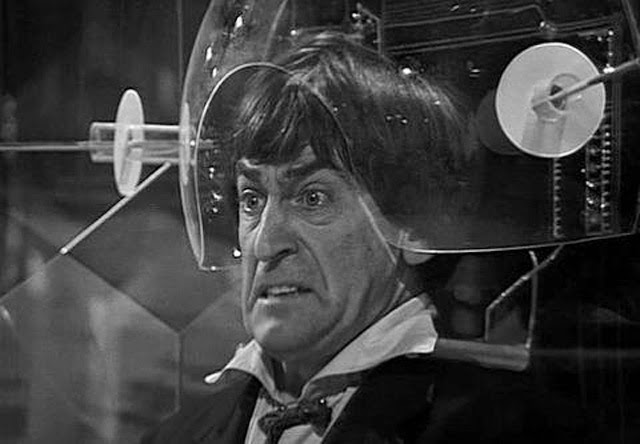 John Denver & Robin – "When the River Meets the Sea" (1979) (from A Christmas Together): "We are born and born again most gracefully / Thus the winds of time will take us." – Paul Williams. John Denver sings this on his 1979 A Christmas Together special with Robin (the same voice actor as Emmet) from the 1977 classic Emmet Otter's Jug Band Christmas. It's not a traditional Christmas song although it reminds me of the love that Alice Otter has for her son, Emmet. It's about the most religious song that the Muppets ever put into a special. Stephen King often refers to death as the "clearing at the end of the path" but I really enjoy the imagery of the river meeting the sea and that peaceful moment when the flowing water finally comes to a rest at the sea.
Nope (2022) (Directed by Jordan Peele): "This dream you're chasing, where you end up at the top of the mountain, all eyes on you… it's the dream you never wake up from." – Antlers Holst. If you are the type of viewer that needs everything explained and/or wrapped up, this is not the film for you. And you really should have learned that about Jordan Peele films by his third film here. The animal themes are continued with horses, like the deer in Get Out. Jordan has shown his Twilight Zone mastery in that first film and now he's channeling Hitchcock (at least through the first half of the film). This is solidly horror-science fiction but not in the Rob Zombie tradition (see below). This is a slow build that maybe doesn't deliver the way I would have wanted it to in the end. The cast is what takes this movie to another level that most horror films aren't able to hit. Daniel Kaluuya and Keke Palmer as the Haywood siblings defy stereotypes. Brandon Perea and Steven Yeun are interesting supporting cast members. And I really enjoyed the director, Antlers Holst (Michael Wincott), as a stand-in for Peele who will make a movie for the fans and then a movie for himself. This isn't the most logical of films but there's a look and feel to this that I totally love. Peele has a vision that earns him a "I'm just going to watch this and trust him." award.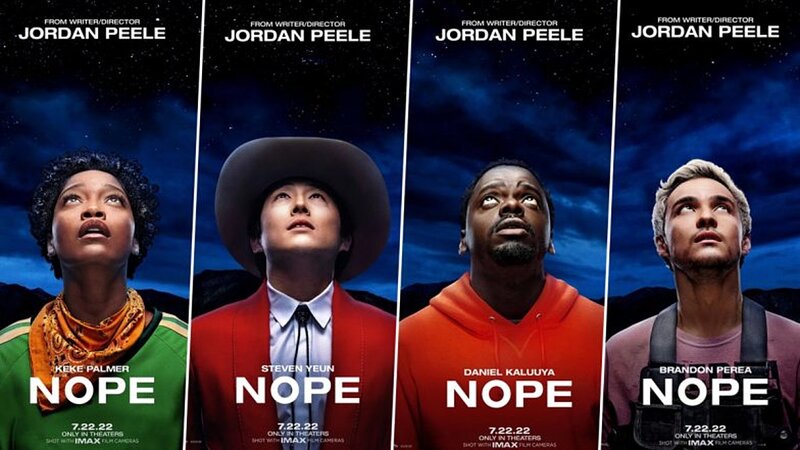 Valdez Is Coming (1971) (Directed by Edwin Sherin): "She never smiles. If she were my woman, I would make her smile." – El Segundo. You would be hard pressed to find a movie that sticks with the dialogue of a book as much as this film. There are very few deviations from the source material except a condensation of the love story. Bob Valdez is played by Burt Lancaster who fits what I imagined the character to be but talks slower than the staccato dialogue of the book. Jon Cypher is Frank Tanner and it's hard to separate him from this role of Chief Daniels in Hill Street Blues. Shot in Spain to look like Arizona, the film has a Spaghetti Western look. This one man Army of Valdez presages the revenge films like First Blood.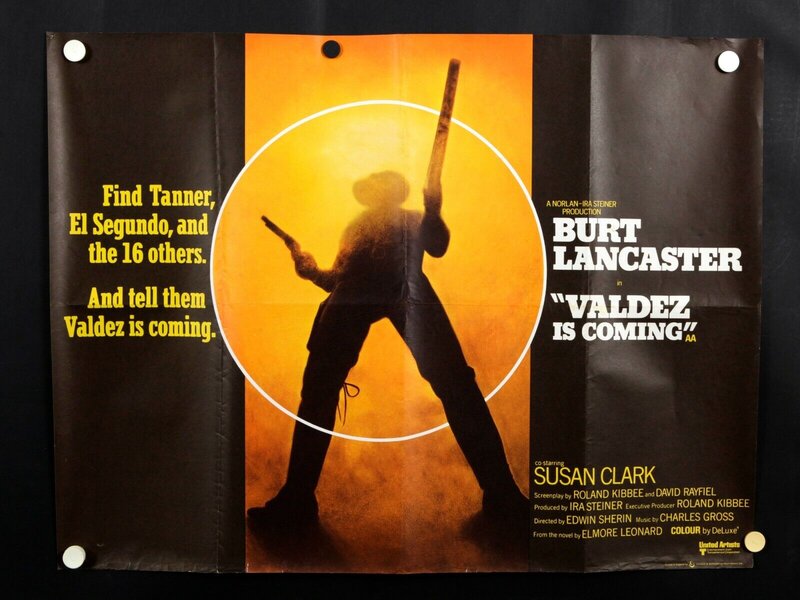 Best of the Rest
I'm not sure that Google needs to do advertisements for the 0.0001% of the population that isn't using their services in some form or another. But if 2022 is a year of change and preps us for the future, then we should embrace the evolution. "And this is what believing looks like."
There was no call for this and yet I wonder how I made it this long without it. Revamping the King of the Hill title sequence in the Cowboy Bebop style really captured my interest this week.
"That's no python" is what I'd like to say when I discover what's in my backyard is just the garden hose. Unfortunately in Southwest Florida, they discovered it was an albino boa. Nine feet five inches long and over fifty pounds of snake that had been eating bunnies and maybe cats. Luckily, it wasn't just released in a field, one town over. It's in a facility for wayward snakes now and hopefully won't make a break for it.
Sunday Morning Tuneage Flashback
On the Sunday Morning Tuneage of 8/2/2007, it was my annual San Diego Comic-Con report. It was the year we all stayed on the 10th floor of the Holiday Inn with the great view. Movies that looked good from the panels included The Mist, Whiteout, Hatchet, 30 Days of Night ,and I was pretty confident that Iron Man was going to reinvigorate the Marvel Film Universe. For television, The Simpsons were excited to be getting to 500 episodes and that might be the end (as they now set 800 and more in their sights). There was one particular film panel that caught me by surprise.

Halloween (2007) (Directed by Rob Zombie): "His eyes will deceive you; they will destroy you. They will take from you your innocence, your pride, and eventually your soul." – Dr. Loomis. This was the most unusual panel that I have attended in my over 20 years of the Con. No director or creator has ever been less interested in promoting their work than Rob Zombie was here. The movie was still a couple months from release and Rob was already apologizing for the film. I made note of how annoying the fans were but I was more ashamed of how Rob treated their silly questions with just one-word answers. Because of that, I skipped the film and the sequels. I decided to take a look this week.

It's easy to see why the fans of the franchise are divided on this effort. A retelling of the series after 30 years isn't what most older fans wanted. But it makes sense for Millennials who don't feel the same attachment to the original cast. Scout Taylor-Compton is our new Laurie, Malcolm McDowell is Dr. Loomis, and Tyler Mane is now the man behind the mask. I found myself thinking that had it been called anything other than Halloween, I might have enjoyed it more. It's darker and more violent but there isn't the same fear factor that the original accomplished. This version subliminally acknowledges that it's just a louder and bloodier version of the original and doesn't try to rise to much else.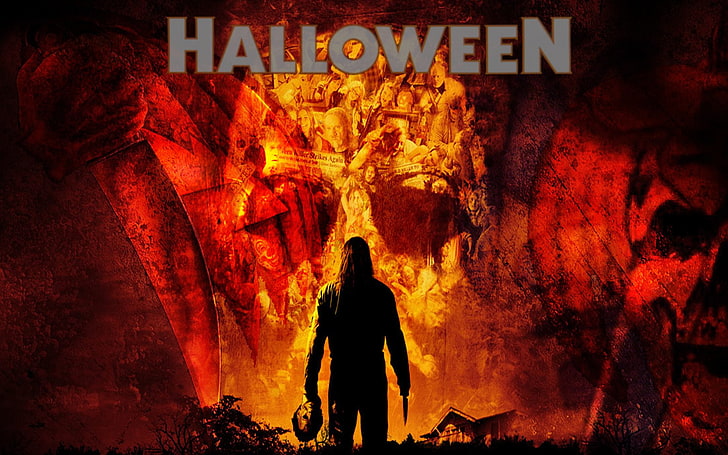 Flash From The Past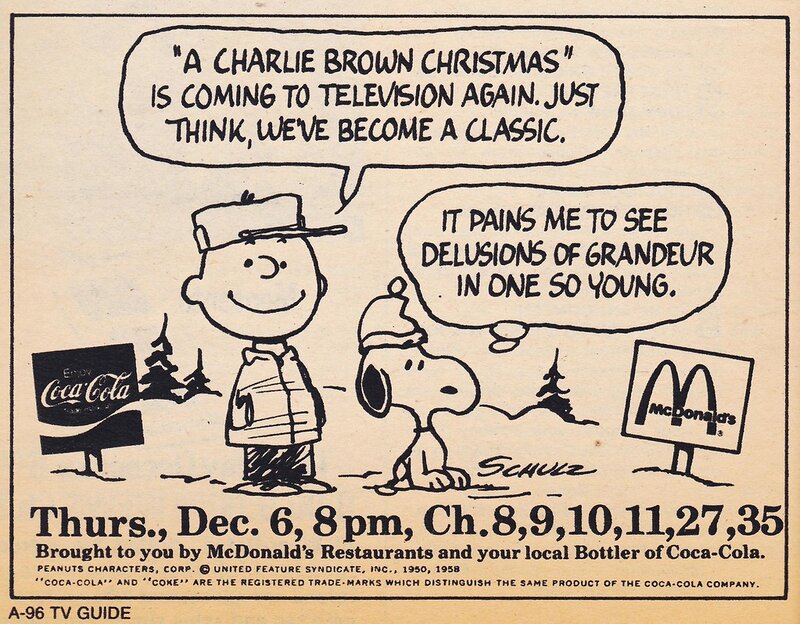 What the Hell Did I Put In My Mouth?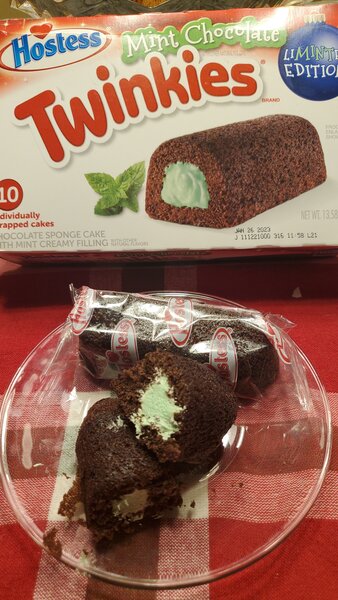 Hostess Mint Chocolate Twinkies
Not the Hostess with the mostest. If I recall, this is at least the fourth time that these have made the rounds but the first time that I have tried them. The filing isn't an overwhelming mint. I would expect more like the Thin Mint flavor combination but it wasn't that at all. It ends up being the most "meh" of combinations and less identifiable as a Twinkie than any other combinations that I've had.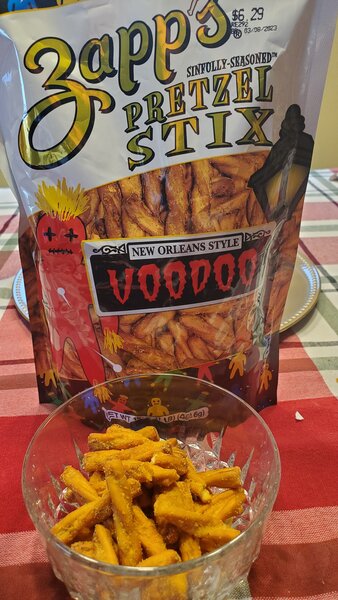 Zapp's Pretzel Stix: Voodoo
The Utz brand Zapp's makes some great potato chips. The addition of the Cajun-inspired Voodoo flavor to braided pretzel sticks is a really unique offering. The Voodoo flavor is a sweet seasoned flavor that is even sweeter here than in the chip version. A great smell out of the bag and a Cajun sweetness that lingers in your mouth way beyond the first handful. Along with those Beer Cheese pieces from a few weeks ago, there are exciting changes in the pretzel landscape.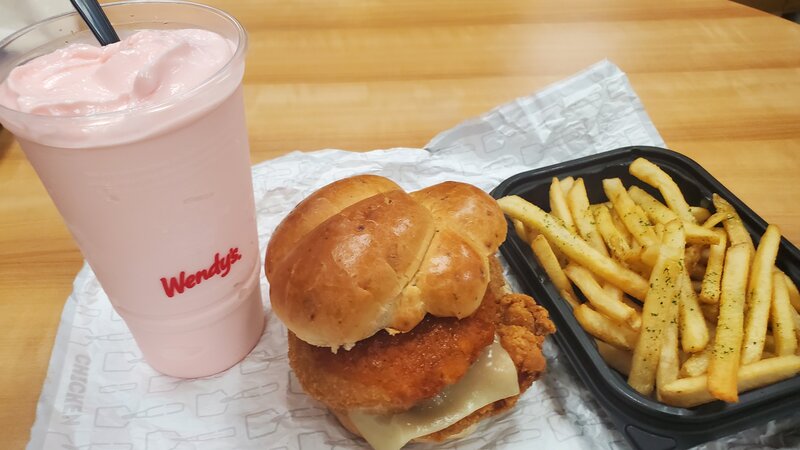 Wendy's: Peppermint Frosty, Italian Mozzarella Sandwich, and Garlic Fries
The chicken – a huge breast of chicken and a sauce that needs some work. Garlic fries are a keeper with a sort of parm- and garlic-flavored butter over them that would work well on a burger or chicken sandwich. Peppermint Frosty is a miracle that it isn't too much. It's a simple vanilla flavor with a consistent peppermint flavor that will be a good seasonal addition.
"When the mountain touches the valley
All the clouds are taught to fly
As our souls will leave this land most peacefully
Though our minds be filled with questions." – Paul Williams
Stay Hard.
sb