From 2005 through 2013 and then, after a hiatus, from 2017-2021, I have punctuated each year with an ever increasingly complex Best of List. The fact is that I watch things, read things, and eat things, and above all, I love making lists. Over the next three weeks, I'll pull from a year's worth of notes, Instagram posts and spreadsheet entries to put together a personal summary of my 2022 experience (your results may differ).
BEST OF FILM 2022 (Recap)
No other blogger is brave enough to pick their favorites before they see them. Here's what I boldly thought I'd be writing about in December 2022 (when it was still an innocent December 2021)
PREDICTED BEST MOVIES OF 2022 (As I Wrote About Them In Dec. 2021)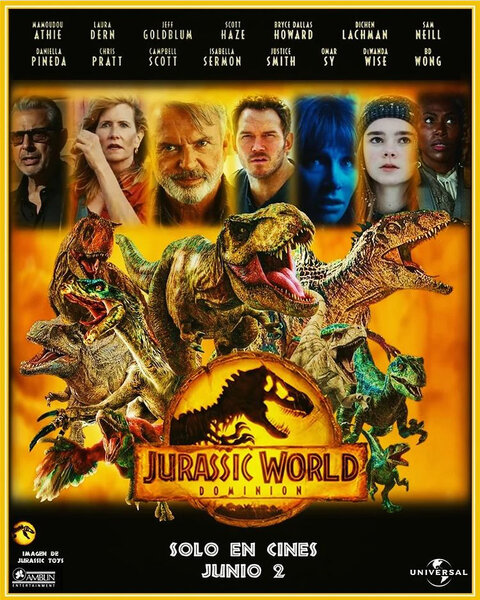 1.  Jurassic World: Dominion (June): I could act all arty and crap and pick some art house film as the one I'm looking forward to the most in 2022. That would be a lie. I know myself. I know my love of dinosaurs. This is the film I will be at on opening night next year.
2. The Batman (March): Robert Pattinson is still an iffy choice for me but I do love Paul Dano as the Riddler.
3. Death on the Nile (February): The oft-delayed film in the Agatha Christie Universe is finally supposed to show up in theaters this year. Did I mention Gal Gadot?
4. Doctor Strange in the Multiverse of Madness (May): I do love the Doctor Strange character but then add in Sam Raimi as the director and I'm full in.
5. Fantastic Beasts: The Secrets of Dumbledore (April): I think I enjoy this franchise more than most. I even liked that last entry in the series. Tell me that even just seeing the name "Dumbledore" in the title doesn't get your excitement levels up.
6. Thor: Love and Thunder (July): Director Taika Waititi has a really good feel for the Thor character. We get a crossover with Guardians of the Galaxy to make this even more appealing.
7. Morbius (January): I didn't have much hope for this until the preview. The addition to the Spidey Universe could be more interesting than I initially thought. This ranking might be more of myself willing it to be good.
8. Nope (July): Are you going to doubt a Jordan Peele film?
9. The Unbearable Weight of Massive Talent (April): See trailer.
10. Turning Red (March) In the past years, any Pixar release would have been an instant Top Five film of the year. This looks pretty cute but Pixar doesn't hold the same cache as it did before.
BEST MOVIES OF 2022
My goal in past years has been to view at least 25 movies in the theaters. This year I made it to eleven, which is about where I have been the past few years. I used to hold this list to only theatrical films but there are too many good films that get released across the streaming services. So this list is only limited to 2022 releases that I have watched. As a point of comparison, I have watched five of the predicted best above (only two of which made my final Top Ten). And yet found time to watch over 50 movies that were made 50 years ago. Documentaries are relegated to their own list below. Last Year's Best Movie: The French Dispatch (Directed by Wes Anderson).
1. The Fabelmans (Directed by Steven Spielberg) (Theater): It's hard to find words for what Spielberg's works have meant to me and my lifelong love of cinema. Every step of the way, I've never had to go more than a year or two without a Spielberg film. His retelling of his own coming of age through the prism of his later life needed the fictional touches that he was able to add here. This film just reinforced my love for Steven and film.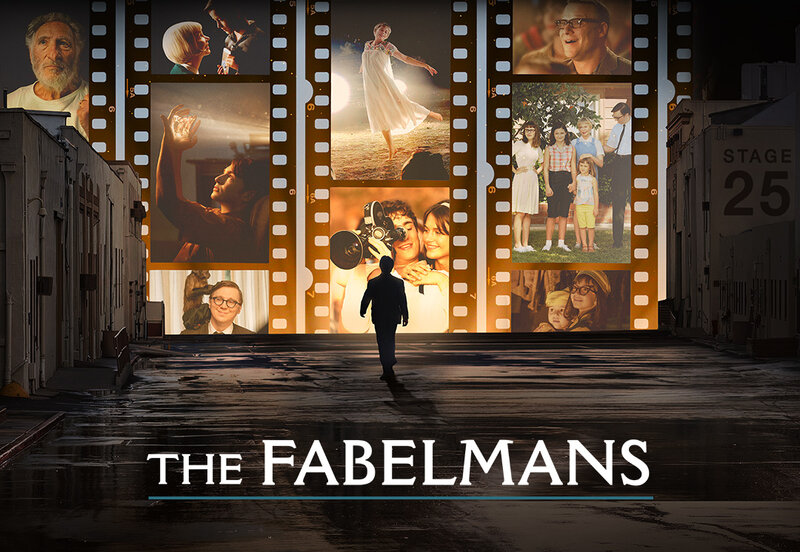 2. Everything, Everywhere All At Once (Directed by Daniel Kwan and Daniel Scheinert) (Theater): Rarely has a movie about doing your taxes made me cry but here we are. Evelyn and Waymond (Michelle Yeoh and Ke Huy Quan) play their roles across multiple universes just perfectly. Jamie Lee Curtis nails it as IRS agent Deirdre Beaubeirdre. A movie that manages to have hot dog fingers and also make us consider relationships of marriage and between mothers and daughters. (Now playing on Showtime)
3. The Banshees of Inisherin (Directed by Martin McDonagh) (Theater): Fascinating character film with a phenomenal cast of characters. Colin Farrell is on a huge upward trajectory this year and Brendan Gleeson makes a wonderful curmudgeon. Like the two films above it this year, saying it's a film about two men that used to be friends just doesn't do justice to the depth of the story. (Now playing on HBO/HBO Max)
4. Nope (Directed by Jordan Peele) (Peacock): I wrote about this film just a week ago and I've actually moved it up my list as I considered it further this past week. In relation to Spielberg, whom I think is a major influence on the film, it takes Close Encounters of the Third Kind to a natural conclusion for 2022. The film doesn't become about what you saw but being seen as the person who saw it. Richard Dreyfus wasn't concerned about what other people thought he saw but about confirming it for himself. Otis (Daniel Kaluuya) and Em (Keke Palmer) want to document it, never once needing proof themselves as to what they saw.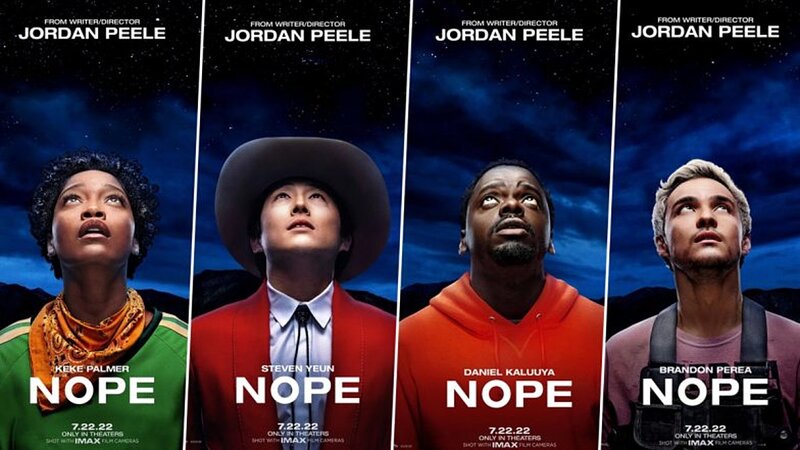 5. Marcel the Shell with Shoes On (Directed by Dean Fleischer-Camp) (Theater): For a long time, I thought this mockumentary might be my #1 film of the year. Marcel and his grandmother, Connie, and his pet lint, Alan, really captured my heart. It's about being brave and strong in the face of grief. I love the message of hope that little Marcel delivers. (Now playing on VOD)
6. Men (Directed by Alex Garland) (Prime): Such a creepy, unsettling film and yet I don't hear much love for it in year-end summaries. I think it's one of the more memorable films of the year.
7. The Batman (Directed by Matt Reeves) (Theater): I had made many assumptions about this film before I ever saw a trailer. Pattinson makes a great Batman and support from Zoe Kravitz, Colin Farrell, Paul Dano, and Jeffrey Wright turned this into the best superhero film of the year.
8. X (Directed by Ti West) (Showtime): Ti West has the eye of an Art Film director and the horror instinct of a young Tobe Hooper. This film plays on the surface as a "things go crazy in rural Texas" horror pic but there's more to it than that. To confuse your symbolic senses, there's a movie inside of the movie that's inside the movie.
9. After Yang (Directed by Kogonada) (Showtime) It's definitely the year of Colin Farrell as he stars as the father trying to fix his daughter's defecting AI Robot, Yang. This near-future story is one of my favorite settings for science fiction tales.
10. The Northman (Directed by Robert Eggers) (Prime): This movie isn't on too many lists for this year mostly because it's unrelenting, dark, and brooding. But Eggers has a way of just sucking me into his universe that I love.
BEST MOVIES I DIDN'T SEE IN 2022
A testament to my follow-through on current films, I only later caught up with three of my Best Movies I Didn't See list last year. So this is a list that acknowledges that I've missed some incredible films in 2022 and I'll get around to them in 2037. Last year's Best Movie I Didn't See in 2021: Licorice Pizza (Directed by P.T. Anderson) (watched soon after the New Year and would have been a Best Film contender on my lists).
Tar (Directed by Todd Field): This film didn't jump off the screen at me in the previews. But once I started reading reviews, this film appears to be just the type of film that I will love to think about long after the first viewing. And Cate Blanchett as the lead is just an extra bonus.
2. The Whale (Directed by Darren Aronofsky): A recent release, so I have an excuse. Brendan Fraser looks amazing and Aronofsky always has interesting observations about life. It's also (spoiler for below) one of the most engaging trailers of the year.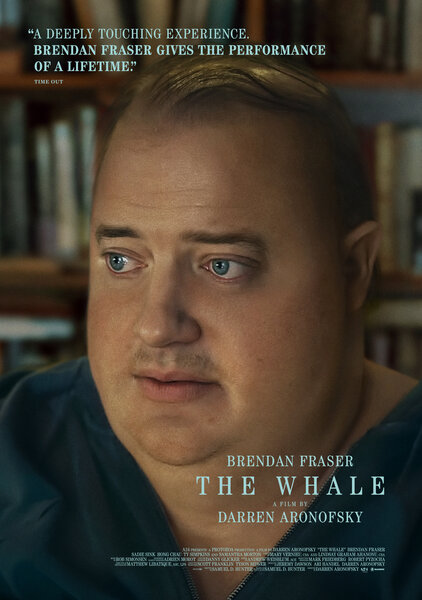 3. Decision to Leave (Directed by Park Chan-wook): This has Hitchcock-influenced all over it on the previews.
4. Pearl (Directed by Ti West): West is one of the most interesting directors working in the horror genre – see #8 above.
5. Bodies Bodies Bodies (Directed by Halina Reijn)
6. Moonage Daydream (Directed by Brett Morgen): How have I missed this? And I'm not sure if I want to file it completely under the Documentary genre until I watch it, based upon the trailers.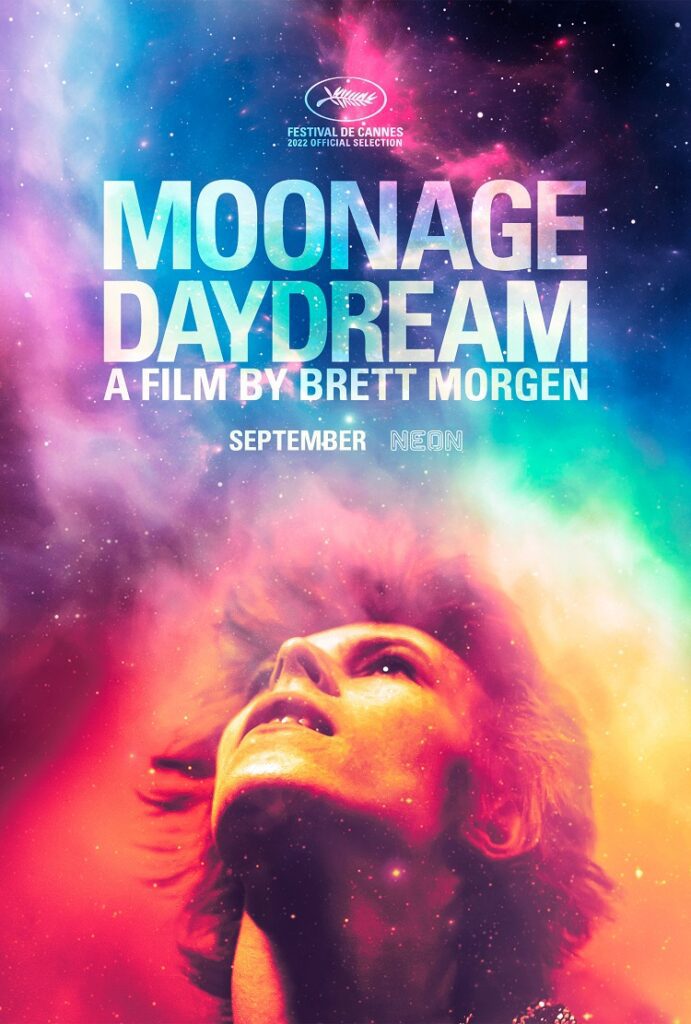 7. All Quiet on the Western Front (Directed by Edward Berger): No excuses for not watching an adaptation of one of my favorite books.
8. Glass Onion: A Knives Out Mystery (Directed by Rian Johnson): Mystery, horror, or Western, I do love my genre films.
9. Turning Red (Directed by Domee Shi): Sad that Pixar films are this far off my radar now.
10. Top Gun: Maverick (Directed by Joseph Kosinski) Still very little energy to watch this other than all the people in my life who say it's "great."
BEST DOCUMENTARIES OF 2022
I started my Documentary Project in 2020. I was more immersed in it back then with 180 docs watched but I maintained a solid 80 docs this year (which matches 2021), including trying to keep up with some of the best of the current year.
Ben Franklin (Directed by Ken Burns) (PBS): I was predestined to rank this high on my list and it didn't disappoint. This is one of the most fascinating moments in history for me along with the Civil War and the era of WWI. Ben has three or more separate amazing parts of his life that alone would make a great story. Burns does his usual good job of framing Franklin through a lens of today's world. This man's life deserves a great long television adaptation.
2. Fire of Love (Directed by Sara Dosa) (Disney+): The story of Katia and Maurice Krafft is equally a story of volcano research and a love story of a couple fascinated with danger and the unknown. It has that ever elusive combination that I love of learning history and seeing a fantastic personal story.
3. George Carlin's American Dream (Directed by Judd Apatow) (HBO): I love words and language. Carlin was at his best when he was pointing out the foibles of the ways we communicate. This two-part series could have even been longer with more of his stand-up bits. He is a polarizing figure but this documentary just presents him, warts and all, and lets the viewer decide.
4. The U.S. and the Holocaust (Directed by Ken Burns) (PSB): Easily the most important documentary of the year. It's not easy to watch but necessary. Burns tells the story that mirrors a little of today's rhetoric of a country trying to deal with internal pressures and define themselves. It's as horrifying and unbelievable as you would imagine but the stories need to be heard so they are never repeated.
5. Taken Hostage (Directed by Robert Stone) (PBS): The story of the Iranian hostages is one that has mostly been forgotten in our recent history. This covers the story with a great balance of background and interviews of those involved.
6. Captain Ahab: The Story of Dave Steib (Directed by John Bois and Alex Rubenstein) (YouTube): The third documentary from the Dorktown banner after the Seattle Mariners and Atlanta Falcons histories. I can't be more excited for all the charts in next year's documentary.
7. Plague at the Golden Gate (Directed by Li-Shin Yu) (PBS): The story of the race to stop the plague from spreading in San Francisco in 1900 against the anti-Asian sentiment of the country is nerve wracking even 122 years later.
8. Dream On (Directed by Kristen Lappas) (ESPN): The story of the 1996 Olympic Women's Basketball team is told in a very compelling manner to highlight the larger acceptance of women's professional sports.
9. Riveted: The History of Jeans (Directed by Michael Bicks) (PBS): Surprisingly layered and interesting history of the piece of clothing that most of us take for granted.
10. The Tuck Rule (Directed by Ken Rodgers) (ESPN): I love sports documentaries that slow down and take a look at iconic moments. It doesn't hurt that this involves two Michigan men in Tom Brady and Charles Woodson.
BEST DOCUMENTARIES PRE-2022
Here's a quick list of the best older documentaries that crossed my path this year. The project continues because there are still so many wonderful stories out there.
Mark Twain (2001): I've read and reread so many of his books since my original viewing of this Ken Burns' documentary that a rewatch was very enlightening. It's a good introduction for those who may only be familiar with a few of his works too.

2. Roberto Clemente (2008): One of the baseball players that I had admired even though he was the generation before I knew the game. This breakdown of his life and career is impressive.
3. Gates of Heaven (1978): Errol Morris is an interesting dude. This documentary isn't just about pet cemeteries. It's a musing on the meanings of life and animals and other philosophical ideas told by people who on the surface seem to be talking only about their pets.
4. Can't Get You Out of My Head (2021): Adam Curtis doesn't really direct a documentary as much as put together source materials from the best archives ever to tell a story that isn't a linear tale but as he says "an emotional telling of the story." I can't even start to give you a roadmap for what this was about other than it being hugely informative.
5. History of the Seattle Mariners (2020): My first introduction to SecretBase came this year with this wonderful breakdown of the history of this amazing franchise.
6. Horatio's Drive: America's First Road Trip (2003): One of Ken Burns' early works tells a story previously unknown to me of competing attempts to drive West to East across the country in the early days of the automobile and how the journey captured the American imagination.
7. Bitter Lake (2015): Another Adam Curtis documentary on the list. At least this one is a bit more focused on the history of Afghanistan and the British and U.S. involvement. There's so much packed into this that I feel like I need to watch it again to really know the details of how we got to the point that we did in 2021.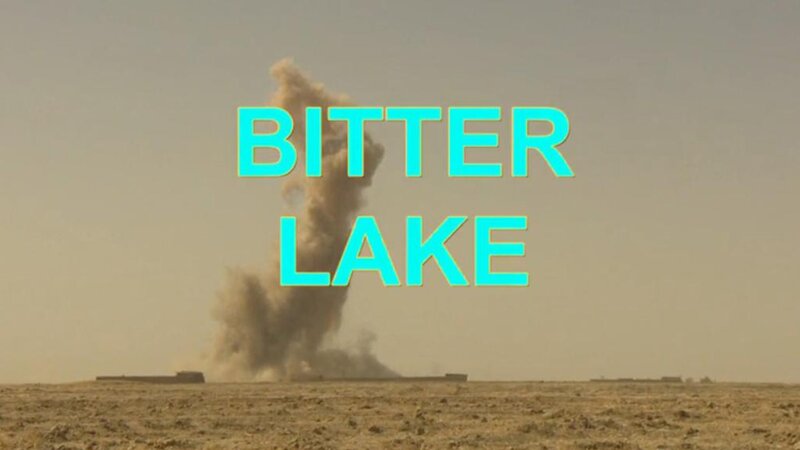 8. Becoming Cousteau (2021): Beautiful footage as you would expect from a National Geographic sponsored film.
9. Jane (2017): Powerful story of Jane Goodall.
10. History of the Atlanta Falcons (2021): The sequel to the amazing Seattle Mariners documentary from SecretBase was interesting but just not as compelling as the baseball numbers. What makes this above most others is the play by play breakdown of the Falcons collapse in the Super Bowl against the Patriots.
BEST MOVIES OF 1972
I had previously taken a deep dive into 1970 and 1971. The experience builds upon itself as I see patterns and connections from year to year. So I chose to do the same with 1972 this past year. The Vietnam War was still going, Richard Nixon was President, Nacho Cheese Doritos debuted, and HBO was launched. I watched 60 films from 1972, which I know is just scratching the surface, and first viewing or tenth viewing, here is what sticks with me.
1. The Godfather (Directed by Francis Ford Coppola): Let's get the obvious over with right away. This film gets ranked by some people as the Best Ever, let alone the decade or the year. Does it live up to the hype? Yes. Viewing after viewing it holds up. Great story, acting, and directing. It's hard to fault any aspect of the film and I was still enthralled watching it this year.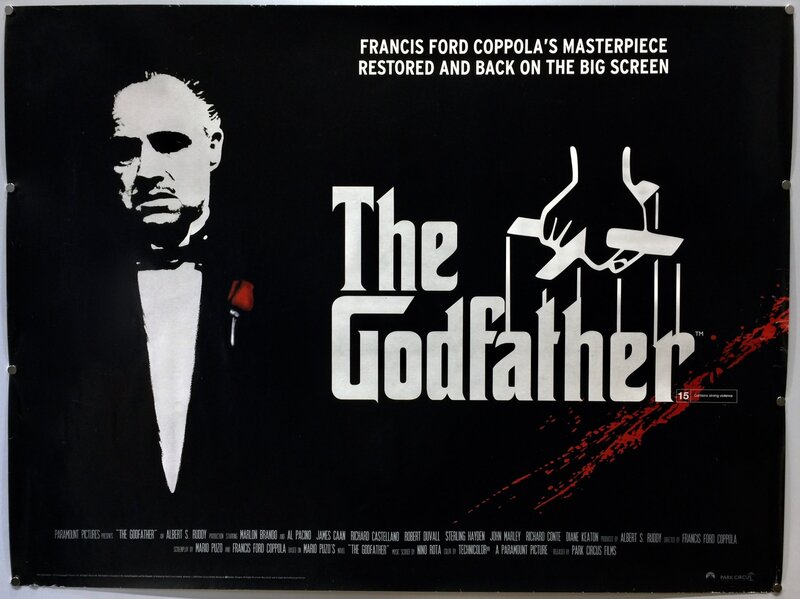 2. Jeremiah Johnson (Directed by Sydney Pollack): Robert Redford acts most of this movie without even talking and I never noticed it until this viewing. He does such a great job that it feels like he was telling us the story verbally the whole time. Just a beautiful film.
3. The Candidate (Directed by Michael Ritchie): More Redford greatness in 1972. This film has probably aged as well as any that I saw this year. The election-related nonsense portends exactly what we've seen over the past decade.
4. The Getaway (Directed by Sam Peckinpah): Steve McQueen and Ali McGraw eat up the screen. It's got some uncomfortable scenes in light of today's standards but you can't deny the energy these two have together.
5. The Discreet Charm of the Bourgeoise (Directed by Luis Bunuel): It's hard to justify how oddly funny this film is about a group of friends trying to find a place to have a dinner together is in the end. It shouldn't be more than an SNL sketch but in the hands of Bunuel it's a masterpiece.
6. Frenzy (Directed by Alfred Hitchcock): Who knew that the Master had one more great film in him by 1972. The movies had changed and he took advantage of it to tell one of his most uninhibited films.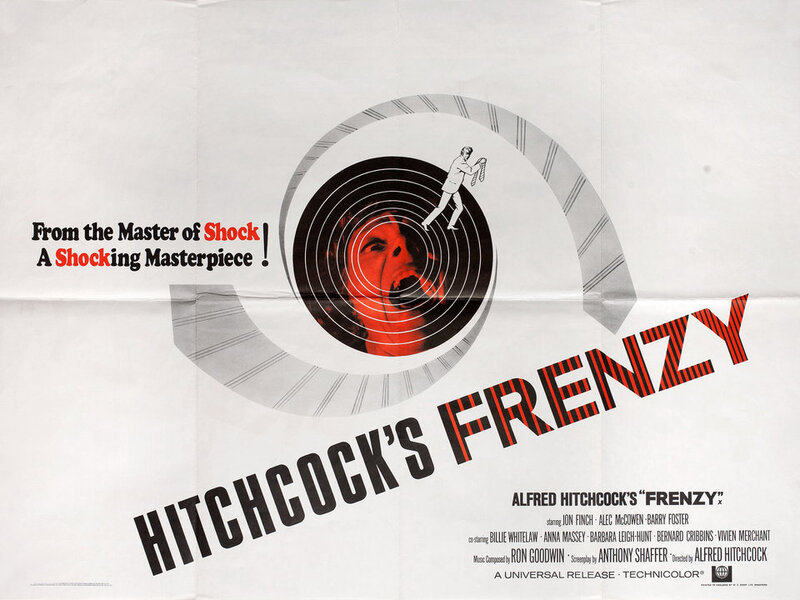 7. Cabaret (Directed by Bob Fosse): Sometimes you need films that are just fun.
8. Last House on the Left (Directed by Wes Craven) Are there some issues with parts of the plot? Yes but I'm willing to overlook them because of how amazing the look and feel of this film is compared to other horror films of the year.
9. Bandera Bandits (aka Sonny and Jed) (Directed by Sergio Corbucci): I could watch this Western yearly. It's definitely Bonnie & Clyde meets the Spaghetti Western. With a great score and some really funny takes on the genre.
10. Man of the East (Directed by Enzo Barboni): New England man arrives in the West and there are gunfights and comedy. The Spaghetti Western is alive and well in 1972.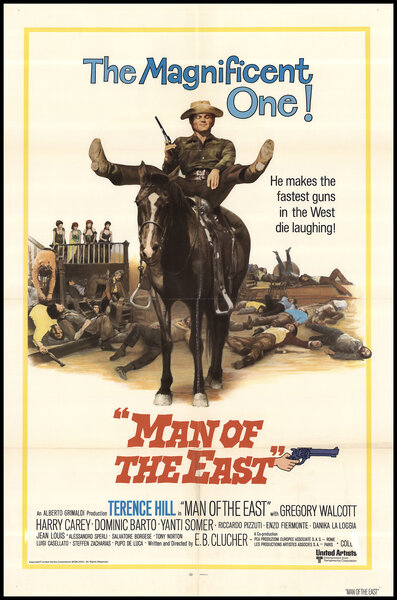 There were plenty of 1972 movies that I just didn't get around to yet. The best of the bunch I didn't watch include Slaughterhouse-Five, The Hot Rock, and Fat City.
BEST TRAILERS OF 2022
I just didn't go to the theaters enough to see the previews for the blockbusters that are upcoming. I rely on YouTube and Google to put them across my feeds now or a recommendation from one of you to check it out. From a limited selection, here are the best trailers / mini-movies of the past year. Fair warning, I'm not giving any more oxygen to Cocaine Bear. No offense to Cocaine Bear but I've been burned by trailers like this before.
Marcel The Shell With Shoes On (2022): Without giving away anything particularly important from the film, this trailer manages to capture the humor and sensibility of the film. There's little doubt that if this trailer gets your attention, you will love the film too.
2. The Northman (2022): A brief description doesn't do this film justice. It's not until you you hear and see the attention to detail that I really wanted to see this film. You can feel the chill in the air and smell the blood that flows on the ground when watching this trailer.
3. Barbarian (2022): Horror trailers are both easy and difficult. You can ruin the film with too much information or you can risk a "what the hell?" feeling that doesn't give you a fair idea of what the film is about. Starting with a creepy placement of "Our House" by Crosby, Stills and Nash through the basement/dungeon reveal, this makes me very curious to see what is happening.
4. Indiana Jones 5 and the Dial of Destiny (2023): Like an old friend, once you hear the first strains of that theme, you are instantly comforted. This trailer works best in that it hints at an action filled film with comedy as you would expect but it just teases a plot without giving anything away.
5. The Whale (2022): Trailers don't need to have loud music and explosions to make me want to pay my money to see the film. In two minutes, I can already feel an emotional attachment to this film.
BONUS: Enys Men (2023): I don't even know what to do with the information I'm given in these 90 seconds. It looks like a rerelease of a film from 1972 and maybe it was edited by Robert Eggers at some point. If you had told me that Vincent Price was once attached to this project, I wouldn't question you. I have no idea what else this film could be about.
This next group is my most uninformed list of the year. I don't read nearly as much about upcoming films as I do books and television shows. I'm typically pretty surprised when a movie opens and has a name I am familiar with in it. I do see some trailers and it's hard to avoid lots of hype films. Here are the films that are at the top of my radar for 2023.
BEST MOVIES OF 2023
Guardians of the Galaxy Vol. 3 (May): The easiest thing for me to pick on these lists is the ending of a franchise that has brought me so much joy. James Gunn gets to revisit the characters that he set in motion in this cinematic trilogy. I'm excited to take a ride with the crew one more time.
2. Rebel Moon (Unknown): Do I trust a Zack Snyder film for Netflix? The fact that there's already a sequel filming and that he lists Akira Kurosawa as a major influence on this helps too. It was originally pitched to Lucasfilm as a player in the Star Wars Universe. I want to catch this in theaters.
3. Oppenheimer (July): Christopher Nolan directs a film with epic shots and epic explosions? Let's all meet at the IMAX.
4. Spider-Man: Across the Spider-Verse (June): I hope that the delay of this from 2022 to 2023 isn't a sign of anything other than better timing. I'm basing my excitement solely on the entertainment value of Spider-Man: Into the Spider-Verse.
5. Next Goal Wins (April): Taika Waititi takes a break from the Marvel Universe to tell a story based upon the American Samoan soccer team who once lost 31-0 before they hired a new coach and suddenly . . . you know the story.
6. Ant-Man and the Wasp: Quantumania (February): Three of my first six are superhero films, showing that hope springs eternal. I am a sucker for superhero trailers and then as the reviews start to roll in, I lose momentum if I don't see them first weekend (see this past year's Doctor Strange as an example).
7. Dune: Part Two (November): I liked but didn't love the first entry into Denis Villeneuve's adaptation. I did like Timothee Chalamet as Paul. This late-year entry gives me a goal for reading the book (finally!) and watching the first part again.
8. Roosevelt (TBD): Scorsese directs DiCaprio . . . again. This won't make the 2023 deadline but just the combination of director / actor / subject matter has me eager for what is likely to be a darling of any Awards season.
9. Indiana Jones and the Dial of Destiny (June): See trailer above. I'm putting the film down here to fool myself that there are eight other films that will have me more excited than sitting down in a theater this Summer to watch this one.
10. Showing Up (Unknown) Maybe I'm just still in love with Michelle Williams after The Fabelmans or maybe this just looks like a great look at adulthood.
Thanks for making it through the first episode of this year's multi-episode finale. Next week: Television/Streaming lists.
"You can't just love something. You also have to take care of it." – Burt Fabelman (The Fabelmans)
Stay Hard.
sb