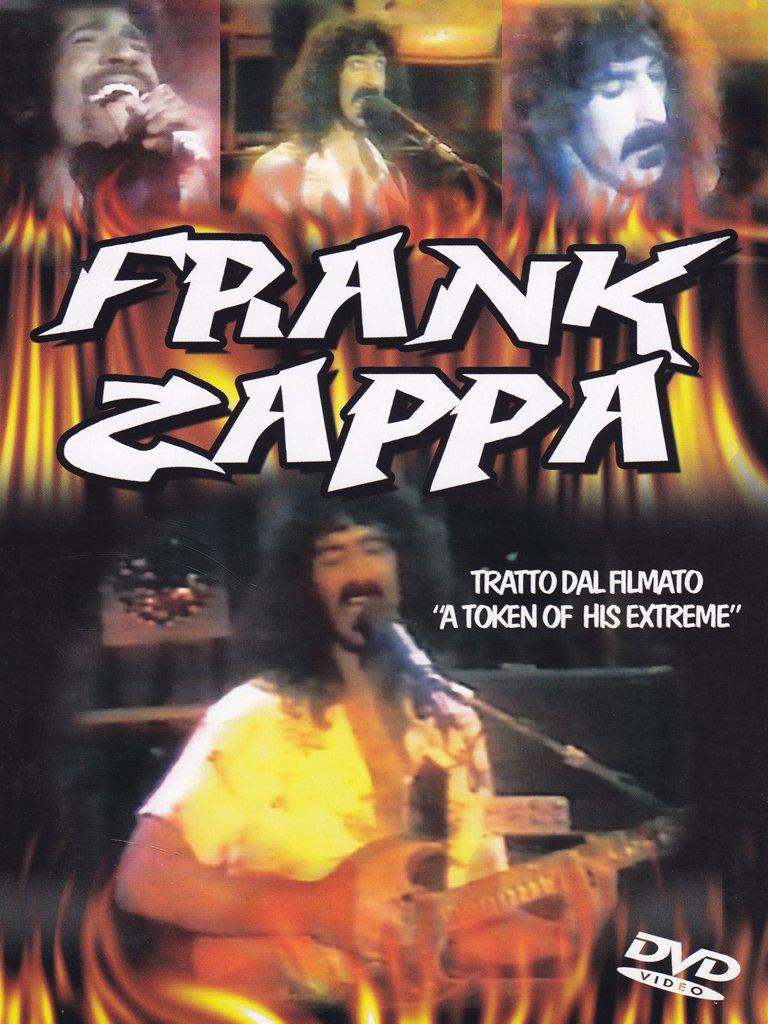 In 1974, Frank Zappa recorded a concert for television titled A Token of His Extreme. It was intended as a 90-minute special, and in addition to the musical numbers, featured some wonderful claymation sequences by Bruce Bickford. Despite the fact that A Token of His Extreme was shown in France and Switzerland, none of the networks or syndication outlets in America would touch it. Outside of a two-minute excerpt shown on The Midnight Special, the program never aired in the United States. Thanks to Eagle Rock and the Zappa family's Honker Video, A Token of His Extreme has finally been made available on DVD, and it is a remarkable show.
While Zappa was a musician first and foremost, he was always interested in film. The oddly endearing 200 Motels (1971) was his most successful foray into the field. But there were numerous efforts both before and after Motels. There is a very funny story in his autobiography The Real Frank Zappa Book in which he tells of being busted in 1963 for making soundtracks to porno films. Then there was the aborted Uncle Meat project, of which the double-album "soundtrack" became something of a Zappa classic.
For A Token of His Extreme, Zappa and his band performed in the studio of station KCET in Los Angeles, before a (presumably) invited audience. The date was August 27, 1974, and the Apostrophe (') album had just been released. Besides Zappa, the band featured George Duke (keyboards and vocals), Ruth Underwood (percussion), Chester Thompson (drums), Tom Fowler (bass), and Napoleon Murphy Brock (flute, saxophone, and vocals).
Zappa was at his commercial zenith at this point, with the Apostrophe (') album becoming his lone Top 10 album. For Mr. No Commercial Potential, this was a happy turn of events, and the music he was making was pretty phenomenal. This was Zappa's jazz-rock period, which is what the majority of the set consists of.
The 90-minute program features 13 songs, two of which are segued together ala the opening "The Dog Breath Variations/Uncle Meat." Zappa's guitar is front and center here, as is the first startling example of Bruce Bickford's wonderfully surreal claymation. Zappa's pacing is excellent, as he follows this instrumental showcase with the hilarious "Montana."
The talent level is off the charts, and everybody gets a turn in the spotlight. Napoleon Murphy Brock's vocals during "Oh No" are a scream, and the business with George Duke during "Earl of Duke" is also a lot of fun. Ruth Underwood is another standout, especially when she lets loose on the vibes. As for FZ, I never tire of listening to him playing the guitar. Of the many solos he takes, I would especially recommend the one during "Inca Roads."
The booklet is made to look like an old-school TV Guide, complete with channel listings and pictures. As for extras, the biggie is an extremely cool 17-minute appearance on The Mike Douglas Show. It is from 1976, and Frank was there to promote his Zoot Allures album. In addition to a solo number, Zappa and Douglas talk about a wide range of subjects. Frank was in a good mood that day, even bantering with fellow guests Jimmy "Dynomite!" Walker, and Kenny Rogers. Other extras include a Discography, and a "DVDography."
There is nothing "dirty" or offensive in any way in the show, so I cannot really explain why American television passed on it. Be that as it may, the concert is really, really good. If you are a fan, especially of Zappa's early '70s jazz-rock period, you need this DVD.