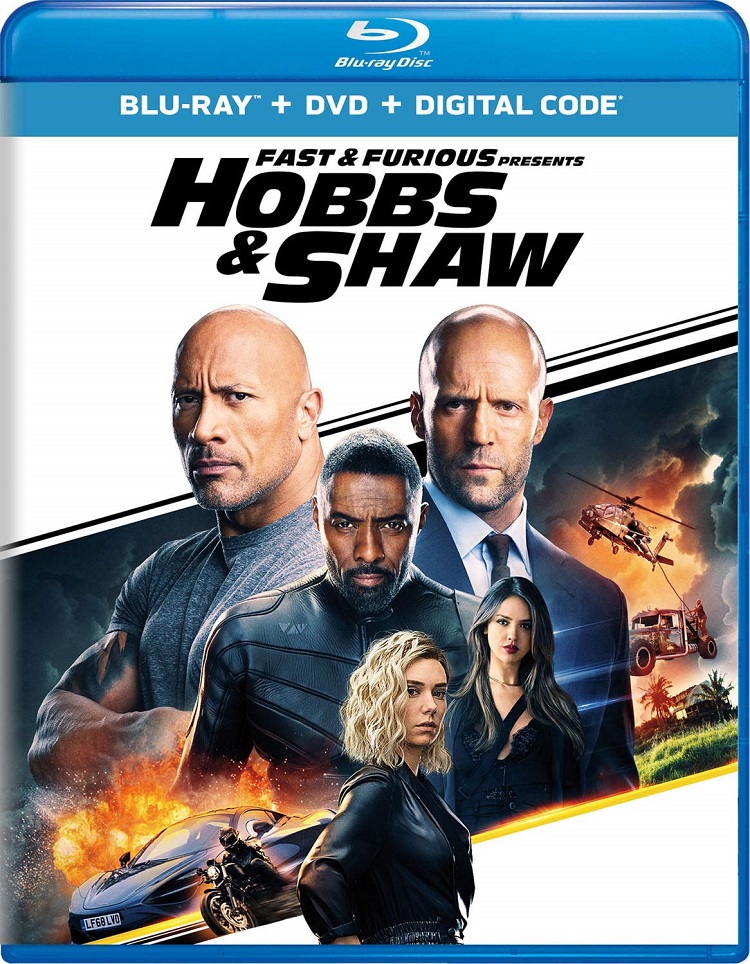 The folks behind the Fast & Furious franchise took two of their most bankable actors, Dwayne Johnson and Jason Statham to lead the spin-off Hobbs & Shaw and followed the series' successful formula: over-the-top action scenes set around the world combined with a focus on family. The movie was previously reviewed this summer.
The Blu-ray's video has given a satisfying 1080P/AVC encoded transfer displayed at an aspect ratio of 2.39.1. The colors shine in brilliant hues. Blacks are inky and whites are accurate. These elements contribute to the strong contrast which is most evident during the split-screen introduction of our two main characters: Hobbs in sunlit Los Angeles and Shaw in foggy London. The frames are filled with sharp focus and there is fine texture detail throughout. A great example is the climatic fight sequence between Hobbs and Shaw against Brixton Lore (Idris Elba) taking place in the rain in slow motion.
The audio is available in Dolby Atmos which steps down to Dolby TrueHD 7.1. Dialogue is clear. The effects are presented with great care. Bombastic to match the action, with powerful support from the subwoofer, but never being so loud that they distort the system. Softer noises help demonstrate the width of the dynamic range. Effects come at the viewer from different channels, well positioned and also moving the speakers.
The bonus features, all in HD, include an Alternate Opening (10 min) that is not much different from what appears in the movie, 22 Deleted/Extended/Alternate Scenes (34 min) that cover the movie's story, and a wide-ranging audio commentary by director David Leitch. The rest are broken down into different categories:
A focus on different actors and characters: Johnson & Statham: Hobbs & Shaw (4 min); The Bad Guy (2 min) about Idris Elba / Brixton; The Sister (4 min) about Vanessa Kirby / Hattie; Hobbs' Family Tree (3 min); The Matriarch (2 min) about Helen Mirren; and New Friends (HD; 2 min) about cameos by a couple of Johnson's friends.
A focus on the filmmaking: Progress of a Fight Scene with Director David Leitch (5 min) where he explains his process and approach to scenes in the movie; Practical Action (4 min) about executing fights; Elevator Action (2 min) about the descending-building setpiece; and Stunt Show and Tell (4 min) finds Leitch shows and tells how many people and steps are involved in creating two action sequences.
A focus on Johnson's family: Keeping It in the Family: A Conversation with Roman and Dwayne (5 min) finds the cousins discussing their shared backgrounds and highlighting their Samoan heritage. Blind Fury (2 min): Johnson pays tribute to his grandfather, pro wrestler Peter Maivia, in the movie. Dwayne and Hobbs: Love at First Bite (2 min): Johnson's bulldog also got a cameo. Surely, a Turner and Hooch remake in the offing.
Hobbs & Shaw "should be fast and furious enough to please fans and those looking for a ridiculous action movie." The Blu-ray delivers a high-quality, high-definition experience and is packed with extras, which consumers need to make studios understand have value.