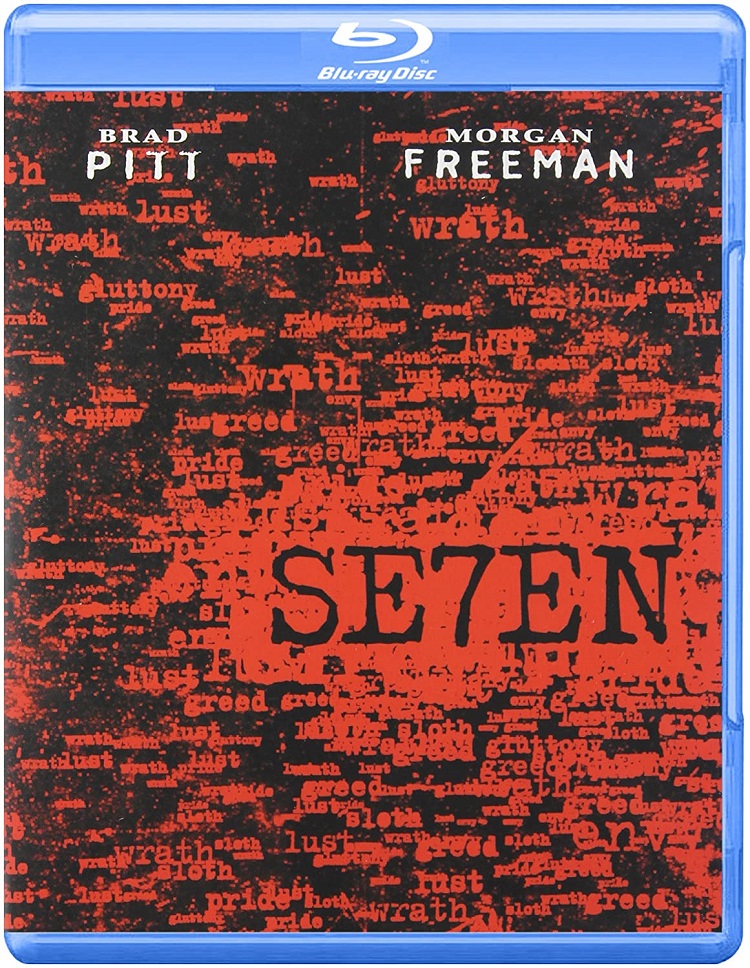 David Fincher led me to David Bowie. I doubt that was a typical path to the Thin White Duke, but it's how I got there. I went to watch Se7en because the review in the Daily News said it should have gotten an NC-17 for its grisly crime scenes, so that was something I had to see. This was back when it was easier for young and impressionable teens to get into R-rated movies (two years later I would be barred from seeing Lost Highway at the same theater, even though I was 17 – I just couldn't prove it.)
Se7en left an enormous impression on me, for a multitude of reasons – the relentlessness of Fincher's vision, Pitt and Freeman playing off each other, the unforgettable climax. And when it was over, and I'm sitting stunned in the theater, the credits begin crawling down the screen in reverse, done up in the same crack-minded homemade evil aesthetic as the John Doe notebooks, this strange, creepy, oddly funky song plays.
It's a terrific song to go out on when (spoilers?) the bad guy wins. I couldn't grasp just what the lyrics were on about. I just knew I had to find who that was singing, who could come up with those sounds.
I can't remember where I found out that it was David Bowie's "The Heart's Filthy Lesson." I think I had access to the WWW then, but it was spotty and dial-up and terrible. It couldn't have been from the official soundtrack for Se7en, which didn't have "The Heart's Filthy Lesson" on it. Nor did it have the great remix of NiN's "Closer" by Coil that played over the opening credit, nor much of Howard Shore's excellent horror score, which still hasn't been properly released.
But when I did find it, I knew it didn't make much sense. "Ch-ch-changes" and "Major Tom," that was David Bowie. He was some old guy, not somebody who did something new and exciting and dangerous sounding like "The Heart's Filthy Lesson". But to find out I had to get the album it was on, Outside.
That part was easy because it was one of the two David Bowie albums you could always find in the used bin at the Warehouse. The other album is hands down the worst thing in DB's catalog, Never Let Me Down. When Outside was new, it was also rather poorly received, and seen, along with the follow up electronic album Earthling, as a trend-chasing album rather than a trend-setting one.
But as an introduction to Bowie as the crazy art-rocker, not the guy with a few hit singles that don't sound anything alike, Outside was revelatory to my young mind. "The Heart's Filthy Lesson" was as awesome as I'd remembered it in the theater, but there was an enormous length album all around it. I didn't totally get it, and it is probably still too long (14 songs and 5 "segues" that help tell the story of the 'Ritual Art Murder of Baby Grace Blue: A non-linear Gothic Drama Hyper-Cycle' which is as pretentious as it sounds). Another song from the album bookended David Lynch's Lost Highway, "I'm Deranged," which was partly how the whole album felt: deranged, unhinged. Weird. But the sprawling nature of the themes, both musical and artistic, were emblematic of what David Bowie meant to me as an artist: a man who explored all the possibilities.
He wasn't owned by any genre, by any medium, or by any constraints of a fan base. He could tear it all up and start again, and did, several times, including with Outside – it was intended to be a triptych of three albums telling the entire Gothic Drama Hyper-Cycle. But Bowie got interested in something else, and went off and did that instead.
When I saw David Bowie play at the Universal Amphitheater, in support of the Earthling album, the sense of the theatrical that he brought to everything wasn't so much present in the staging (which had videos playing on screens I couldn't see from my seat, and not much else) but in the sequencing of the show. He started with a solo acoustic rendition of "Quicksand," from Hunky Dory, a poignant song about mortality and transcendence, which has the lyric "I ain't got the power anymore." Bowie then spent two hours refuting that notion with the rest of his incredible, expansive show, whipping through every era of his output (while skipping everything from Let's Dance and its '80s successors) and demonstrating that, damn it, he had the power. Even to make two of the oldest songs played that night, the double encore of "All the Young Dudes" and "Moonage Daydream," feel new and perfect for that moment.
It proved to me something that all young people interested in the world need to learn: history did not begin when you were born. Energy and creativity are not simply by-products of youth. And, most importantly, what you are today does not have to be what you are tomorrow. That's Bowie's Lesson.