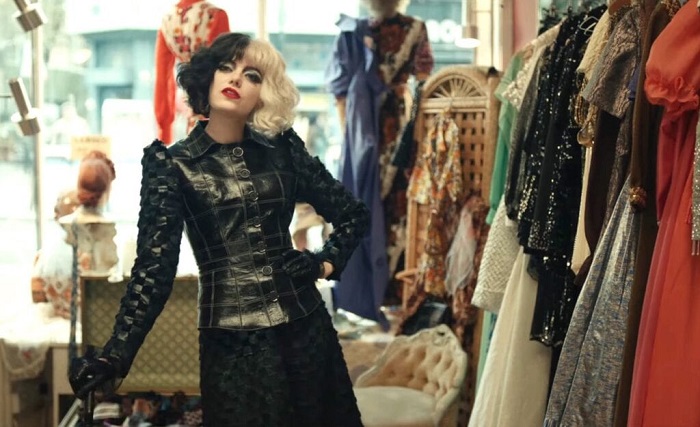 Despite being a part of the family-friendly Disney brand, Cruella doesn't entirely feel like a traditional Disney film which is rather beneficial. In contrast to some of the other live-action/motion capture Disney remakes we've gotten that are meant to keep their respective tentpoles going, Cruella avoids being a shot-for-shot remake of 101 Dalmatians by focusing on the vantage point of the famed villain Cruella de Vil (Emma Stone). It goes from showing her life as a child to how she became the sinister fashion designer everyone knows her to be.
During her childhood, Cruella, whose original name is Estella, had trouble fitting in at school and, after the sudden tragic demise of her mother, ran away to London where she met Jasper and Horace who became her surrogate family. Ten years later, as she, Jasper (Joel Fry), and Horace (Paul Walter Hauser) commit petty crimes just to get by, Estella aims to make her way in the fashion industry and eventually gets a job working for the self-absorbed yet legendary fashion designer Baroness von Hellman (Emma Thompson). Once Estella works under the Baroness' wing, she ends up tapping into her wicked side even more than before. Estella then goes by the "Cruella de Vil" moniker as she attempts to rival the Baroness' fame and success and become a fashion legend in her own right.
Minus the mockumentary style, director Craig Gillespie uses similar storytelling approaches present in his previous feature I, Tonya, like the use of voice-over narration and various needle drops, to make Cruella as refreshingly idiosyncratic as possible. Gillespie's direction manages to elevate a screenplay that feels at odds with itself. On one hand, it does show how Cruella was always one to rebel and cause trouble, exemplifying how some people are just born bad. On the other hand, its attempt at simultaneously giving Cruella a tragic backstory as a way of humanizing her is where it falters.
The idea of a Cruella de Vil prequel that shows her rise to power is interesting. However, the whole concept of trying to humanize an irredeemable villain who'd eventually try to skin puppies to make a fur coat is rather illogical. If the script had left out the tragic parts of Cruella's backstory, we'd still have a story about a woman who, even when she was young, refuses to conform to social norms and aims to scheme her way to the top of her desired field.
As a film, Cruella is proof that some of the best villains don't need a motive for what makes them tick or to make them intriguing. They can be made compelling simply due to the charisma of the actor playing them. Something that Emma Stone certainly has in spades as she brings Cruella de Vil to life. By portraying both the introverted Estella and her bewitching yet mischievous "Cruella" alter ego, Stone is even able to recapture the same magic present in her career-best work as the duplicitous Abigail Masham in The Favourite. Another film co-written by Oscar nominee Tony McNamara that allows Stone to subvert her quirky star persona.
That being said, magnificent as Stone may be, it's Dame Emma Thompson who runs away with the whole picture. With just a facial expression or a banal line reading, Thompson inhales every moment she has on screen as she brings the narcissistic Baroness to life. Thompson steals the show while Joel Fry is in fine form as Jasper, the film's moral center. Kirby Howell-Baptiste also does a fine job as Anita, a gossip columnist who's Estella's childhood friend, even if she doesn't have much to do. Meanwhile, Paul Walter Hauser and Mark Strong do slight wonders with their roles as Horace and the Baroness' conflicted valet John, respectively.
In the end, though, it's the Emmas, along with Gillespie's direction and of course, the stunningly lavish costumes by Oscar-winner Jenny Beavan, that make Cruella the near success that it is. The tragic backstory given to Cruella is unnecessary and while they do offer nostalgia, the musical needle drops are at times overused. But despite those flaws, Cruella is still one of the better live-action Disney remakes we've gotten. Even if the ongoing string of remakes have given us mixed results, to say the least, at least it's nearly at the top. Even Cruella herself would like the idea of being ranked above the rest.