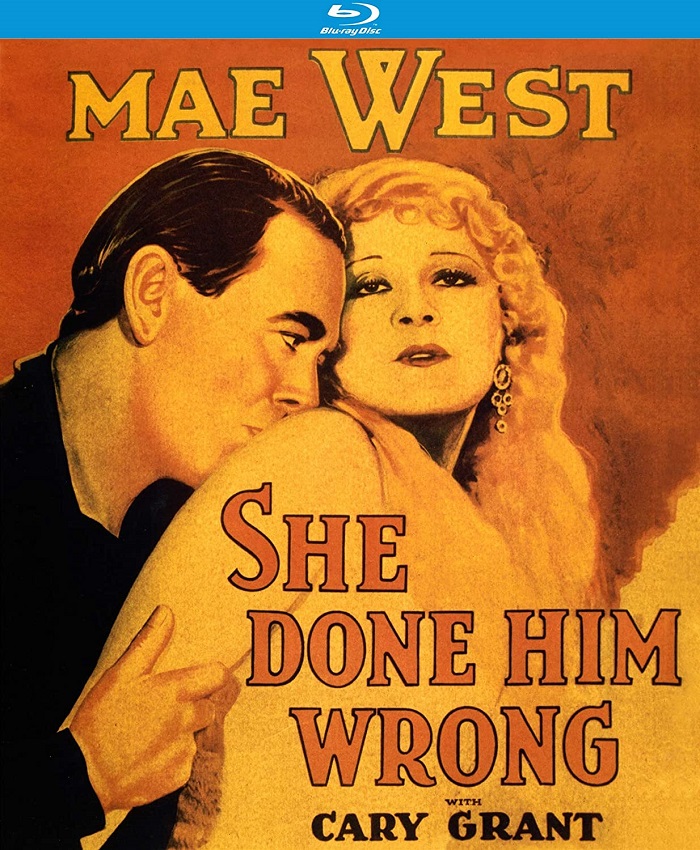 What can one say about the legendary Mae West that hasn't already been said? She was a daring, tough, and sultry sexpot who could dish bawdy wisecracks like no one's business. In fact, she taught us about sex when everyone else was afraid to talk about it. The brassy Brooklyn native possessed a jaunty sexual independence that many film aficionados (including gay men) still talk about to this day. She made several films that showcased that independence, but her second outing, the still-tantalizing 1933 landmark She Done Him Wrong, was the one that really permanently cemented her place in pop culture history.
Based on her own 1928 play Diamond Lil, West stars as bawdy, barroom singer Lady Lou, who knows everyone in town, which definitely includes the men. She spends her time keeping at a distance, but doesn't shy away from accepting the many gifts they bestow upon her. However, her jealous ex-boyfriend (Owen Moore) threatens to kill her if she's unfaithful to him. He eventually breaks out of jail to find her. To make things worse, her boss (Noah Beery Jr.), unbeknownst to her, is running a prostitution ring and the handsome young man (screen legend Cary Grant in an early role) she recharges her batteries for, is the director of the local mission she wants to buy, to keep it from closing. But when she discovers that he's really a cop, she has to figure out a way to win him over, before she finds herself in the slammer.
The plot is pretty standard, but you really don't care once you see West in full force (with lots of diamonds) and melting the screen with her risqué quips, including the now-famous line, "Why don't you come up sometime and see me?" she whispers to Grant. And speaking of Grant, how great was he in the film! In only his second year of acting, he already had the charisma, looks, and demeanor that would define his legendary persona/career, and perhaps make him arguably the most debonair actor in Hollywood history. There is also a competent supporting cast including Moore, Beery, Gilbert Roland, Rochelle Hudson, and Louise Beavers, who play interesting roles, but this is West's film all the way.
When adapting the play to the screen, it was rejected by the production code, but West was smart. She had the dialogue rewritten and had the advertisements/publicity not include any references to the play, in order to get it over the censors' heads. The film was a smash hit (despite some negative reviews), and saved Paramount Studios from financial ruin. You can pretty much thank West for that. To add to its success, it was nominated for the Best Picture Oscar. It still holds the record for being the shortest film ever (at 66 min.) to receive that honor. I guess the Academy loves innuendo. Who knew?
Making it's debut on Blu-ray, the folks at Kino were gracious enough to include some special features in this release, including two commentaries: one by film historian David Del Valle, the other by fellow historian Kat Ellinger; an exclusive introduction by late TCM host Robert Osborne; She Done Him Right bonus cartoon, and several other trailers in West's career, such as I'm No Angel, Night After Night, and Belle of the Nineties.
If you love classic film, and want to see something bold but subtle, then you should add this to your collection. Mae West's spirit will thank you, and perhaps give you a wink and a smile. She Done Him Wrong will be released on June 29.