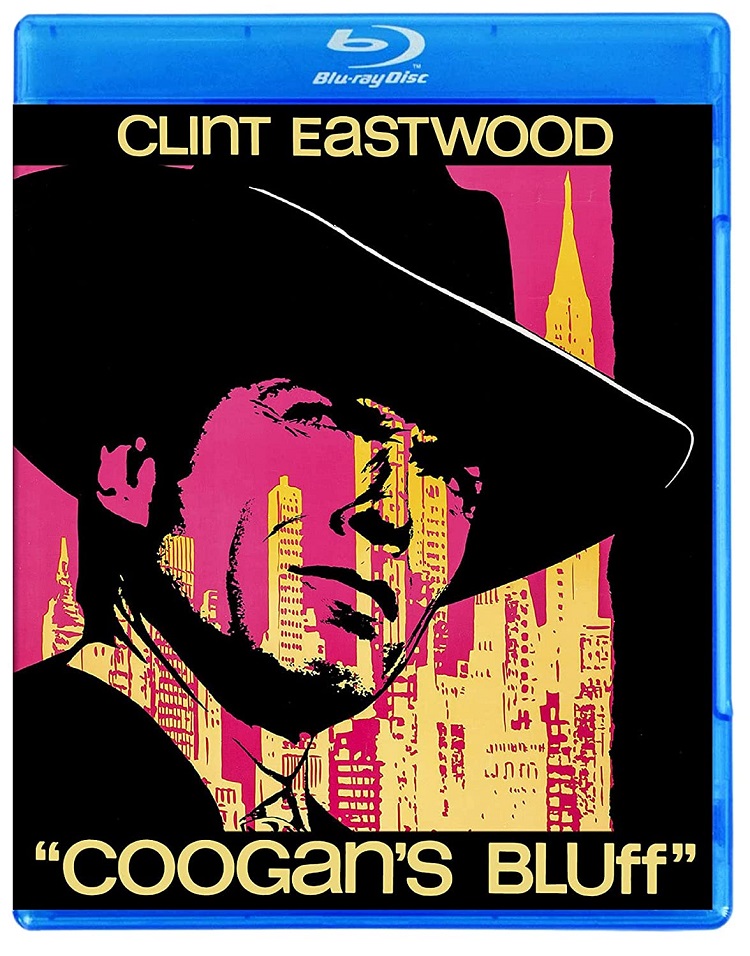 Coogan's Bluff, notable as the first of five films Don Siegel directed Clint Eastwood, is a typical fish-out-of-water story as Arizona lawman Walt Coogan (Eastwood) has to deal with New York City cops who don't understand him and his ways. The idea by screenwriter Herman Miller was intended to be a TV series and would later be repurposed for the TV series McCloud.
As the film opens, Coogan captures an armed Navajo man who has been hiding in the mountains. On the way to the police station, Coogan stops at a paramour's place, hoping to get laid since her man is out of town. The sheriff, whose calls Coogan has ignored, sees the prisoner tied outside and enters her house. Frustrated by Coogan's attitude, the sheriff sends him to New York City to extradite murderer Jimmy Ringerman (Don Stroud). However, Jimmy is in Bellevue after taking LSD and there's a waiting period before he's released, which should be a couple days. Not sure of this was true of the time or the screenwriters had no idea how LSD worked.
At the police station, Coogan roughs up a man (Seymour Cassel) who grabs the breast of parole officer Julie Roth (Susan Clark) but she is madder at Coogan. She's a modern women and doesn't like his caveman ways, including when he tries to put the moves on her, but later relents and loves it.
Not wanting to deal with all the procedures, Coogan goes to the prison hospital and bluffs his way to getting Jimmy out. When Jimmy escapes, Coogan searches for him but gets in trouble with Lt. McElroy (Lee J. Cobb) when he ruins an undercover operation and is taken off the case. However, Coogan stays on the hunt after being threatened with obstruction of justice.
He goes to a dance club, clearly out of place among the hippies. Eastwood fans will recognize Wonderful Digby, played by Albert Popwell who appeared in a several Eastwood films, most notably as the bank robber asked "Do you feel lucky?" in Dirty Harry. Coogan finds Jimmy's girl, Linny (Tisha Sterling). They go back to her place and have sex. Coogan's womanizing is reminiscent of James Bond (so irresistible women can't help but fall under his spell). It's a nice fantasy for some male viewers, but rather embarrassing as the character is better suited for a story in a Penthouse letter. She then takes him to a pool hall for a good fight sequence, and later to Jimmy's hiding location for the film's climatic action sequence that features a motorcycle chase.
Eastwood's Coogan rankles at authority figures and bureaucracy so much one wonders why he's in law enforcement, especially in scenes when he's not much different from a criminal in the eyes of the law. This type of character was frequently played by Eastwood, particularly Dirty Harry, another film Siegel directed, and frequently seen in the action genre.
The video has been given a 1080p/MPEG-4 AVC encoded transfer displayed at its original aspect ratio of 1.85:1. Colors appear in solid hues, with scenes at the dance club and in Linny's apartment getting to show off a wide variety of colors at once. Blacks are inky and contribute to a pleasing contrast. Facial tones are consistent. The image offers texture detail and a sharp focus. Image looks clean for the most part with rare specks of black and white.
The audio is available in DTS-HD Master Audio 2.0. Dialogue is clear throughout. The instruments in Lalo Schifrin's jazzy, percussive score sound distinct. Effects are balanced well in the mix, though the post work is more noticeable. The elements never distort from being too loud and the track sounds free of hiss/
The Special Features (HD) are:
Audio Commentary: One by filmmaker Alex Cox; another by Sledge Hammer! creator Alan Spencer
The Killer is Loose: Interview with Don Stroud (9 min) – Stroud is jovial reflecting on film and career.
At Home With Clint: Vintage Candid Interview with Clint Eastwood (8 min) – Eastwood in Carmel, CA responding to offscreen interviewer.
Poster & Image Gallery
Teaser and Theatrical Trailer
Radio Spot
Kino Lorber Studio Classics Trailer of other Eastwood titles
Coogan's Bluff is a decent crime thriller with good action. The movie captures Eastwood's career ascending and it feels like an unintentional precursor to Dirty Harry. The Blu-ray delivers a high-definition presentation that treats the movie well and offers some nice extras.