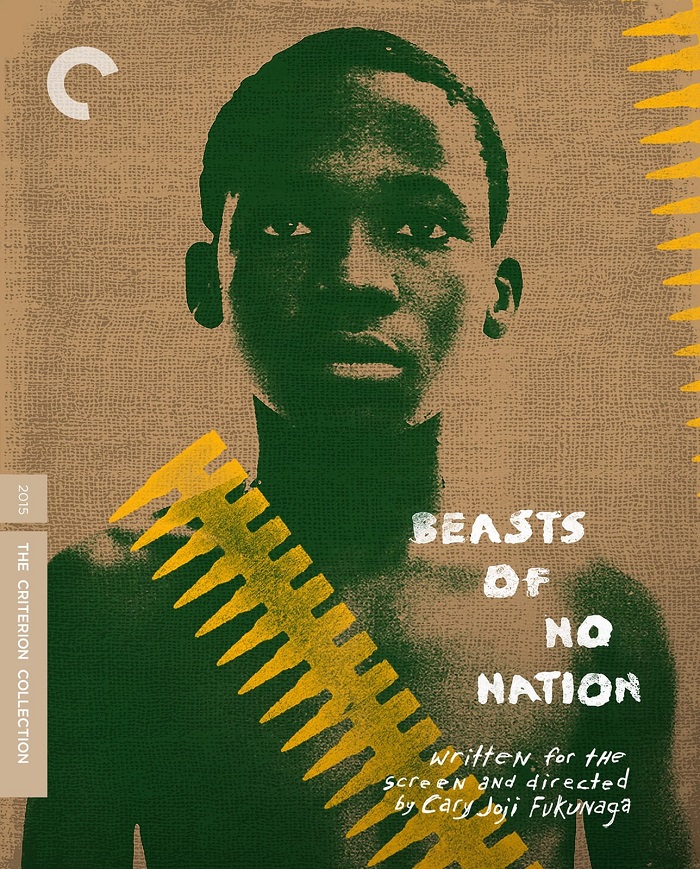 I may have used the phrase "War is Hell" in one my previous reviews, but you can't describe war as anything else. It's always going to be Hell and it never changes. There are many films in the war film genre that used the phrase successfully and literally. However, not many have often fully explored the way that it affects children. I can think of at least two that have done so, savagely well: Elem Klimov's 1985 extremely disturbing Come and See, and Cary Joji Fukunaga's 2015 harrowing Beasts of No Nation, which will be the subject of this review.
Based on a novel by Uzodinma Iweala, and told with unsparing detail by Fukunaga, the film centers on Agu (Abraham Attah), a childhood youth living with his family in an unnamed West African country already dealing with the horrors of war. Like most other children, he is imaginative, playful, and a little troublesome. He has hopes for the future, but when the enemy breaks his family apart (his mother and baby sister are taken away, and his father and older brother are eventually shot and killed by ECOMOG troops), that hope becomes obviously shattered.
After he escapes to the fields, he runs into rebel soldiers led by a charismatic but ruthless Commandant (Idris Elba), who grooms and transforms him into a child soldier, fueled by hate, anger, and vengeance. As the body count grows, so does the resentment the group has towards Commandant. They are fed up with all the killing, and sense that there isn't really anything worth fighting for. In this case they, including Agu, turn on him and leave. Afterwards, they are detained by UN troops, where the young members are sent to a missionary school on the other side of the country. Agu, needing to move on, tells a counselor all the terrible things he has done, and that he was once a good boy from a decent family. The final shot has him finally joining all the other boys as they play (and be normal kids) in the ocean.
This is a remarkable and often intense film that is basically told in three parts: childhood ravaged by war; the manipulation, brainwashing, and abuse of children by higher authority, one that is supposed to guide and teach them the ways of life; and the regret/guilt that children often reflect on after the experiences that they've had and wanting redemption/forgiveness for their sins. It's not something that you always see in films, including those of today, but I think that Beasts definitely succeeds in that telling that story.
As good as Elba is in the film, it really belongs to newcomer Attah, who gives one of the most soulful performances in the history of child acting. He really possesses the ability to contain a lot emotion and substance. You can see the sadness, grief, and anger is this kid's eyes; they're incredibly expressive! It's a performance that will stick with you way after the film is over.
The Criterion release includes some good supplements, including a new commentary with Fukunaga and first assistant director Jon Mallard; a new documentary on the making and genesis of the film, featuring interviews with Fukunaga, author Iweala, producers Amy Kaufman, Daniela Taplin Lundberg, and Riva Marker, and actors Elba and Attah; a new conversation between Fukunaga and film/TV producer and cultural commentator Franklin Leonard; a new interview with costume designer Jenny Eagan; and a trailer. There's also a wonderful new essay by film critic Robert Daniels.
Personally, I think Beasts of No Nation will become one of the great war films, because it's just as grim and nightmarish as the ones that came before it, but it also has that glimmer of hope that only a few of them actually have. It's one that you will not soon forget.