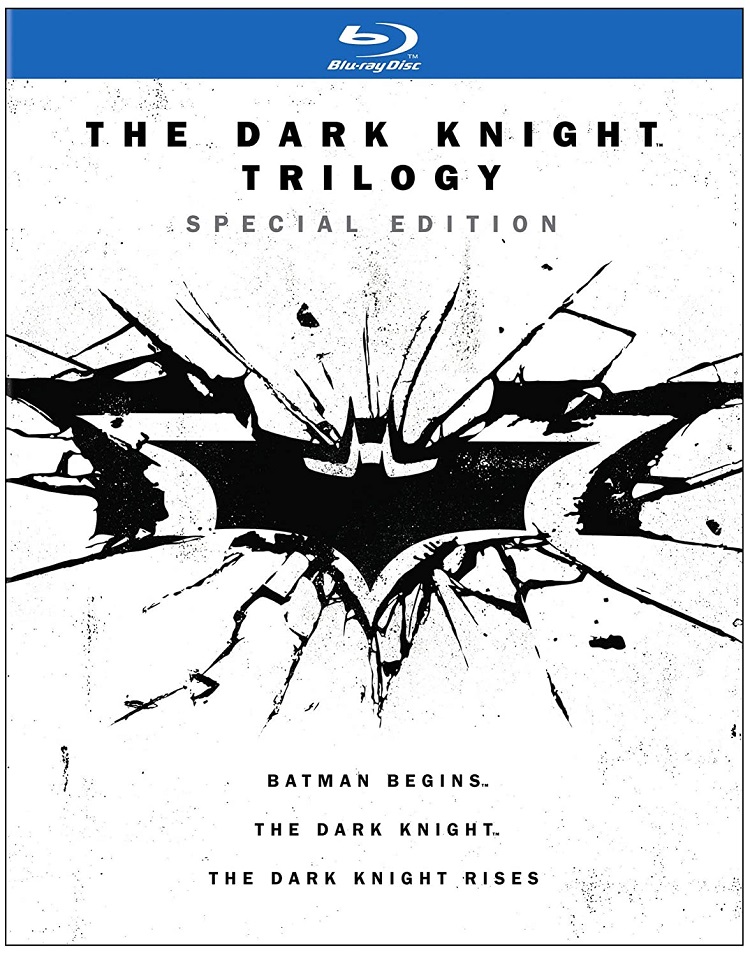 With his Dark Knight Trilogy, Christopher Nolan not only created one of the greatest comic-book adaptations but one of the all-time best trilogies in movie history. He elevated a genre movie into the realm of brilliant filmmaking. Batman has always been a dark character but Christian Bale turned him into a brooding, morose, bleak, and spoiled hero for the modern age. The films are not perfect by any means but they turned what is generally a superficial genre and made it into Art.
The final installment of the trilogy – The Dark Knight Rises – comes out this week and with it a boxed set of all three films and that makes it my Pick of the Week.
The first two films (Batman Begins, The Dark Knight) in the pack contain the exact same specs as their stand-alone Blu-ray releases so if you've already got them then there is no reason to purchase the set, and The Dark Knight Rises is being sold as a single film as well. But if you are like me and have been waiting for the third one to come out in expectation of a boxed set, then here we are. Although a part of me expects that in a year or so we'll likely see a deluxe box set filled with even more features.
For now the Dark Knight Rises comes with two hours-long documentaries and several shorter features on the making of the film.
Also out this week that looks interesting:
Finding Nemo 3-D Ultimate Collector's Edition (3-D/Blu-ray/DVD/Digital Copy): I kind of hate all the "going back to older films and re-releasing them in 3-D" trend but Finding Nemo seems like the perfect film to do this with as there was so much depth to play with in the ocean scenery. The film itself is a beautiful thing and this collection is loaded with special features. There are deleted scenes, outtakes, publicity pieces, an encyclopedia of underwater creatures, a 101-minute documentary and multiple features.
Up (3-D Blu-ray/Blu-ray/DVD/Digital Copy): The montage of the two kids growing old together at the beginning of this film is one of the greatest cinematic achievements of modern times. It crushes me every time I watch it. The rest of the film is loads of fun but it simply cannot compare to those opening moments. Like Finding Nemo, this one is loaded with special features.
Brazil (Criterion Blu-ray): A brilliant Terry Gilliam dystopian future film that has in many ways come true (how much of our private lives are now stored on computers and controlled by not so benevolent faceless companies?) It comes with both the original theatrical cut (with the happy ending) and the longer, darker director's cut. There's also a fascinating documentary about Gilliam's fight to get his version released, plus audio commentary and some features.
The Odd Life of Timothy Green: This modern fairy tale about a couple who cannot conceive a child but somehow manage to grow one in the garden sounds and looks rather silly to me, but I've heard lots of good things.
Purple Noon (Criterion Blu-ray): Its French, its based upon the book The Talented Mr. Ripley, and its Criterion, all of which equals me being totally on board.
Francis Ford Coppola: 5-Film Collection (Apocalypse Now/Apocalypse Now Redux/One From the Heart/Tetro/The Conversation) (Blu-ray): It seems a bit cheating to count both versions of Apocalypse Now twice even if it is two versions of the same film, but whatever. I only know Apocalypse Now and The Conversation but those alone make this worth the price.
Tell No One: My wife and I saw this French thriller in the theatres and very pleasantly surprised at how good it is. The plot is confusing, but the production and acting are excellent.