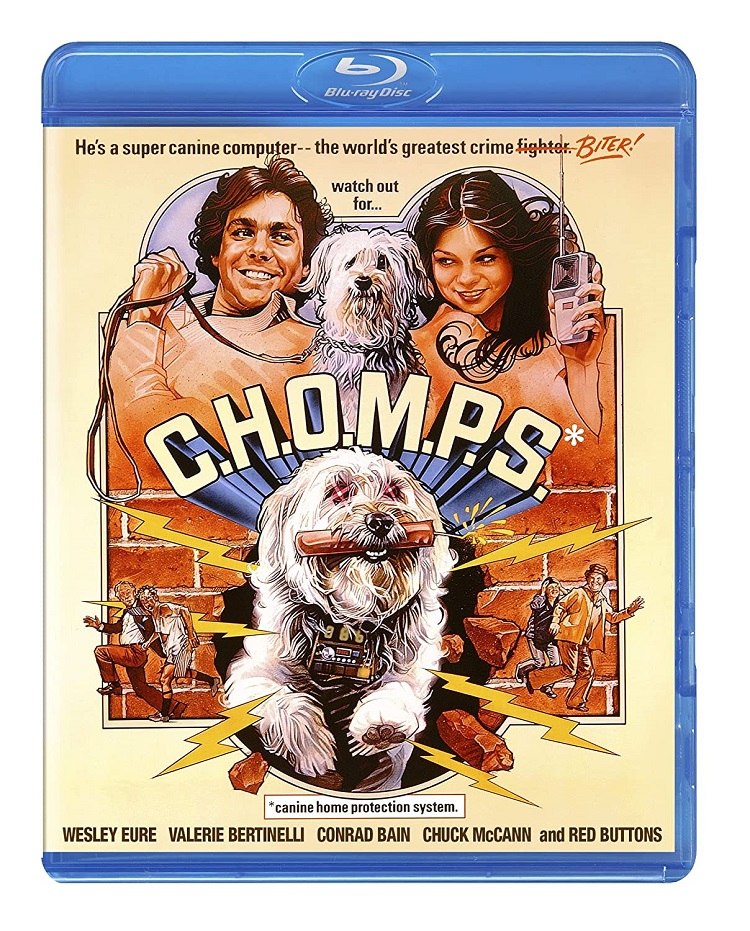 A movie from the '70s (1979) about a robot dog starring Valerie Bertinelli, Wesley Eure, Conrad Bain, Red Buttons, Jim Backus, and Chuck McCann, that features two bumbling criminals whose efforts are continually thwarted by the Canine Home Protection System.  How is this not a Disney production?  Because the whole thing makes little sense much like the acronym.  C.H.O.M.P.S. is the brainchild of Joseph Barbera who talked his friend Samuel Z. Arkoff of American International Pictures into a four-picture deal to work with Hanna-Barbera, who were dominating the cartoon market at the time, on live action movies.  C.H.O.M.P.S. would be the only film they would make. Great idea, Joe!  You did so well with Dynomutt!
Wesley Eure, who had a nice run on Saturday mornings with Land of the Lost and was in the middle of an eight-year run on Days of Our Lives, plays Brian, the young inventor of C.H.O.M.P.S., and the fiancé of Casey played by Valerie Bertinelli.  She had quickly become America's sweetheart for her portrayal of Barbera Cooper on One Day at a Time.  Casey is the daughter of Ralph Norton played by Conrad Bain who was doing great on Diff'rent Strokes.  Norton owns Norton Securities where Brian had worked before his previous systems began to fail.
So, now you know the main players.  Brian is struggling in his job, Ralph is not happy with his performance, and Casey is trying to keep them together, which she is hoping that Brian's latest invention will do.  There is a rival company owner (Backus) who sends two bumbling crooks (Buttons and McCann) to dog nap C.H.O.M.P.S. 
One of the main problems with the story is that Brian doesn't seem to know how C.H.O.M.P.S. works.  One of C.H.O.M.P.S.'s powers is x-ray vision, yet the question is continually posed by Brian, "What is he looking at?"  Uh, perhaps something outside?  Considering that Dr. Rudy Wells had already invented Max, the Bionic dog on The Bionic Woman, you would think Brian could do a better job.  Come on, Brian. Turn on the TV!
There are so many other problems with this film that it's not surprising that it did poorly at the box office.  Sadly, it appears that only the career of Eure suffered.  Yet, he seems quite enthused to be a part of the new release of C.H.O.M.P.S. which comes out on Blu-ray on Tuesday, February 22nd.  Eure not only introduces the film, but participates in the Audio Commentary, and provides an interview.  Is he smiling through all of it because he is working again?  Look, it's not his fault.  Everyone one in this film is giving it all they've got.  It's the story by Barbera, and the screenplay Dick Robbins, Duane Poole, and Barbera that are the problem.  Director Don Chaffey does all he can to interject energy into this extremely limited plot.  We get energy from the actors, decent visual effects for the time, and constant upbeat music every time we see C.H.O.M.P.S. running, which is a lot!  There just isn't enough story here, and it and the actors are stretched thin at 89 minutes.
This film receives Ron's Rejection.  A young child might like it, but this is the PG version where the last word spoken in the film is "shit." I will confess that I may have missed other such language.  To get some enjoyment out of C.H.O.M.P.S., I started doing my taxes about halfway through.  There is a G-rated version, so, I'm not sure why they couldn't have provided both. 
Don't let this dog of a film take a chomp out of your wallet.