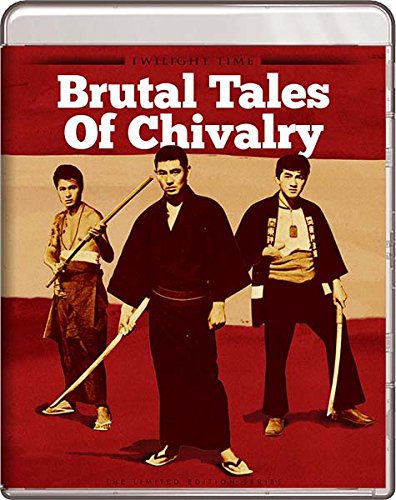 Much like Francis Ford Coppola's The Godfather would someday pave the way for jaw-droppingly violent cult classics like Massacre Mafia Style, Kiyoshi Saeki's 1965 yakuza gangster drama Shôwa zankyô-den (Showa Era Resistence) is essentially the less-exploitative precursor to Kinji Fukasaku's Battles Without Honor and Humanity. Shôwa zankyô-den ‒ hence referred to by its better-recognized English-language alias, Brutal Tales of Chivalry ‒ even stars the same amazing actor: the inimitable Ken Takakura. Here, Takakura-san plays Seiji, a World War II veteran who returns from the battle abroad only to find a new one brewing up at home.
With the whole of his hometown is in ruins, it becomes quite clear that nothing is as it was for poor Seiji or the other residents of Asakura, Tokyo ‒ where the only remaining industry following the country's defeat at the hands (and bombs) of the American government is a handful of vendors. As if that weren't bad enough, a rival gang seemingly comprised of nothing but antsy street punks has been harassing the dealers, stealing their goods to re-sell openly in the bleak market. You know, just like like we do now in America. On the personal front, Seiji is more than somewhat disillusioned to learn his lady love, Aya (Yoshiko Mita) has married another man for entirely impersonal, loveless reasons.
To further complicate matters for Seiji, his clan's honorable leader receives a bullet for his troubles, handing over leadership duties to Seiji with an unusual caveat in the clause: that he is to proceed without implementing any violence whatsoever towards their unruly, undisciplined opponents. Naturally, it isn't that easy ‒ especially since that rival gang has absolutely no intention of playing fair. It's a far cry from the ilk of Kinji Fukasaku's latter-day yakuza tales, presenting a fairly familiar fable from an ethical standpoint rarely explored in the series Brutal Tales of Chivalry later inspired. Speaking of inspiration, Brutal Tales of Chivalry would spawn eight sequels of its own.
In case you're just joining us in the home video world, classic yakuza tales are very much the "in" thing now. The aforementioned works of Kinji Fukasaku and other genre specialists have been popping up en masse from Arrow Video, while the Warner Archive Collection was kind enough to recently unveil America's answer to the Japanese gangster movie craze, 1974's The Yakuza (which paired Ken Takakura alongside Robert Mitchum, thus cementing both actors in the muniments of awesomeness). Twilight Time is also feelin' that vibe, adding Brutal Tales of Chivalry (or, A Brutal Tale of Chivalry, as the actual on-screen translation reads) to their very extensive and eclectic library.
Brutal Tales of Chivalry makes its North American home video debut courtesy Twilight Time and the Toei Company. If you've seen (or at least read the reviews for) any of the recent Arrow Video films on loan from Toei, there's a pretty good chance you'll know what to expect in terms of image quality here. It isn't the best I have ever seen, admittedly, but it's the best Toei has to share with anyone at this point in time, so I'm afraid that's just the way the kukkī crumbles. That said, the 2.35:1 presentation won't disappoint established (or even curious) genre enthusiasts, and the Japanese 1.0 DTS-HD MA soundtrack (with removable English subtitles) delivers the goods just as well as the film itself.
Special features for this title are pretty light. In fact, Brutal Tales of Chivalry is one of those very rare Twilight Time releases to not include an isolated score. And that's only because Toei didn't have one to spare. Nor were they able to supply a trailer for the film, making this Twilight Time offering all the more unusual. What we do get, however, is an interview with Toei producer Toru Yoshida. Entitled Brutal Tales of Filmmaking, the 15-minute featurette finds the retired filmmaker chatting about ‒ amongst other things ‒ how the Japanese film industry moved into the territory of the yakuza. Lastly, the Region A release features another fine essay from resident Twilight Time historian Julie Kirgo.
As is the case with most Twilight Time Blu-rays, Brutal Tales of Chivalry is a Limited Edition release reserved to 3,000 copies.