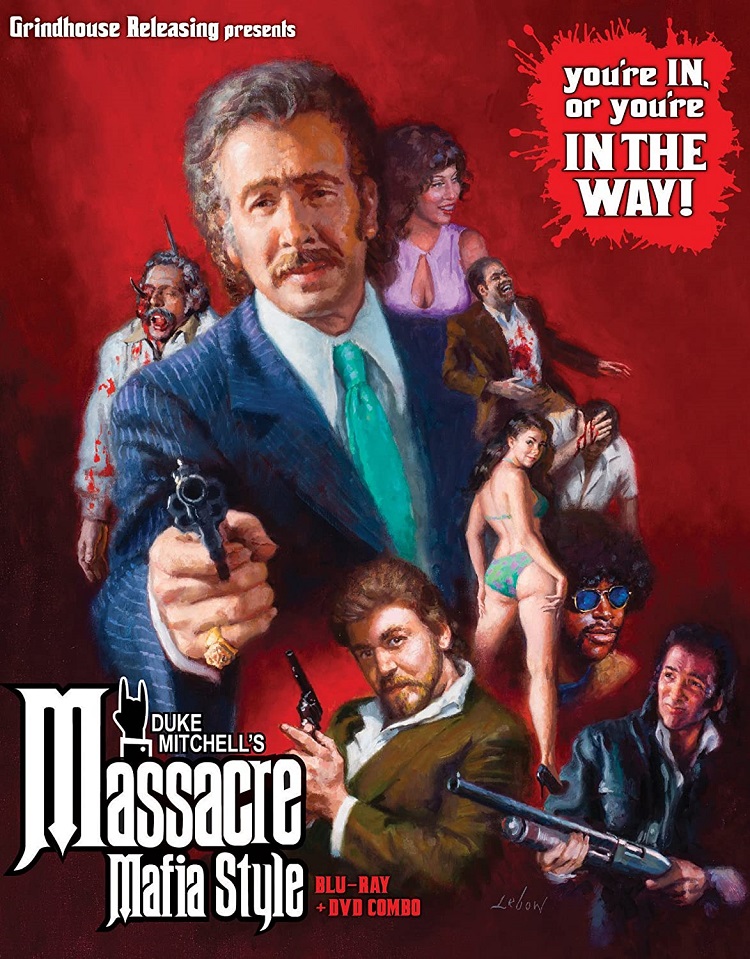 It is sometimes interesting – well, to me, that is – how many of the articles I request or wind up for review can often be "connected" to one another like a really outrageous game of Six Degrees of Separation. Not too terribly far back, I found myself diving into the Warner Archive Collection re-releases of the Dean Martin & Jerry Lewis Collections. Just last week, I was viewing Twilight Time's new Blu-ray issue of Roger Corman's neglected Prohibition Era gangster picture, The St. Valentine's Day Massacre. Believe it or not, there's more than one common denominator at play between those home video offerings and the latest golden idol from Grindhouse Releasing, Massacre Mafia Style – and I will now attempt to convey unto you. Hopefully, nobody's noggin will explode in the process.
Now, you'll truly never know how long it has taken me to get this second paragraph up and running. But please take my word for it: I have rewritten this over and over, to no avail. It was still light out when I sat down. Now, those curious coffee shop regulars who I always see studying the Bible have left because it's dark now, and Satan's minions will surely be coming out to play soon. And so, I'm going to try this in a slightly chronological order, people. Massacre Mafia Style was the brainchild of one Duke Mitchell, a fellow who was born to take the cabaret by the balls. In 1952, his gift for crooning resulted in him being paired with a young comedian named Sammy Petrillo. The latter looked and acted like a certain famous comedian so much, that their routine was formed solely to imitate the famous teaming of Martin and Lewis.
Jerry Lewis, however, was not amused. He even used his power to blackball Petrillo from making money off of his own talents. Nevertheless, the budget crooner/clown combo were gathered together to make one of Hollywood's greatest bad achievements, 1952's Bela Lugosi Meets a Brooklyn Gorilla. Sadly for bad movie aficionados, it would prove to be their one and only film together. They parted ways soon after (and not on good terms, either), wherein Mitchell appeared in a few low-budget movies over the years in bit parts, before becoming the man many would refer to as "Mr. Palm Springs" – a title bestowed upon him by the eponymous community (which also made him honorary mayor four years running) who adored his ongoing cabaret shows and natural chemistry with the stars, including Mr. Frank Sinatra (whom Dean Martin joined forces with after he split with Jerry Lewis!).
Once the latter half of the 1960s rolled around, violence began to erupt all over the world. And the film industry was certainly no exception, as moviemakers were slowly starting to squeeze more squibs and blood packs into their features. Roger Corman's The St. Valentine's Day Massacre definitely paved the way for the gangster film, which had been virtually dormant for some time. Once the 1968 inauguration of the MPAA rating system occurred, however, bloodshed and movies without morals were finally able to reach larger audiences (rather than say, art houses and drive-ins, where exploitation movies were primarily shuffled into). And it was in 1972 that one of Corman's disciples, an up and comer named Francis Ford Coppola, released the movie that would serve as the inspiration for many: The Godfather.
And it is here that Duke Mitchell's first solo (and really bizarre contribution) to the world of cinema comes into play. Initially released as Like Father, Like Son in late 1974 – at the exact same time as when Coppola's blockbuster sequel, The Godfather Part II, was making its rounds at moviehouses around the country – Massacre Mafia Style is truly the antithesis of its better-known, big-budgeted counterpart. Coppola's masterpiece mixes powerful emotion into the occasional bit of bloody violence. Mitchell's one-man show (and it is practically just that, as the ambitious amateur filmmaker wrote, produced, directed, composed, and starred in it!) is a powderkeg of over-the-top violence mixed into a small story of a guy with a powerful emotional problem.
The epic opening (which the movie's infamous trailer shows almost in its entirety) finds two mafioso-looking gentlemen systematically execute damn near everyone in an office building – including a memorable death by attaching a live AC power cord to a handicap man's leg, which is then left hanging in a urinal! (Reportedly, Mitchell performed an actual non-fatal version of this technique on the same crippled man who paired him up with Sammy Petrillo, just to inform him he wasn't the type of man to mess with.) And indeed, these two mafioso men look that way for a reason, especially Mimi Miceli (Mitchell, using variations of his given name, Dominic Miceli, as both his character and acting alias), who is the son of a big time mafia don whom the US government deported back to Sicily years before.
The reasoning behind all of the madness this one, rather short feature contains is simple. Mimi is determined to get the old family business up and running again. Alas, there is a lot of competition in the way, as Los Angeles is currently under the protection of organizations (family and non-family) and hoods. (One character is named Super Spook, which should tell you a lot about Duke Mitchell's sensitivity to political correctness, kids.) So, Mimi and his childhood pal Jolly (Vic Caesar) take to the streets, kidnapping, dismembering, and executing their way to the top (or bottom, if you've actually taken film appreciation courses). Of course, Mimi's methods are not only antiquated and behind with the times, but their sheer brutality makes a lot of people very, very displeased. But, as the movie's memorable tagline says, "You're in… or… you're in the way!" Expect copious amounts of blood and boobs, boys and girls.
Filmed in bits and pieces with whoever he could get to be on one side of the camera or another (and released in Todd-AO to boot), Like Father, Like Son is required viewing for any student of grindhouse/exploitation film. It eventually earned its Massacre Mafia Style title when the movie was picked up for distribution with Moonstar Entertainment later in the '70s, during which time we can only assume it enjoyed a long crawl through various inner-city theaters (as dubbed Italian Poliziotteschi movies were popping up left and right) before winding up on home video (under the lurid title, The Executioner) in the early '80s. By that time, Duke Mitchell himself has passed away from lung cancer, and most of his other self-made projects – all of which were unfinished – faded into obscurity; their fates uncertain.
Thankfully, the folks at Grindhouse Releasing were able to land their hands on this one-time rarity, and Massacre Mafia Style has been enjoying a slow rise back to the top (or the bottom; again, it depends on your taste in film) since the middle of the 2000s. A few reserved theatrical engagements and widescreen TCM broadcasts (seriously) were well received by audiences who have been long left jaded from contemporary boring gangster flicks, and a limited edition full frame DVD emerged briefly before going out of print shortly after its release. And so, here we are in 2015, with the fully restored and still just as indescribably oversentionally awesome as ever Massacre Mafia Style now available for all to enjoy in a two-disc Blu-ray/DVD combo pack that packs just as much of a punch to the bollocks as the feature film itself does.
In addition to a gorgeous restored High-Def presentation of Mitchell's intended cut of the film in its 1.85:1 aspect ratio with a newly-remastered DTS-HD MA 1.0 soundtrack (and a 2.0 Dolby Digital track tossed in for good measure), the release features numerous Mitchell-related goodies. An interview with Duke's son, musician Jeffrey Mitchell, along with several of the late entertainer's friends, will have your jaw dropping to the floor with various anecdotes of Duke's many antics, before jerking more than a few tears from your eyes as it concludes. A second interview includes a chat with filmmaker/distributor Matt Cimber. Nearly an hour of Mitchell's own home movies, set and chapter-marked according to several of his crooning tunes, are also included – as are stills, radio spots, the film's famed trailer (along with a few other trailers in the filmographies for Mitchell and busty co-star Cara Salerno, whom you will see all of in the stills section), and even a lost audio recording of Mitchell performing live.
But you can't keep a good showman like Duke Mitchell down, kids. While the Standard Definition DVD included in this marvelous 2-Disc set features several bonus trailers, the Blu-ray contains something far, far greater: bonus movies. First off is the legendary turkey that some could say started it all: Bela Lugosi Meets a Brooklyn Gorilla, with the titular troubled fallen horror star and the previously introduced Sammy Petrillo, as directed by prolific Poverty Row director William Beaudine. The trailer for this one is also included, so if you – by some chance – have both the original DVDs of each of these titles, you can upgrade them both in one go here. Lastly, a TV special from Mr. Mitchell, the aptly-titled An Impressionistic Tribute to Jimmy Durante, was probably unaired, which makes it all the more interesting. And even itcomes with its own extras in the form of 16mm outtakes. An essay by David Szulkin rounds up the whole spectacular package.
If you haven't already uttered the words you are probably (or at least should be) looking for here, kids, they are "Wow, what a great release!", "I must buy this now!", or "Why is this nutcase allowed to write reviews?" But this is just the beginning, folks. Though it has been 33 long years since Duke Mitchell left us to go perform at that great big supper club gig in the sky, 2015 definitely seems like it's going to be Year of the Mitchell. (Joe Don Baker, are you listening?). Not only do we get this highly recommended item from Grindhouse Releasing, but his much-coveted final unfinished work, the just-as-legendary Gone With the Pope. Discovered in 1995, it took more than a decade to finally make its debut in theaters (again, in very limited runs, as you can imagine) after Grindhouse Releasing restored and reconstructed it. It too is finally due to hit home video later this year, in what we can only presume will be another must-have Blu-ray/DVD combo set.
In short: Uncle Luigi says "You're either in, or you're in the way." Highly recommended.