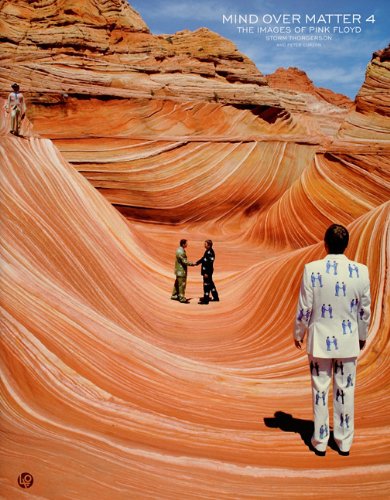 As reported by the BBC, graphic designer Storm Thorgerson passed away Thursday at the age of 69. Over the years, the roster of musicians he worked with include Peter Gabriel, Led Zeppelin, and Muse, but he will forever be remembered for his long partnership with his childhood friends in Pink Floyd. Their collaboration led to some of the most iconic images to ever grace an album cover, which can be found on the pages of Mind Over Matter.
First published in 1997, the fourth edition of the book was released in 2007 to coincide with the 40th anniversary of the band's first album, The Piper at the Gates of Dawn. The new material in this edition starts with the 30th anniversary SACD of Dark Side of the Moon and covers calendars, the Pulse DVD, 2006 advertising, the Wish You Were Here SACD, and Roger Waters 2006 DSOTM tour.
Its co-author Storm Thorgerson is a well-known English graphic designer and was a member of the graphic art group Hipgnosis, which was founded in 1968 and disbanded in 1983. Specializing in creating album cover art, his work is most closely associated with Pink Floyd, with some of the band members being childhood friends. In school, he was a year behind Roger Waters and a year ahead of Syd Barrett. He first worked with Pink Floyd "when another friend failed to do the cover for their second album, Saucerful of Secrets." His association has continued through to their last release the box set Oh, By The Way.
Thorgerson's mainly worked with photography and in an interview explained, "I like photography because it is a reality medium, unlike drawing which is unreal. I like to mess with reality… to bend reality. Some of my works beg the question of is it real or not? I use real elements in unreal ways. Is the man really on fire? Why would he just be standing there? Who put the beds on the beach? Why? Why is there a cow on the cover? It doesn't have anything to do with the album, or does it?"
Mind Over Matter serves as an excellent exhibition catalog of Thorgerson's work and a history of the band. He reveals in great detail the origination of the ideas and their execution. For example, he explains how the theme of absence from WYWH was created in the album imagery, such as the man diving into the lake with the splash absent and on later packaging the man swimming through the desert who has an absence of awareness and purpose.
As someone who should be considered an unofficial member of the group, Thorgerson has plenty of interesting opinions. He makes clear he found the title for Nice Pair, the reissue of the band's first two albums, sexist, dull, and apologizes that "my own misogyny led me to go along with it."
He also tackles what he claims is "a persistent rumor … that the experience of listening to Pink Floyd music is enhanced by the ingestion of narcotics." He calls "absolute tosh" on that and other charges about them being a druggy band, in terms of how their music was created and references in their work.
I understand why he would make the argument. An artist deserves full credit for their ideas and execution and likely wouldn't want to give credit to performance-enhancing drugs. However, his argument is flawed. First, other than Syd, I have never heard or read any member talk about a drug habit of any kind. Second and more importantly, he has it backwards. While the experience of listening to Pink Floyd music may not be enhanced by the ingestion of narcotics, the experience of narcotics and recreational drugs is certainly enhanced by the ingestion of Pink Floyd as can be verified by any number of individuals in black-lit rooms willing to admit it. Guaranteed, anyone who has this book on their coffee table takes or has taken stronger drugs than caffeine.