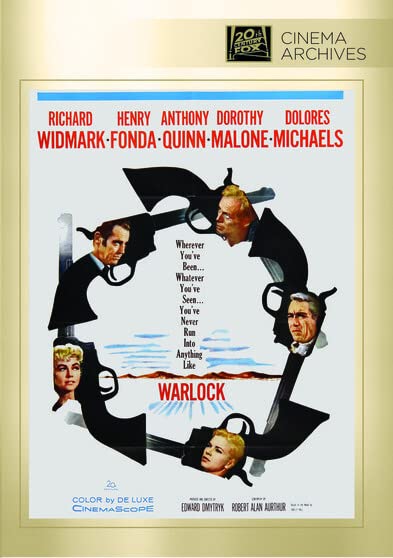 OK, so let me bring you up-to-date here, kids: recently, Fox Cinema Archives released several classic motion pictures – originally presented in theaters in CinemaScope – in the dreaded, severely outdated process of pan-and-scan (something that was used for older 4:3 TVs, but which is flat-out ridiculous in this day and age, what with widescreen television sets and all). As Douglas Adams would say: "This made a lot of people very angry and has been widely regarded as a bad move." Well, seeing as how everyone else has griped about this faux pas (or would that be a "Fox pas"?) – including Cinema Sentries writer Will McKinley – I'm just going to bypass the introductory bitching and actually discuss the fine motion picture Fox has massacred by presenting on DVD in this outdated, eviscerating format in 2013.
Moving onto the movie itself, 1959's Warlock is a dynamic western starring the timeless talents of Richard Widmark, Henry Fonda, and Anthony Quinn that focuses on several lives in the small mining town of Warlock, Utah. Now, as to why they named a town that in a primarily Mormon state to begin with and expected great things is beyond me – but once the McQuown gang started riding into town, shooting anything or anyone up just for what the kids today refer to as "kicks," well, things just went from bad to worse. And when the McQuown boys oust Warlock's latest excuse for a sheriff, it appears to the locals that all is lost.
Enter – at the behest of the local Citizens' Committee – the much-celebrated gunfighter Clay Blaisedell (Henry Fonda), who arrives with both of his legendary gold-handled Colts as well as his comrade-in-arms, Tom Morgan (Anthony Quinn). Clay is there to enforce the law as the specially-hired town marshal, while Morgan seizes Warlock's saloon as his own personal palace (even importing his own sign reading "French Palace" to adorn over the entrance). Truly, these two have quite the racket goin' on here – and Clay isn't that bad of a person, either, so it's not such a bad thing. Morgan, on the other hand, has some issues – which we figure out immediately once we witness him outright assassinate a man.
And then there's the "nice" McQuown gang member: Johnny (Richard Widmark), who decides he's had enough of the bad behavior his fellows – including his own brother (played by the great Frank Gorshin) – are exceedingly indulging themselves in. Eventually, this quiet loner is appointed to the position of deputy in Warlock by a visiting sheriff who doesn't like Clay Blaisedell. The addition of the required love interest also comes into play. Two of 'em, in fact: one for Clay (Dolores Michaels), and another for Johnny (Dorothy Malone), who happens to be Morgan's ex-girlfriend. Frankly, it's the perfect recipe for big screen western drama: turmoil between several different parties, all of whom have been bought to Warlock by what could only be seen as the hands of fate.
And it would look a whole heck of a lot better had the movie been presented in its original theatrical aspect ratio instead of pan-and-scan, which removes many of the film's supporting cast by cropping them out of the picture most of the time altogether (I think I actually saw co-stars Whit Bissell and Wallace Ford once in a while, but mostly just heard them). Worse still, the credits of this particular motion picture classic have been preserved in their original widescreen magnificence, which are not anamorphically-enchanced, making it look quite silly indeed. And it's a real pity, too, since Warlock was – hands down – one of the last good American westerns before our Italian cousins started revamping the genre.
But that's not the part that truly bothers me, people. What really gets my goat is that Warlock has already seen a widescreen DVD release in the US by its parent company in 2005. And, while that particular release is now considered to be out of print, there is no known (logical) reason for Fox to not have re-released the previous disc for this MOD issue. In fact, the folks at the Warner Archive Collection have done exactly that with several OOP discs that were re-issued as MOD titles. Oh, and did I mention there's at least one Region B Blu-ray version of Warlock available in Europe? Where's the beef, Fox?
My ultimate recommendation? Warlock is a damn fantastic movie, but – for the sake of all that is fair and just – don't watch this version: find it in widescreen!