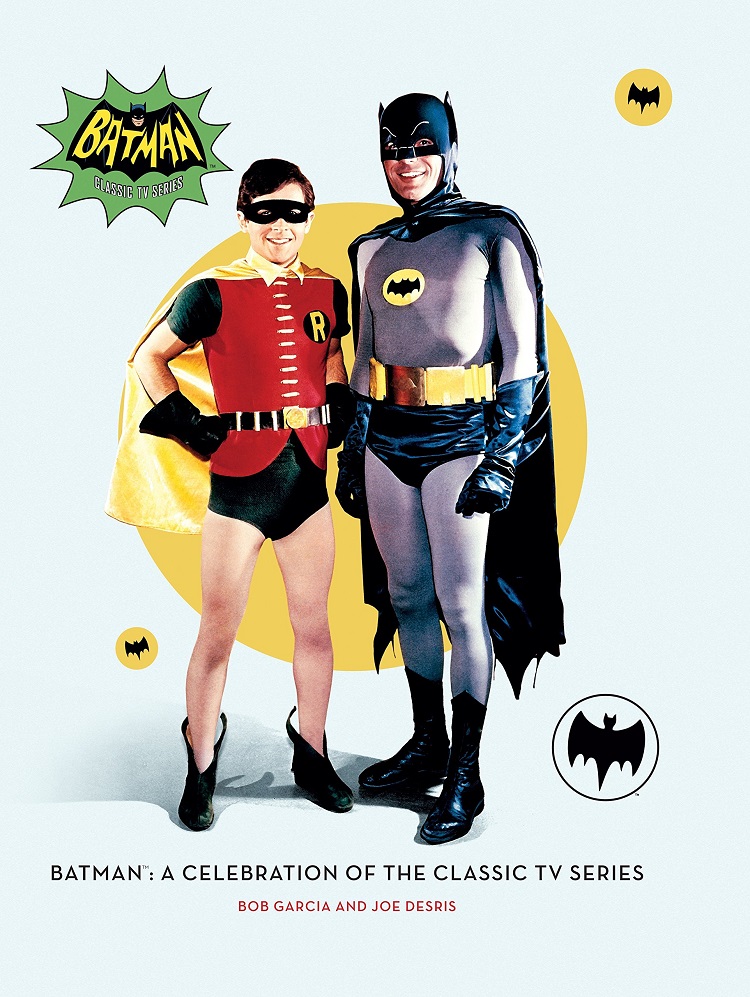 Given its own yellow utility belt, Batman: A Celebration of the Classic TV Series is a marvelous compendium about the TV series which ran for three seasons from 1966-69 and is still currently airing in syndication. Adam West, the first Bruce Wayne/Batman for many, gave his blessing to the book by writing the Introduction in which he thanks fans for the life he has been granted thanks to their love of the show.
Authors Bob Garcia and Joe Desris were very thorough, beginning the story by acquainting readers with the three ABC executives, understandably referred to as "wise men," who brought Batman to television: Yale Udoff, the Director of Night-Time Development; Douglas S. Cramer, Vice President of Program Planning; and their boss, Edgar J. Scherick, Vice President of Programming. The authors then deliver a detailed history of the creation of the pilot and the series through interviews (mostly archival) from those who were there, including Executive Story Editor Lorenzo Semple Jr., who wrote the pilot and first four scripts; costume designer Jan Kemp; composer Neal Hefti; art director Serge Krizman; and stunt men Hubie Kerns and Victor Paul, who doubled for West and Burt Ward.
The major guest stars, Julie Newmar (Catwoman), Frank Gorshin (Riddler #1), Cesar Romero (Joker), and Burgess Meredith (Penguin), each get a spotlight with West offering his thoughts about working with them. There are also stories about the introduction of Batgirl, the Green Hornet crossover with Bruce Lee, and those who played lesser-tier villains, such as Vincent Price (Egghead), Liberace (twin brothers Chandell and Harry), and Otto Preminger (Mr Freeze #2).
The book is 10.2 x 13.1 inches, allowing for a lot of space to showcase the numerous behind-the-scenes photos and sketches, including spoiling the magic of the Batclimb. It covers many elements of the series, such as the Bat-vehicles, the changes from the first season to the second, and the production of the final season. For the trivially obsessed, there is list of the over-400 instances of Robin's "Holy…" line and the episode it appears. The book concludes with a series episode guide, for when the Internet is out.
Batman: A Celebration of the Classic TV Series is a book no Bat-fan of the series should be without. It offers a wonderful peek behind the curtain at the work of the talented cast and crew who created this iconic series. Plus, Garcia and Desris have proven themselves to be trusted names in the making-of genre.