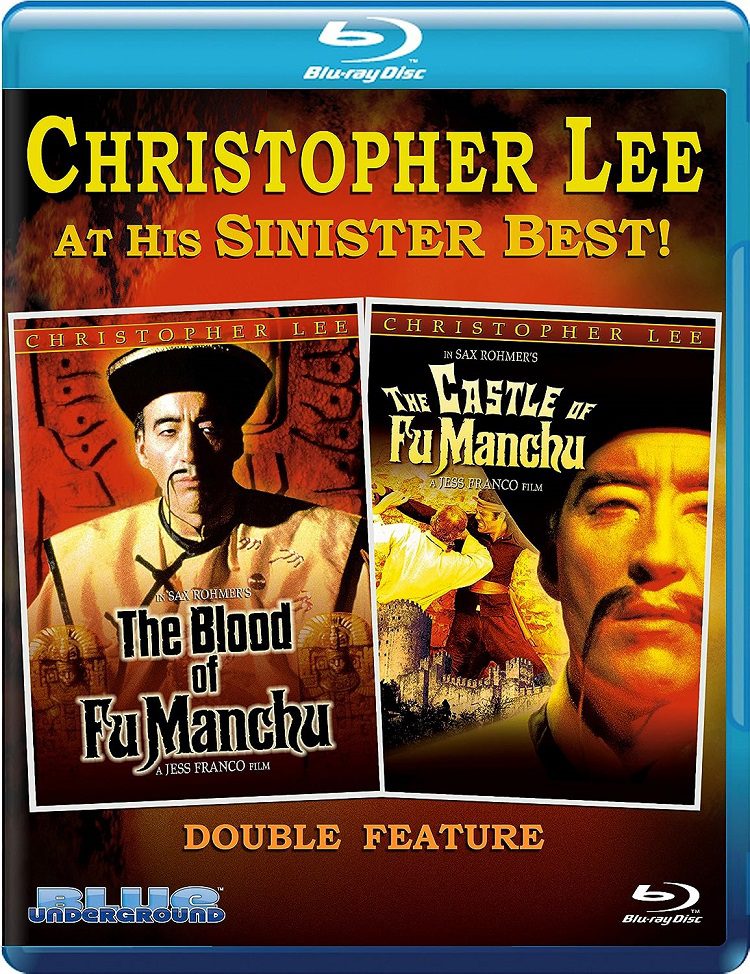 Even though nearly everyone involved in the creation of Harry Alan Towers' legendary film series have since passed on, the world has nevertheless heard from Fu Manchu again thanks to the efforts of Blue Underground. To the uninitiated (or at least overly-sensitive), Towers' Fu Manchu franchise started out in 1965 with The Face of Fu Manchu ‒ effectively reviving the long-absent (and nowhere near politically correct) villain from Sax Rohmer's legendary master of "yellow peril" thanks largely to the late great horror icon Christopher Lee and his effortless ability to play a baddie. Even when the 6′ 5″ British actor had to play an Asian!
Over the course of five years, Towers and Lee collaborated on a quintet of Fu Manchu flicks, ending with The Blood of Fu Manchu (1968) and The Castle of Fu Manchu (1969). And it is those final two installments of the series ‒ which the dearly departed Mr. Lee had once stated should have only lasted one feature ‒ that we get to explore here. Receiving stellar HD upgrades from their individual 2003 DVD releases, these two cult classics from the one and only Jesús (Jess) Franco are widely considered to be the worst of the lot, thus making their being the first Fu Manchu movies to be released on Blu-ray all the more amusing.
Indeed, Franco's touch is undeniable throughout both films, as is the shadow of The Towers, who would make nine features total together beginning with The Girl from Rio in '68 (but which wasn't released until 1969). Released in the US twice during the same year, but under different titles (the alternate title being Kiss and Kill, complete with lavishly lurid artwork), this adventure ripped from the pages of the pulp paperbacks that inspired it finds Fu Manchu (Lee) returning from his apparent demise in the last film with yet another scheme to conquer the world (a recurring theme from not only Rohmer's books, but from Towers' short-lived film series as well).
This time, Fu Manchu intends to kill his global enemies via a snake venom that only affects men. To do so, he kidnaps a bevy of international beauties ‒ thus enabling Franco to present us with two of his trademarks, skin and sleaze ‒ whom he uses his unique form of "Asian persuasion" on (read: mind control), sending his unwitting assassins out to load victims up with lethal toxins in their luscious lips. Naturally, Fu strikes at his dreaded arch nemesis first: Nayland Smith of Scotland Yard ("guest star" Richard Greene, taking over the role from Douglas Wilmer and Nigel Green, respectively), who soon finds himself blinded by a poisonous osculation with only weeks to live.
But even a bad case of "The Fu" can't keep Nayland Smith down, as our disabled hero still ventures out into the Amazon jungle in order to either find an antidote or at least ensure his bloodless enemy doesn't get the last laugh. Ultimately, the joke turns out to be on Goldfinger icon Shirley Eaton, who makes an unscheduled appearance in the film (also with "guest star" billing) courtesy footage she shot for The Girl from Rio ‒ which she received neither compensation for or notification of. And if think that's utterly unfathomable and unscrupulous, just wait until you kids see what they built The Castle of Fu Manchu with!
For it is here, in The Castle of Fu Manchu, that we realize just how low Harry Alan Towers and Jess Franco could stoop. Or maybe it was just sheer desperation due to an adequate lack of funding. Or a severe case of abject laziness, perhaps. Either way, try imagining what it must have been like to wander into the cinemas in the late '60s or early '70s (which was when this turkey finally saw a theatrical release in North America and in the UK) only to see repurposed scenes from a previous Fu Manchu movie in color spliced together with black and white stock footage from 1958's stellar tale of the fateful maiden voyage of the RMS Titanic, A Night to Remember.
But that's just the tip of the iceberg, kids (yeah, I went there), because The Castle of Fu Manchu only seems to get sillier as its nearly incoherent story rambles on. Fu Manchu does indeed have a new fancy method of turning large bodies of water into ice (or making water suddenly break out of a dam, just so Harry and Uncle Jess could incorporate footage from Campbell's Kingdom, complete with shots of stars Dirk Bogarde and Stanley Baker). But in order to keep the machine up and runnin', he needs a lot of opium (uh, I may have failed science, but…), so he has formed an alliance with some bigwig drug king in Istanbul. Or something like that, kids.
Frankly, it's a bit difficult to distinguish The Blood of Fu Manchu from The Castle of Fu Manchu in terms of quality or substance. And it's not solely because both films lack an awful lot of both, either. They both feature those painfully long panning zoom shots Franco was obsessed with, lengthy instances wherein no one feels compelled to say or do anything, randomly inserted extraneous footage hailing from other productions, and an assortment of awkward-looking actors and actresses whose very facial expressions seem quite consistent with that of barely-legal porn starlets who wonder if they signed up for the wrong gig way after all is said and done.
But, of course, those are just some of the same reasons both features are still so popular with Francophiles and cinemasochists (I mean, these wouldn't be the first Fu Manchu movies to hit Blu-ray if they weren't, right?). Plus, we get to see a great assortment of international actors between the two films. Howard Marion-Crawford (as Nayland Smith's pal, Dr. Petrie), Tsai Chin (as Fu's sadistic but seldom utilized daughter), and Jess Franco himself appear in both films. Götz George, Maria Rohm, and Ricardo Palacios highlight the anemic Blood, while Günther Stoll, Rosalba Neri, and Maria Perschy give those dreary ol' Castle walls a bit of color.
In addition to Shirley Eaton's unintentional supporting part in The Blood of Fu Manchu, the late Burt Kwouk ‒ best remembered as Cato in the original Pink Panther movies with Peter Sellers ‒ can also be seen in The Castle of Fu Manchu courtesy stock footage from The Brides of Fu Manchu. Years later, Sellers himself would star, co-write, and co-direct the last official big screen English-language production ever to feature Sax Rohmer's character in 1980's The Fiendish Plot of Fu Manchu, which the good (and always game) Mr. Kwouk also appeared in. The film would prove to be a different sort of disaster all together.
While these campy, silly jungle adventures will probably leave a bad taste in the mouths of some, it is nevertheless well worth observing these were essentially the last "serious" Fu Manchu films ever made. Other than the aforementioned Sellers bomb and Nicolas Cage's memorable moment in Rob Zombie's fake Werewolf Women of the SS trailer for Grindhouse, the character has yet to truly be seen on film again. And while it has yet to be proven as to whether or not that is actually a good thing (for reasons which should be more than obvious in today's very sensitive world), there is some solace in knowing the last "real" adaptations starred Christopher Lee.
For their Blu-ray incarnations, these two guilty pleasures from Blue Underground receive a 1080p makeover which is most superior to previous DVD releases, especially the many awful grey market and Public Domain copies which floated around on home video before the 2003 Blue Underground offerings. They're probably the best we're likely to see these two titles look anytime soon (I'm honestly shocked Germany hasn't released a BD set yet), and the detail is crisp enough to make Christopher Lee's eyepieces stand out all the more. Each film is presented in a 1.66:1 aspect ratio with DTS-HD MA soundtracks and optional yellow peril subtitles.
Special features for this pairing are identical to the earlier '03 SD-DVDs. First, there is a very informative two-part featurette, which interviews many of the cast and crew (most of whom are no longer with us now). Jess Franco, Harry Alan Towers, Christopher Lee, Tsai Chin, and Shirley Eaton are among the interviewees, and it's darned comical to watch neither Franco of Towers take responsibility for Eaton's unsolicited inclusion to the series. Trailers for both titles are included (the US preview for Kiss and Kill features some of the greatest exploitation marketing ever), and the galleries ported over from the old DVDs have been expanded for this BD re-release.
As I hinted at throughout the bulk of this article, both of these movies are for those of you with slightly different tastes. I must confess it took me three nights to make it through both films (a fairly common side effect for me when a Jess Franco film is on) ‒ but of course I have seen them before. Newbies to the series will undoubtedly be a bit perplexed, shocked, bored, or any combination of the three. Nevertheless, these final outings of Fu Manchu make for unique motion(less) picture viewing experiences, and, while the transfers aren't 100% perfect, this budget double feature from Blue Underground is a mighty fine way to burn out a brain cell or two.