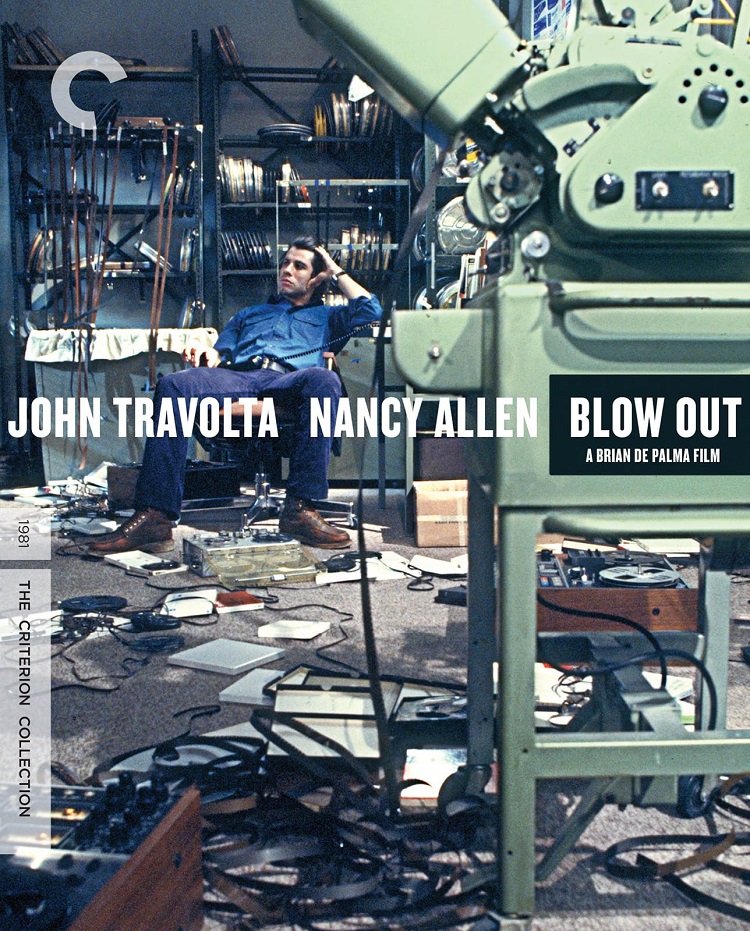 Despite the constant comparisons to Hitchcock, celebrated director Brian De Palma does have a style all his own. Yes, he's had some misses in his career (The Black Dahila, Redacted), but his hits (including Carrie, Dressed to Kill, Casualties of War) still hit the sweet spot. However, his excellent 1981 paranoia thriller Blow Out, is arguably his most crowning achievement.
In one his signature roles, the iconic John Travolta plays Jack Terri, a former police tech turned sound editor for slasher flicks. One night while recording sound effects, his witnesses an "accident", a car falling into a river. He is only able to save Sally, a beautiful blonde (the underrated Nancy Allen), while the driver (a politician and candidate for U.S. President) drowns. He is afterwards warned by another politician to stay out of the scandal and never mention Sally to the media. But, he doesn't listen.
He attempts to connect with Sally, but is calmly rejected. She eventually agrees to talk to him, reluctantly. She tells him that she was part of a clever blackmail stunt against the now dead politician by a very shady photographer (a smarmy Dennis Franz).
But not everything is what it seems, and soon after both Jack and Sally are eventually pursued by a brilliant psychopath (the great John Lithgow), one with many skills and a deadly desire to silence them both.
Seeing the film then and now, the tension throughout is still evident. De Palma tricks the audience into thinking one way, and they're thrown for a loop when it doesn't play out the way they believe. That's what keeps the show unpredictable. De Palma has been criticized for this many times, but here it definitely works in his favor. He racks up the suspense in every scene and throws a damning curve ball in the chillingly heartbreaking but now iconic ending (every true film lover will know what I'm taking about).
With amazing direction/split screen diopters by De Palma, terrific performances by the principle cast, incredible cinematography by the legendary Vilmos Zsigmond, and a very suspenseful, beautifully pitched score by Pino Donaggio, what you have here is not just one of the best thrillers of the 1980s, but basically one of the best thrillers of all-time!
Making its 4K debut courtesy of Criterion, you're bound to get a better and extensive use of detail, which I bet will increase the visual and sensory tension that the film remains to have. The supplements aren't new, but they are still very rewatchabe, just like the film itself. They include a trailer; Murder a la Mod, De Palma's 1967 experimental feature; still gallery taken by the late Louis Goldman; interview with the great Garret Brown (inventor of the Stedicam); interview with Allen; and an incredible hour-long 2010 interview with De Palma by acclaimed filmmaker Noah Baumbach. There's also the original booklet with essay by critic Michael Sragow and Pauline Kael's original New Yorker interview. Read Gordon S. Miller's review of the Criterion Blu-ray.
If you don't already own this amazing film, or want to upgrade, then this release is 100% definitely worth the own.
Other releases:
The Funhouse 4K (Scream Factory): Tobe Hooper's underrated 1981 cult creeper about a group of teenagers daring to spend the night in a spooky carnival funhouse where the tricks eventually outweigh the treats, if you know what I mean.
Star Trek II: The Wrath of Khan (40th Anniversary): The vastly superior 1982 sequel in the Star Trek film series has Kirk facing off with perhaps his greatest enemy, Khan (a standout Richardo Montalban). Includes both the director's and original cuts.
Rachel, Rachel (Warner Archive): Paul Newman's directorial debut guiding Joanne Woodward to a Best Actress Oscar nomination as a repressed and lonely New England schoolteacher experiences her newfound awakening in a small, conservative town. Read my review.
The Essential Jacques Demy (Criterion): A new Blu-ray only re-release set of legendary director Jacques Demy's greatest films. Includes Lola, Bay of Angels, The Umbrellas of Cherbourg, The Young Girls of Rochefort, Donkey Skin, and Une Cambre en Ville.