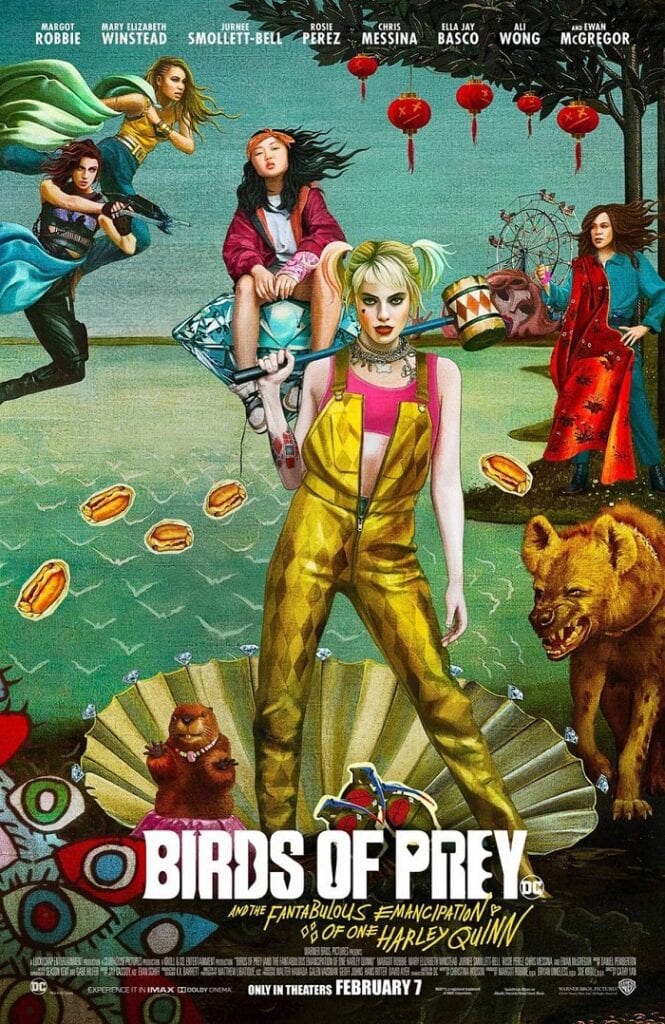 Given how Margot Robbie was one of the few saving graces of Suicide Squad, it should come as no surprise she was given a Harley Quinn spinoff. Despite the film being called Birds of Prey, it's chiefly about the story of Harley Quinn and her journey towards independence and avoiding being defined by the men she's served. It's a journey done with such kinetic flare by director Cathy Yan and slight political undertones with its depiction of a group of diverse women combatting white male chauvinism.
Birds of Prey follows Harley Quinn as she slowly joins forces with vigilante Huntress (Mary Elizabeth Winstead), Black Canary (Jurnee Smollett-Bell), and detective Renee Montoya (Rosie Perez) to protect a young girl named Cassandra Cain (Ella Jay Basco) from the evil crime lord Roman Sionis (Ewan McGregor) and his accomplice Victor Zzasz (Chris Messina).
Although the actual Birds of Prey serve as supporting characters in a film with their name in the beginning of the title, they still manage to leave a grand impression. Rosie Perez is the MVP amongst them as the hard-nosed and constantly underestimated Renee Montoya. Meanwhile, Mary Elizabeth Winstead offers badassery and effortless cool as the crossbow-wielding Huntress while Jurnee Smollett-Bell portrays the street smart Black Canary with depth and acuity.
Then of course, there's Margot Robbie as Harley Quinn. Unsurprisingly, she is terrific as the famed anti-hero, committing to the physicality of the fight scenes and carrying the picture with her effortless charisma. In addition, newcomer Ella Jay Basco manages to hold her own against Robbie, along with her other adult co-stars, as the rebellious Cassandra Cain. As all the actresses bring their A-game, Ewan McGregor is a scene-stealer as Roman Sionis, showcasing his sinister nature while offering flashes of dark humor with his whiny petulance.
For a film that swings for the fences with its use of filmmaking techniques such as an animated opening sequence used to tell Harley's backstory, Birds of Prey is clearly a strong acting showcase. In the end, though, it still puts greater emphasis on its swing-for-the-fences filmmaking which'll be a detriment for those who'll feel its style over substance, but is still enjoyable. I mean, hardly any superhero films can say they not only have a blend of humor and action, but a musical number thrown in for good measure.
While it may possess underlying themes with its depiction of women coming together to combat the patriarchy, Birds of Prey mostly works as a kinetic action flick with killer acting performances across the board. Not to mention, because Margot Robbie is so committed as Harley Quinn, she gives audiences a good reason to be excited for the upcoming Suicide Squad sequel where she'll reappear. Hopefully, that'll be on the same potential level as her.