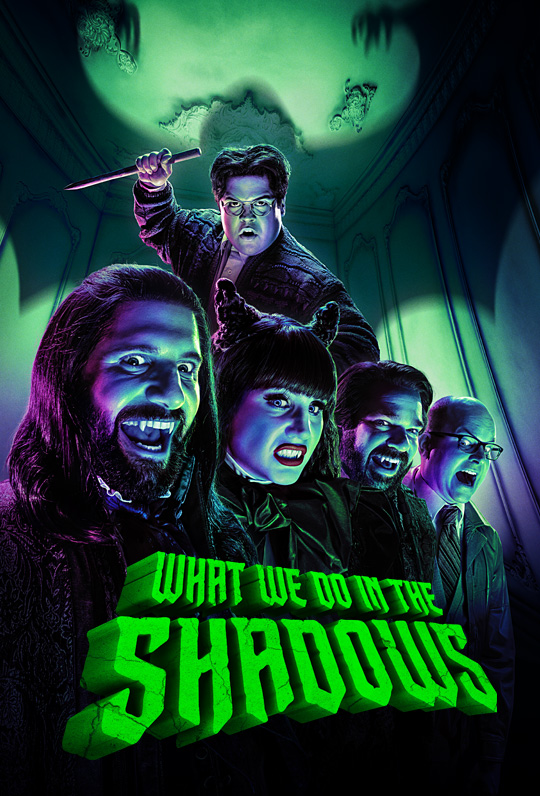 From 2005 through 2012 I pretty consistently wrote my Sunday Morning Tuneage blog. It continued inconsistently through 2013 before being abandoned. Each year was punctuated with a series of "Best Of…" lists. While the blog still remains retired, I've revived it for a Best of List 2017-2019. I debated how I would come up with a series of lists that were even comparable to previous years in a year that was totally driven into a ditch only a couple months in. But the show must go on and I still watched things, read things, and learned even more. So without further ado, here's how the year played out.
BEST OF TV/STREAMING 2020
No list I create is ever as difficult as creating any TV/Streaming show list. The list is fluid and only reflects where I'm at right now. It's really difficult to be an informed viewer these days. Sources include basic cable, HBO, Showtime, Netflix, Hulu, Disney+, Amazon Prime, etc. Even in a pandemic where I don't hardly leave the house, it's hard to feel like you have all the best stuff covered. Here's what filled my days and nights this year.
BEST SHOWS OF 2020
1. WHAT WE DO IN THE SHADOWS (FX) I finally caught up this Summer and it lived up to all the hype. I can't wait for Season Three. Amazing cast.
2. BETTER CALL SAUL (AMC) The best written drama on TV. Period.
3. FARGO (FX) The new season was back to what I loved about it the first season. Some incredible writing and acting really drove the day.
4. STATH LETS FLATS (HBO MAX) This English show is the inheritor to The Office crown of uncomfortable reality comedy. The title is a perfect description of the concept. Natasia Demetriou as Sophie makes her second appearance in the Top Four and she's the highlight here as well as her role as Nadja in What We Do In The Shadows.
5. DC'S STARGIRL (CW) As the other CW superhero shows stayed relatively static, this show felt new and fresh. I think the shorter season works much better in this genre.
6. BOB'S BURGERS (FOX) Every week it's my guaranteed laugh and currently the best thing Fox is putting out.
7. UPLOAD (AMAZON) I really enjoyed this sweet little show and I'm hoping there is a 2nd season.
8. DOCTOR WHO (BBC) I have really enjoyed the Jodie Whittaker run.
9. DEAD TO ME (NETFLIX) Season Two really lived up to what I loved about the first season. Can't wait for a third.
10. CURB YOUR ENTHUSIASM (HBO) The spite-store!
A quick list of older shows that also played well in 2020 for me include BROADCHURCH, CRIMINAL MINDS, THE AMAZING RACE, and BATES MOTEL.
This list is also very fluid and based upon lots of feedback and reviews from trusted friends and sources. Don't give me too much grief for what's on here. If nothing else, suggest more additions.
BEST SHOWS THAT I DON'T WATCH (yet) (or have just started)
1. RIGHTEOUS GEMSTONES (HBO) I'm keeping this up here because I really should have started it by now. It's totally me.
2. THE QUEEN'S GAMBIT (NETFLIX) They hype is huge but it looks like it might live up to it.
3. THE MANDALORIAN (DISNEY+) I know. I know.
4. OZARK (NETFLIX)
5. THE BOYS (AMAZON) I should probably read the comic book first.
6. SCHITT'S CREEK (POP TV) This award winner has finally caught my attention.
7. BROCKMIRE (IFC)
8. HARLEY QUINN (HBO MAX) Because cartoons.
9. I MAY DESTROY YOU (HBO)
10. DARK (NETFLIX) Why do I keep passing on this?
You remember the way I like trailers almost as much as movies? Ads are even more intriguing. One, there are fewer actual old time commercials anymore and for fewer and fewer products. Two, where do you even sit still for them anymore? For me, it's mostly during sporting events but even then I usually have to see them in another setting to know to watch them. This year has started what I'm going to call the decline of the quality advertisement. Not too mention all the unimaginitve political ads.
BEST ADS OF 2020
1. MATCH.COM. SATAN MEETS 2020. You know that advertising is going to face the Pandemic more than television or movies will this year. It's our best immediate professional media and this one just tickled me.
2. NIKE. YOU CAN'T STOP US. Year after year, Nike has the best movie quality ads. This is amazingly edited.
3. COORS LIGHT. SAD SNOWMAN. Beer commercials used to be almost all the top five.
4. MCDONALD'S. THE TRAVIS SCOTT MEAL. They still find some creativity.
5. RAKUTEN. ROCKET MAN. I love me some parody lyrics.
6. COCA-COLA. CHRISTMAS 2020. Because at least one of these should give you the feels.
BONUS. APPLE. THE WHOLE WORKING FROM HOME THING. It's much more of a short film than commercial.
BEST TV DEBUTS OF 1970
Television in 1970 was limited to three networks and most of Primetime was filled with movies. There were some important debuts in 1970 that set the stage for some of the great programs to come.
1. THE MARY TYLER MOORE SHOW (CBS). The perfectly cast ensemble of unique characters with a strong female lead is a first. The power of this show lasts most of the decade.
2. THE ODD COUPLE (ABC)
3. NIGHT GALLERY (NBC). The transition from The Twilight Zone to more adult stories in anthology shows to come.
4. PARTRIDGE FAMILY (ABC)
5. MCCLOUD (NBC). Love this Dennis Weaver police drama.