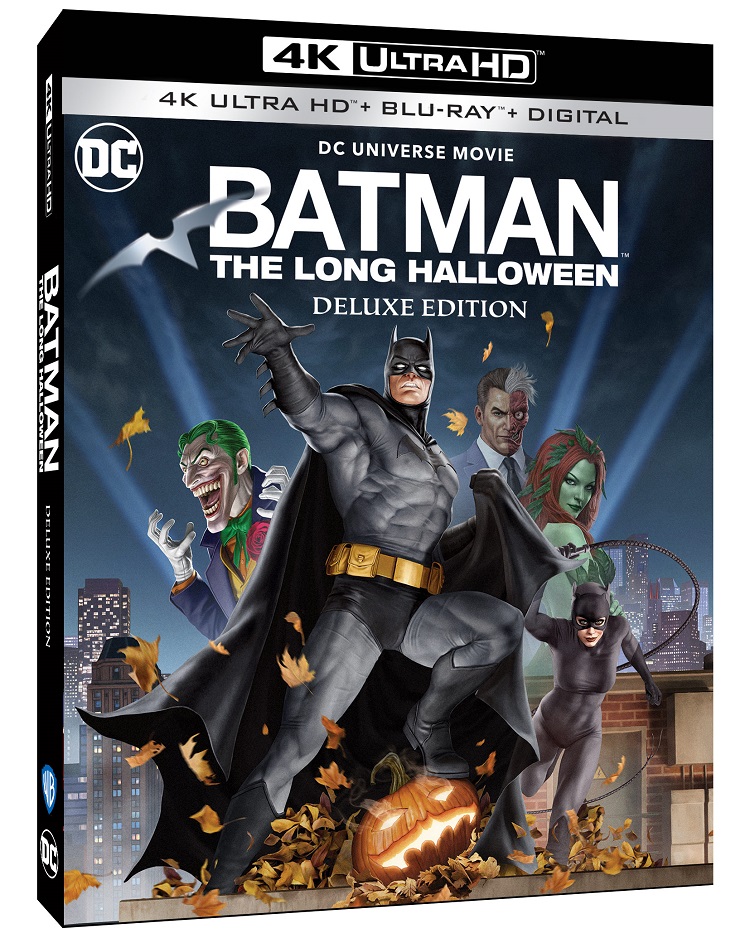 Batman battles mob bosses, a mysterious serial killer and a few super villains as he learns how to be a detective and the hero Gotham needs in this excellent, R-rated adaption of the graphic novel Batman: The Long Halloween written by Jeph Loeb and drawn by Tim Sale.
Prominent members of Gotham's Falcone crime family are being knocked off once a month at every holiday. The killer, dubbed "Holiday," has eluded Captain Jim Gordon (Billy Burke), District Attorney Harvey Dent (Josh Duhamel), and Batman (Jensen Akles) himself. As this triumvirate of justice tries to figure out who's behind it all, Falcone begins to turn to Gothams supervillains for a little help; Poison Ivy, Scarecrow, and the Mad Hatter. The Joker (Troy Baker) even shows up for giggles causing further chaos and terror among Gothamites. Penguin and Solomon Grundy turn up as well, playing minor parts as the movie rolls on. Even Batman and friends find themselves turning to Arkham Asylum inmate Calendar Man for any potential leads into the thinking of Holiday, to no real avail though.
It's early in Bruce Wayne's run as Batman and he's still feeling out this superhero, master detective thing he's "aces in a fist fight but has a lot to learn about detective work." He's also working on his growing friendship with Gordon as his relationship with Dent takes a tragic turn when Dent becomes Two Face midway through the movie. Batman/Bruce Wayne also has to deal with his relationship with Catwoman/Selina Kyle (Naya Rivera), who's running down her own demons on her journey as super klepto, badass fighting kitty. She saves Bats' ass more than once. It's a twisted dynamic duo that has potential as the two work well together throughout the movie's fantastic fight scenes. Another disturbed relationship is that of Harvey and his wife, Gilda, who has deep roots connected to the Falcone crime family, leading to more suspects being added to the list.
The Long Halloween is a mystery that will take Bats and Jim a whole year to solve while bodies pile up and the plot thickens, twisting and turning.
Batman: The Long Halloween was originally released in two parts and strays a little from the original 13-issue comic book series but remains true to the basic story and themes overall. Making the movie and comics great companion pieces to one another, both existing comfortably on their own and making for enjoyable ways to spend some time in the DC Universe.
The 4K Ultra HD/Blu-ray Deluxe Edition finds those two-parts edited together into a 168-minute long epic film noir tale. The story seems a bit pieced together in the middle but still makes perfect sense. It's at this point though that it was clearly meant as a two-parter. If it was initially intended as a three-hour epic I believe this part of the story would have been presented a bit differently. Perhaps an intermission here would have played well, a nice little break in the action.
Again this takes nothing away from the story overall, my eyes were pretty much glued to the screen the whole time as I watched the mystery unfold differently than the comics did. The dialogue is witty and insightful throughout, filled with puns and foreshadowing. The action is fast and furious, loaded with realistic fight scenes, car chases, and all kinds of high-flying fun.
The Deluxe Edition Special Features are listed as
Batman: The Long Halloween – Evolution of Evil
From the DC Vault 4 Bonus Cartoons.
Batman: The Long Halloween – Evolution of Evil is a great 25-minute look at how it all came together from comic to screen. We meet some of the cast and crew as they explore the themes viewers may not have noticed as they watched the action on screen: themes of family, loss, revenge, and characters wrestling with who they truly are. Familial relationships are at the heart of this tale, the relationships between parents and children play out not only for Bruce but the Falcones as well. Evolution further explores how Holiday and Harvey/Two Face are the perfect bridge between the gangsters and freaks. In the near future, they'll all eventually become a part of Batman's rogues gallery.
The rest of the cartoon extras included are good companions to the Deluxe Edition. From the DC Vault are four episodes taken from Batman: The Animated Series. We have the two-part "Two Face" alternate origin story; the witty, well-written "Christmas with the Joker;" and more gangsters battling Batman in "It's Never Too Late."
There are also previews of The Dark Knight Returns Parts One and Two, Gotham by Gaslight, and Batman: Hush. Each is about 10 minutes long, give or take, and we get more cast and crew interviews as they give us a sneak peek at these various titles.
What we do miss in the Deluxe Edition are the cover art for the two parts. A booklet would have been a great addition or even a short stills gallery as part of the extras, highlighting the movie and comic book art.
Batman: The Long Halloween is a fine film noir-esque tale that sees Gotham transition from a city ruled by gangsters to one ruled by "freaks." Along the way, we see Batman and future Commissioner Gordon as they learn how to deal with what's in store for them in the years ahead as the super villains become ever more clever, cunning, and ruthless.
Make sure to read Gordon S. Miller's excellent reviews on Batman: The Long Halloween Parts One and Two for full breakdowns on those releases.