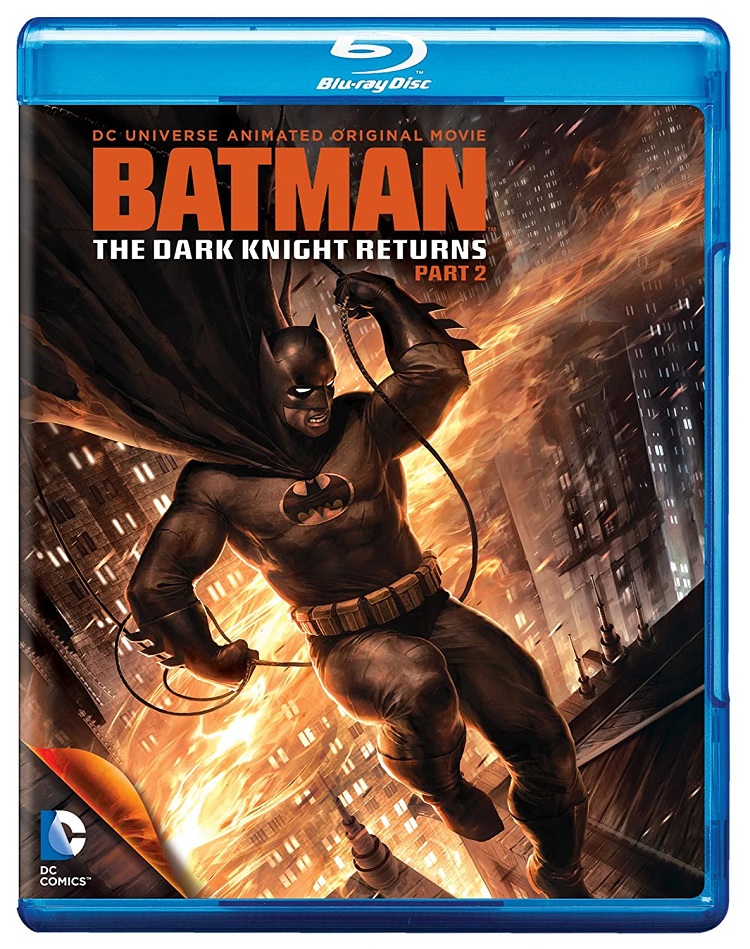 Warner Bros Animation's concluding adaptation of Frank Miller's classic comic book series (Part 1 review) contains the fight every superhero fan has imagined at some point: Batman vs. Superman. Sure, there's plenty more going on, especially the events leading to that bone-crushing confrontation, but as a defining moment it's pretty hard to top. The project is a faithful adaptation that is definitely not for kids, with violence and murder aplenty and wild Miller touches such as a swastika-pasties wearing bad girl fully intact. It's also a thoroughly entertaining film that maintains a brisk pace all the way to its thrilling conclusion.
Batman is an old man. We're talking white-haired senior citizen old, not Christian Bale The Dark Knight Rises old. He's been out of the public eye for over a decade, but events in the first movie brought him out of retirement to set things right. First on his list: kill the Joker. This is a man who has finally seen the folly of his refusal to kill his enemies and has decided to take the bat gloves off to stop any further senseless murders.
Unfortunately, the U.S. President and the new Gotham Police Commissioner aren't too keen on having a masked vigilante roaming the streets unchecked, so they both enact plans to bring him down. Reagan recruits Superman as his ace, and the Commissioner recruits her entire police force, seemingly ignoring all other crime in the city in order to blanket every one of Batman's appearances. Batman has help too, via his new female Robin and his classic bag of tricks and vehicles, with a late assist from a very old Oliver Queen as well.
The police prove to be ineffective, but Superman is fully Batman's equal and when they finally square off in their monumental fight we're treated to the stuff of legends as they mercilessly pummel each other. How does an old, wounded Batman go toe-to-toe with the greatest superhero of all time? By exploiting weaknesses and bulking up his own arsenal of technological defense. It's a great, great fight that concludes this completely satisfying adaptation of the classic comic book.
If you've seen any of the DC adaptations you know what look to expect here: traditional hand-drawn animation that utilizes fairly basic character models well below theatrical quality but a bit above DC TV cartoon series. The only noticeable difference this time is the reliance on some of the original book's '80s style, just enough to give it an out of time feel but not too much to make it seem dated. The lack of fine detail diminishes the need for Blu-ray presentation, but for what it's worth, the image really pops in HD format with vibrant color and consistent quality. Sound quality is superb, with immersive DTS-HD Master Audio ensuring we feel every punch of the epic showdown. The vocal cast is a bit of an odd assortment this time around, headlined by Peter "Robocop" Weller as Batman and Mark "Who?" Valley as Superman, with nobody contributing particularly memorable work except for young Ariel Winter (Modern Family) as Batman's perky young Robin, Carrie Kelley.
Bonus features are extensive for a non-feature film, but not exactly impressive. The worst are fairly worthless and needlessly self-important featurettes tracing the history of the Joker character as well as the historical/mythical figures that may have influenced the creation of Batman and Superman. Faring better is a somewhat interesting look at the adaptation process hosted by director Jay Oliva, with plenty of early sketches and background information. There's also a trailer for the next DC animated movie, and a whopping three episodes from the DC toon vaults. Finally, a Blu-ray exclusive digital comic excerpt from Miller's original books allows you to check out the source material on your TV, but even on a big screen it's a pretty painful reading experience compared to the guided-view ease of digital comics consumption on tablets and even smart phones.