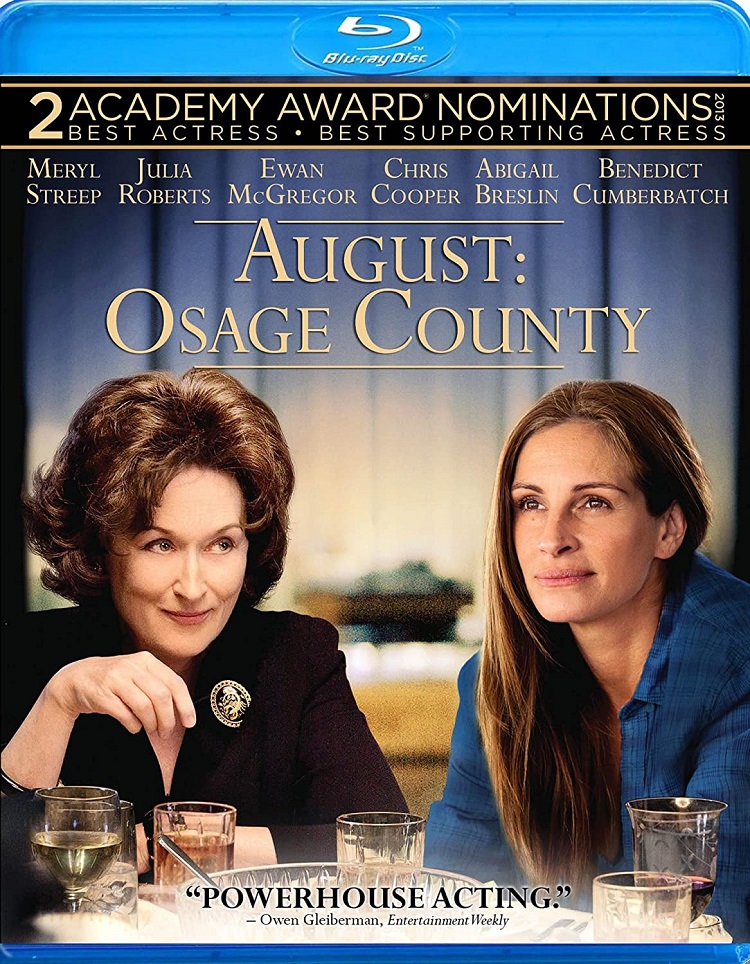 I was born and raised in Oklahoma. This isn't necessarily something I'm proud of. I mean I didn't really do anything to be born nor raised there, but it is home. Or was. And is about to be again. I left as soon as I could for college in Alabama. That was plenty far enough away from home, and lovely. Though kind of the same, when you consider politics, religion, and general redneckedness. Then I came back to Oklahoma for a time. Left again. Got married, travelled the world, and came back. Left again for Tennessee, which is more of the same, but more temperate and the sweet tea tastes better. Now I'm about to head back once again. I'm drawn to it, I guess. I just can't ever seem to get away for too long a time period.
None of that has anything to do with this week's pick, except that August: Osage County takes place in Oklahoma. Not far from where I grew up, actually. My high school football team played Pawhuska a few times. I might have even gone there for something. Or not. I really don't remember. Again, that has nothing to do with the movie (which was based on a play, from an Oklahoma-born author) except that like most people I enjoy seeing places I know in movies. Yes, I realize I've just indicated that I'm not really that familiar with Pawhuska the town or Osage the county (except for severe weather reports, of which there were many.) It's Oklahoma; what can I say? We don't get a lot of movies or stories that take place there anymore so I'll get excited when I can.
I'm not really picking this film due to it being close to a place I used to live (except maybe I am) but it is fun to see my homeland in a great big movie with Meryl Streep. That's really the reason it's getting my pick. You can't really go wrong with Meryl Streep. Throw in Julia Roberts, Ewan McGregor, Chris Cooper, Benedict Cumberbatch, Juliette Lewis, Dermot Mulroney, and Sam Shepard, and I'd probably pick this movie even if it took place in Podunk, Wyoming.
The film got fairly mixed reviews, but Streep and Roberts' performances picked up all kinds of awards and nominations and well, I'm already sold but that's just icing. I'm looking forward to seeing this one very much, enjoying a nice bit of character drama and watching the landscape closely to see if I recognize anything.
Also out this week that looks interesting:
The Hobbit: The Desolation of Smaug: I loved The Lord of the Rings Trilogy. It had comedy and romance, suspense and action, and it was epic to the max. I was excited when it was announced that Peter Jackson was adapting The Hobbit for the big screen, but a bit trepidatious over hearing such a short book was being made into three films. I caught the first film, The Hobbit: An Unexpected Journey, and my worries became reality. It was overly long and took entirely too long to do anything. At some point, I know I'll see this one and the next, but I'm really in no hurry. For those interested, it comes in a variety of versions including a super-bloated edition with lots of cool stuff.
The 400 Blows (Criterion Collection): I love this film. Francois Truffaut created one of the most unsentimental and brilliant portrayals of a rotten childhood ever put on film. I also love that he made four other films featuring his alter-ego character and used the same actor though it takes place over a 20-year time period. None of the other films are as good as the first though, and Criterion appears to have done their usual masterful job of bringing it to Blu-ray.
The Night of the Hunter (Criterion Collection): Another great film restored to HD by Criterion. Like The 400 Blows, this one has been previously released by Criterion on DVD, but they always do such a great job with their HD upgrades and additional extras that this is surely worth paying for again.
Grudge Match: Robert De Niro and Sylvester Stallone previously starred in two of the greatest boxing matches ever (Raging Bull and Rocky.) This one puts them together, and while they are now much older than they were when they made those films, and their talent has gone with them, this still might be fun. Ok, it actually looks kind of terrible but I'm mentioning it anyways. I'll probably go back and watch those two films instead of this one in memorial.
Sabrina (1954) and Funny Face: A couple of cute Audrey Hepburn movies get the basic Blu-ray treatment.
I Am Divine: A documentary on John Water's cross dressing muse. Kristen Lopez reviewed it.
Nurse: Fun-looking, dumb horror wit Paz de la Huerta and Katrina Bowden.