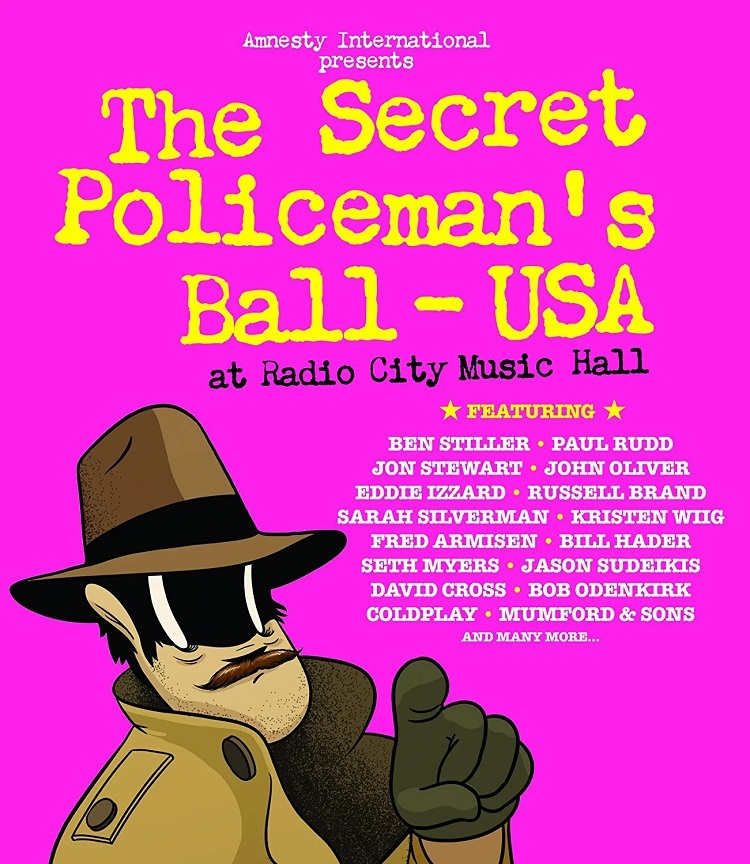 Starting back in the 1976, a series of charity shows featuring comedy and music were held to benefit the human rights organization Amnesty International. They are known collectively as The Secret Policeman's Balls, taking the name from the title of the third show from 1979. In celebration of Amnesty International's 50th anniversary, a Ball was held for the first time in the United States at Radio City Music Hall on March 4, 2012 and is available on DVD and Blu-ray from Eagle Rock Entertainment.
This evening offered a mix of British and American comedians along with performances by two British bands. Eddie Izzard opens the show and right away points out there's no God, revealing he knew what would work with a New York audience. Referencing the dictators Amnesty works against, Jon Stewart does a bit with North Korea's Kim Jong-un (Rex Lee) that feels a bit like torture because it goes on too long considering the limited number of laughs it generates.
Speaking of going on too long, Russell Brand closes the comedy portion of the show, although he likely wasn't chosen because of the material presented here. Earlier, Brand and Noel Fielding come out together and abuse the audience, particularly one woman and their insults aren't very funny.
The highlights of the evening are a funny sketch by Mr. Show's David Cross and Bob Odenkirk, as the latter interacts with a version of himself on video; and one featuring Fred Armisen being interrogated by Seth Meyers and Jason Sudeikis. Hannibal Burress, Sarah Silverman, and Jack Peter Benedict Whitehall deliver short, funny stand-up routines.
Unfortunately, the bits where Americans and Brits perform together are frequently the weakest moments of the program. The Amnestones (Fred Arminsen, Kristin Wiig, Catherine Tate, and Matt Berry) are okay but forgettable. John Oliver interacting with The Muppets Statler & Waldorf (who forfeit their right to complain about bad acts considering how boring they were, especiqally the unfunny viral video) could have been cut. David Walliams and Ben Stiller do a sketch about shared language that seems as old as Amnesty. Reggie Watts, whose appeal has escaped me, is joined by Peter Serafinowicz, who pretends to be Paul McCartney. A meeting of Anonymous members sketch didn't elicit laugh as much as delight when people revealed who they were. To be fair, John Oliver interviewing Julian Assange (Bill Hader) was very funny thanks to Hader's ridiculous caricature.
The music featured modern British acts. Mumford & Sons play "Roll Away Your Stone" while Coldplay closed out the evening with "Viva La Vida", "Paradise," and "Every Teardrop Is A Waterfall."
In addition, Pythons Michael Palin, Eric Idle, and Terry Jones appear by video as does Beavis & Butthead. Liam Neeson reminds the audience of Amnesty's work by introducing Zarganar, a comedian from Burma who had been locked up for 59 years because he publically criticized the government. Thankfully, Amnesty obtained his released in 2011.
The Blu-ray presents video in 1080i/MPEG-4 AVC in an aspect ratio of an aspect ratio: 1.78:1. The colors are strong, blacks are adequate, and detail is sharp. The audio is LPCM 2.0 for this dialogue-heavy program and the voices are clear throughout. The music reveals a good dynamic range and delivery of bass from the track.
The only extra is a Behind the Scenes (1080i. 8 min) with the show's participants. After the credits roll, Robert De Niro appears in "The Python Legacy!" a skit written by Michael Palin & Martin Lewis created for the Blu-ray/DVD release. De Niro is funnier here than many of his comedic movies.
The Secret Policeman's Ball – USA delivers an entertaining evening of comedy and music for a worthy cause.