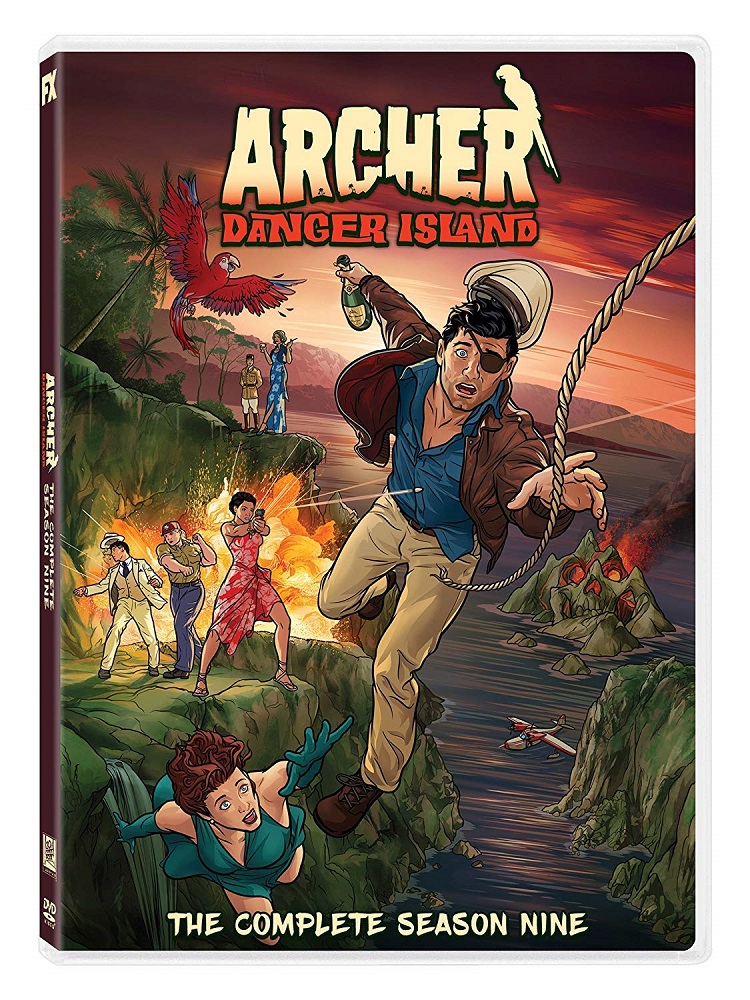 Season Nine finds Archer still in a coma after having been shot in Season Seven, but his dreams have changed setting, moving from Los Angeles 1947 (Season Eight: Dreamland) to a South Seas island 1938, hence the subtitle: Danger Island.
The voice cast play variations of their characters in this new setting. Sterling Archer (H. Jon Benjamin) is a pilot like Jake Cutter from Tales of the Gold Monkey, which creator Matt Read told A.V. Club was "one of my favorite shows ever." Pam (Amber Nash) is Sterling's co-pilot and considers him her best friend. Malory Archer (Jessica Walter) runs a hotel and is the majority stakeholder in Archer Airways. Lana (Aisha Tyler) is an island princess whose people have been subjugated by the French for a 100 years. Reynaud (Reed) is a French police captain and the local authority. Cyril Fuchs (Chris Parnell), not pronounced "Fuchs," is German (wink wink). Charlotte (Judy Greer) is a honeymooner who awakes in Sterling's bed as the season premiere opens. Her husband leaves her behind taking all her belonging including money and passport. Crackers (Lucky Yates) is a talking macaw.
Cyril has come to the island in search of an idol wanted by the Fuhrer. Princess Lana helps him in exchange for a reward and a promise to help her people overthrow the French. Sterling needs money to repair his plane, the Loose Goose, so he wants to recover the idol and sell it. Pam and Crackers help him. Malory takes advantage of Charlotte and forces her to be a courtesan. She also learns about the idol, and joins in the hunt for it. Cyril is assisted by Ziegler, the pilot who shot Sterling out of the sky five times and in his eye, and other German soldiers. Complicating matters, the island has its own dangers, such as serpents, lizards, and cannibals.
All eight episodes of Season Nine are available on one DVD. The final episode concludes with a peek at the next, and supposedly final, season set in outer space: Archer: 1999. The Special Features are:
Inside Look: Making Archer (14 min) is a four-part making-of with Nash and Yates taking viewers behind the scenes at Floyd County Productions.
Crackers' Costumed Playings (3 min) – a funny clip that was made for San Diego Comic Con.
Archer: Danger Island continues the ridiculous situations and wacky dialogue filled with recurring gags, obscure references, and unrelenting insults in which the series excels. It remains one of the funniest comedies on TV. In addition to the humor, Reed does a very good job with the plot. The story presents complications for the characters and twists to the story, which keep the viewer curious as to what's to come. The change of location not only has allowed the writing to take the show in refreshing directions, but the art team gets to play with a lot of bright, vivid colors in contrast to the shadowy noir look of the previous season. Season Nine is a fine entry point for those new to Archer, and it should satisfy long-time fans.