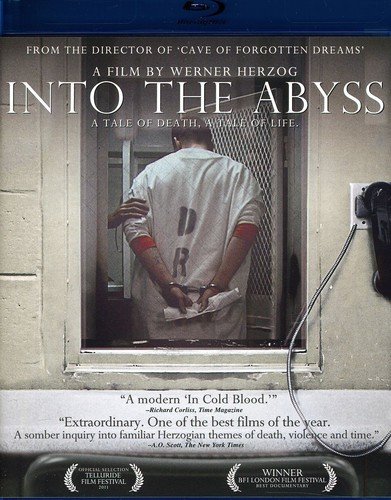 When introducing his latest documentary at AFI FEST presented by Audi, German director Werner Herzog stated he was against the death penalty but didn't feel it was his place to tell the people of the United States, and more specifically Texas, where the crimes at the root of this film occurred in 2000, how they should handle these matters. However, he obviously wants them to rethink the position considering how easily he demonstrated the arbitrary nature it is being applied. In the interest of full disclosure, I too am against the death penalty for a number of reasons.
Typically in documentaries like Into The Abyss, a sympathetic case is selected, usually an innocent man convicted of a crime he didn't commit to appeal to the viewer's sense of justice in order to show the flaws in the legal system. Herzog makes his point using two guilty young men involved with a senseless triple homicide in Conroe, Texas. Michael Perry, who would be executed eight days after being interviewed, and Jason Burkett were in jail, convicted of murdering 50-year-old Sandra Stotler, her 16-year-old son Adam, and his 18-year-old friend Jeremy Richardson. Both teenagers at the time, Perry and Burkett first killed Sandra apparently in order to steal her red Camaro and then the two boys to cover their tracks. About a week later, Perry and Burkett got into a shootout with police before being apprehended. In the interviews, each continued to blame the other for the murders.
Herzog wants no sympathy for these men. He tells Perry at the start of their session, "When I talk to you, it does not necessarily mean that I have to like you." Viewers aren't expected to like the men either, as Herzog uses extensive crime-scene footage at Sandra's home and out in the woods, taking viewers back in time to see the victim's bloodstains as police found them. Perry confessed to detectives but then changed his story.
In separate trials, Perry was sentenced to death and Burkett received life in prison for the same crimes, likely where the subtitle "A Tale of Death, A Tale of Life" comes from. In addition, the film is as much about those murdered as it is those still living who have been affected by it. Charles Richardson lost his younger brother Jeremy, and Lisa Stotler-Balloun lost her mother and brother. Ten years out, their loss still has a palpable effect on them. Delbert Burkett, Jason's father, is also interviewed from jail, incarcerated multiple times over the years due it part to his struggles with alcohol and drugs. Delbert sees his failures contributing to his son's and that of Jason's brother, who we don't see but are told is also in jail. Jason's wife Melyssa provides some light moments that offset the darkness of the material. Although the change in tone seems a tad odd, the revelations she makes are essential to the story.
The most compelling interview features Fred Allen. He isn't related to any of the previous participants, but was formerly part of a group most affected by the Texas death penalty. Allen was a prison captain, who had taken part in 125 executions by tying down the condemned. One day he had had enough and quit, forgoing his pension for peace of mind. Herzog barely scratches the surface at stories that should be told about those who conduct the death penalty.
Into The Abyss is a thought-provoking documentary that may not change anyone's mind, but it certainly makes its position clear and will hopefully contribute to a needed discussion Texas and the United States should have.