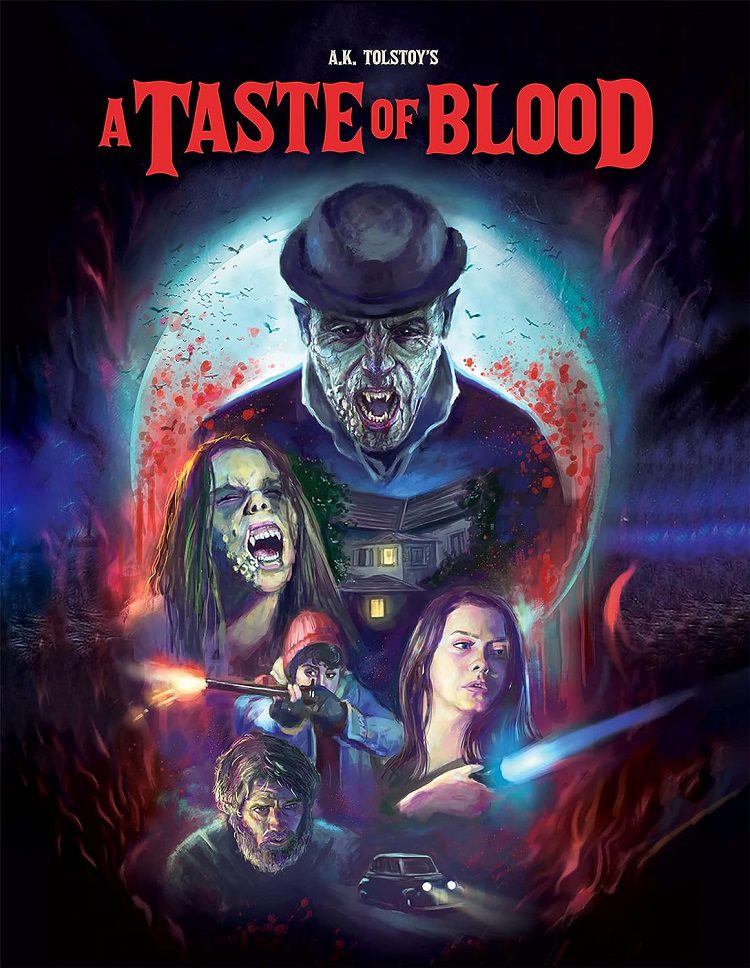 A modern-day family in the Argentina countryside faces its bloody past in A.K. Tolstoy's A Taste of Blood (2020) brought to you by Cleopatra Entertainment and MVD Visual. These Vurdalak vampires aren't very sexy but Cleopatra has added a cool soundtrack to help with that. 
Young Natalia (Alfonsina Carrocio) doesn't want to be an old maid stuck with the family occupation of a veterinarian, or bound to their outdated homestead. She has a boyfriend, Alexis (Tomas Carullo Lizzio), who lives in town and an overprotective father, Aguirre (German Palaciosa), who keeps her and the rest of the family locked inside at night. When Natalia tries to run away from it all one night, she soon finds out that her father is housing an old family secret. A man claiming to be her uncle reveals this secret to her as he turns into an ugly monster and tries to drink her blood. She is saved by Alexis and they flee back to her family farm.
Once safe inside, Aguirre reveals that they come from a long line of Vurdalak, an ancient vampire creature that haunts the night in search of blood. Not just any blood but the blood of family, lovers, and those closest to it. Somehow, the old Uncle has found them and wants to turn them into monsters like him and their ancestors. Aguirre decides to go out and hunt down this ghoul before he can attack the rest of the family. This sets up the remainder of the movie's thrills and drama as Natalia, her brother, and his wife and child are joined by Alexis as they wait for Pops to return, while trying not to turn on each other. Only morning will reveal if he was indeed successful in his hunt for Uncle Vurdalak. 
Director Santiago Fernandez Calvete does a fine job handling this suspenseful retelling of Tolstoy's novella The Family of the Vourdalak. That story is probably best known for Mario Bava's version The Wurdulak included in Black Sabbath (1963) with horror icon Boris Karloff as the changeling Papa. A Taste of Blood was filmed in Argentina entirely in Spanish and originally titled Sangre Vurdalak which seems a more fitting title in my mind as it alludes to kinship and cursed family bloodlines. The soundtrack is actually pretty kick ass but overall doesn't jive well with the movie or its setting, aside from the opening sequence. The songs featured would have been more appropriate if the story was set in a big city where the blood suckers were more urban and the movie a bit faster paced.
The major drawback to the Blu-ray release are the watch options. The "English" version has some characters dubbed in English while others retain the original Spanish and are subtitled. The other watch option is all Spanish with no subtitles provided. I find that's the superior option but this Garcia took Spanish in High School and got a C, so that option is out. For some reason, it's the younger characters who speak/respond in English when spoken to in Spanish which doesn't make sense. It's just off-putting and distracting. The movie would have been better left in its original language with subtitles. 
I really do appreciate the bonus CD that came with the Blu-ray, though most of the tracks aren't used in the actual picture. Stand-out bands on the CD include Rosetta Stone, The Sweet Kill, Corpus Delicti, Christian Death, and Witch of The Vale. Leather Strip's song "Evil Speaks" reminds me of Neo-Rockabilly band The Polecats' "Make a Circuit" meets a Rob Zombie tune. I like the CD's Dark Wave, Goth, industrial, dance sound and that the bands are clearly inspired by greats like Joy Division, Bauhaus, and even David Bowie. The CD seems like a Cleopatra Records sampler disc and it will probably get more play than the movie due to the previously mentioned dubbing follies. 
The Bonus Features listed, audio CD aside, are the theatrical trailer, a slideshow, and the original Spanish language audio (sans subtitles). Truly a bummer as some featurettes or quick interviews would have been much appreciated, even if they were centered on the music.
A Taste of Blood is an entertaining 90 minute retelling of A. K .Tolstoy's chilling tale. The ghoulish vampires presented here are not sexy or too cool and that's okay because that gets at the heart of these evil creatures that were feared for centuries. Its dubbing debacle aside, A Taste of Blood was easy to stomach.