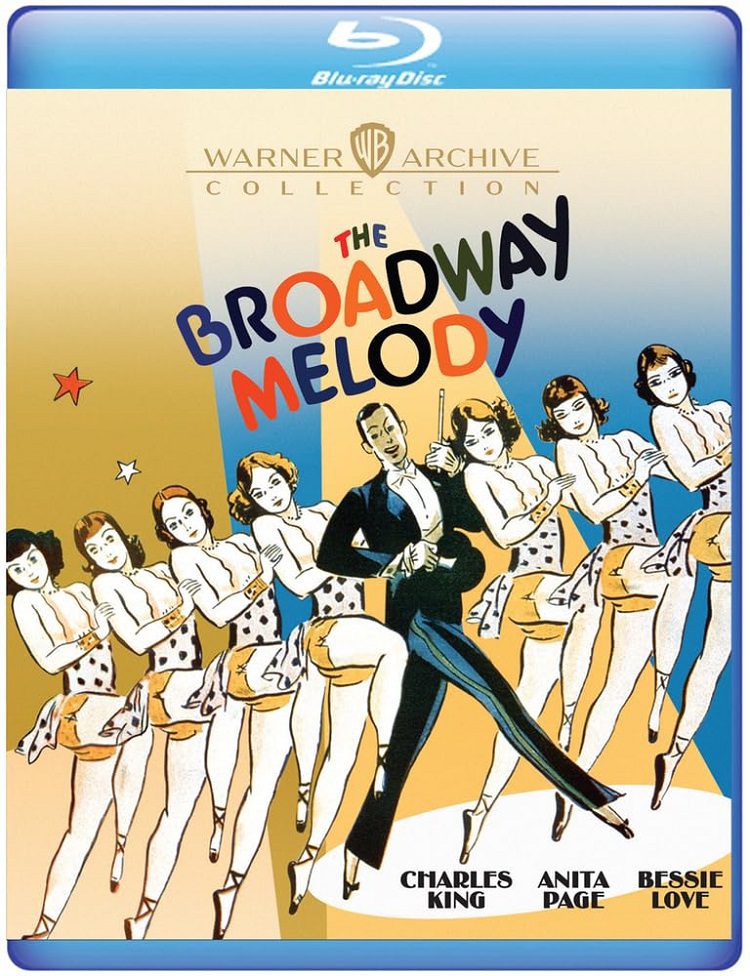 The Broadway Melody, the first sound film to win the Academy Award for Best Picture, is a melodramatic story focusing on the two Mahoney Sisters as they try to make it on the Great White Way. As MGM's first musical, it's packed with songs, most of which stem from the in-film Broadway show or the performers demonstrating their talents as opposed to musicals where characters outside of show business break out in song and dance to express themselves. While the backstage exploits are familiar to the genre, it's a fun snapshot of a bygone era for both film and theater.
Songwriter Eddie (Charles King) has written "The Broadway Melody" for producer Zanfield's (Eddie Kane) new revue, and intends for the Mahoney Sisters, his fiance Harriet (Bessie Love), who goes by Hank, and Queenie (Anita Page), to sing it. With the gals' audition sabotaged, Zanfield is unimpressed and doesn't want them both. Queenie's beauty makes her a valuable addition to Zanfield and she talks him into taking them both on just for her rate.
During rehearsals, Zanfield cuts "The Broadway Melody" and sidelines the sisters. When an actress gets hurt, Queenie replaces her. Playboy Jacques Warner woos Queenie and she enjoys nights on the town with him. Hank and Eddie, who has developed feelings for Queenie, try to stop her from seeing him. It's no surprise that the conflicts are resolved by the end, but it is puzzling how every character can be so happy with the results. Well, it would be if it wasn't a 1920s musical.
The video has been given a 1080p/AVC MPEG-4 encoded transfer displayed at the original aspect ratio of 1.37:1. The new 4K scan was created from the original negative, 35 mm prints, and a 16 mm print and they blend together to deliver a quality image for a film over 90 years old. Some scenes are shot with filter to create a circular shot, like when Uncle Jed (Jed Prouty) first visits the sisters Blacks are inky and can crush as seen in the suits of Zanfield's Yes Men standing together. A variety of grays are noticeable. Sharpness of focus can vary from cuts and even within a shot. There is slight film grain.
The DTS-HD Master Audio 2.0 mono track has a consistent hiss and occasional crackle. Dialogue is clear. The singing and music isn't always well balanced, which is understandable as the sound technology was new, but can cause the numbers to be muddles, like when Eddie sings "The Broadway Melody" to the girls in their apartment.
The special features are:
a Song Selection option to one directly to a song
Metro Movietone Review ["Revue" on the title cards] Shorts No. 1-4, 7 (14 min, 17 min, 14 min, 19 min, 8 min) – A collection of shorts presenting Vaudeville acts of the time. Like the film, an example of the stage entertainment of the era.
Van and Schenck Metro Movietone Act (5 min) – Singing duo Gus Van and Joe Schenck perform. If they look familiar, they appeared in Short No. 1.
The Dogway Melody (16 min) – This "Dogville" short sees the pooches put through their paces as they set their sights on the stage. It's rather silly and a bit odd but an interesting novelty.
While it might be slow and melodramatic for modern audiences, The Broadway Melody is worth a look for fans of musicals and backstage shenanigans as well as Best Picture Oscar completists. The story is slight but the song and dance numbers keep the film moving at a good pace. Give my regards to the Warner Archive team for giving the film a good high-definition presentation and a fun selection of extras that played in theaters the same year.