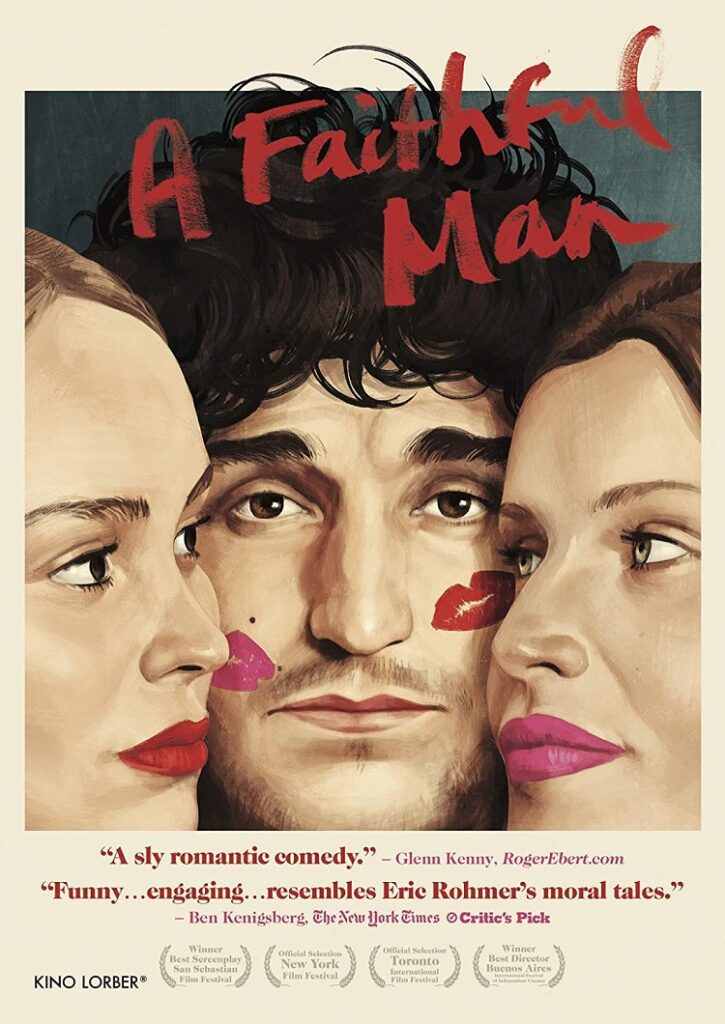 Louis Garrel's sophomore directorial effort A Faithful Man is certainly loyal to particular romantic-comedy traditions. It's both traditional and a slight deconstruction of the nature of love triangles. Initially, it seems like we're in for a standard love story about a man and a woman attempting to reconcile their feelings for one another. That is until it starts to toy with "stalker film" machinations. A Faithful Man may have a short running time of 75 minutes, yet it successfully does more with less.
When Marianne (Laetitia Casta) leaves her boyfriend Abel (Louis Garrel), she reveals that she's pregnant with the child of a mutual friend named Paul. Eight years later, Marianne comes back into Abel's life along with her child, Joseph (Joseph Engel). Yet, as they try to revive their past romance, Paul's younger sister Eve (Lily-Rose Depp) who's had a crush on Abel for years enters the picture.
In addition, Eve ends up trying to feud with Marianne over Abel's affections. Thankfully, she is portrayed with such empathy by Lily-Rose Depp. Eve may be rather obsessive, but Depp walks a delicate line between both innocent and frenzied obsession, making her the film's intricate moral center. While the other actors do fine work, Lily-Rose Depp easily steals the show.
Along with Depp's performance, the screenwriters, Louis Garrel and Jean-Claude Carriere, serve as the film's star. By emphasizing on the expositional narration of the four main characters, Garrel and Carriere lean less heavily on the male gaze despite the film's title being A Faithful Man. Plus, as Abel tries to maintain his relationships with Eve and Marianne, we see how his conflict affects those around him.
Not only does Abel's relationship with Marianne make Eve more obsessive, but it causes strife between him and Joseph who's recovering from his father's death. Not to mention, Joseph accuses Marianne of murdering Paul. Could that be true? Is it a part of Joseph struggling with processing his grief? Is he concocting a fake mystery due to his fascination with the mystery genre? It's unclear yet a layer of intrigue within the multi-dimensional storyline becomes opened.
In conclusion, A Faithful Man is a quick and incredibly analytical take on the romantic comedy genre infused with immense ardor. It's a well-written portrait of a complicated male in love and how with love comes repercussions. This film might not reinvigorate romantic comedies entirely, but it shows that new avenues within this genre can still be taken.