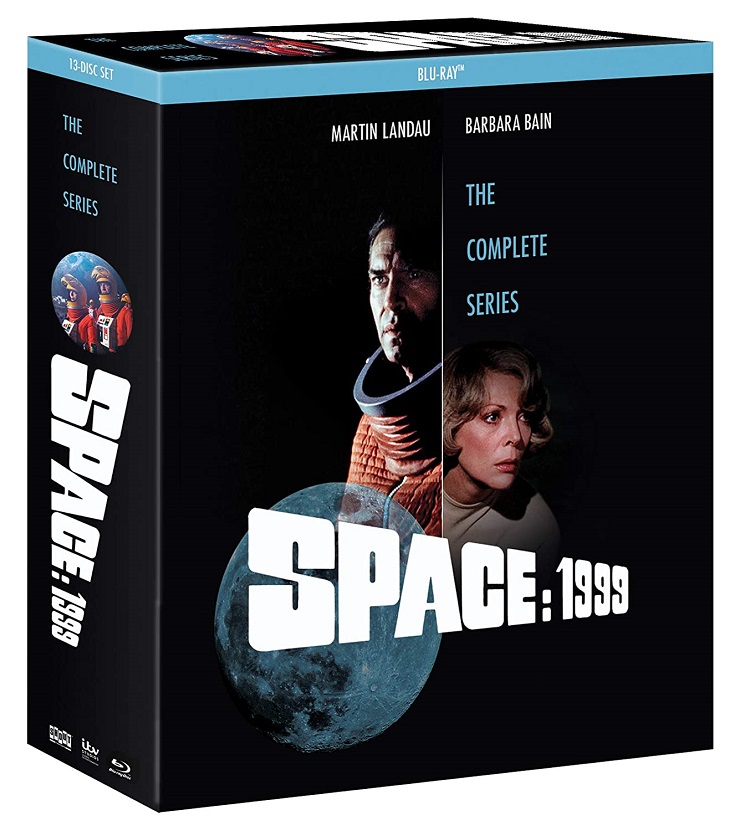 It was September 13th, 1999, when an explosion of nuclear waste blew the moon out of orbit and sent the inhabitants of Moonbase Alpha on an incredible journey through space. As we approach the 20-year anniversary of the explosion, it seems fitting that Shout Factory would release all 48 episodes of the television series on Blu-ray with new interviews and features. Though, as I revisit this series, I can't help but wonder why Shout Factory didn't wait two months (It was released on July 16) and tie it into the fictional anniversary.
In reality, the science fiction series, which was the most expensive series produced for British television at the time, went into production in 1973 just as Star Trek the animated series was floundering, and American science-fiction fans were wondering what was next. They would have to wait until 1975 for the ambitious endeavor from the partnership of Gerry and Sylvia Anderson (Fireball XL5, Stingray, Thunderbirds, Captain Scarlet and the Mysterons, UFO) to hit the airways in the U.S.
When Commander John Koenig (Martin Landau), Dr. Helena Russell (Barbara Bain), Professor Victor Bergman (Barry Morse), and the rest of the scientific research colony on Moonbase Alpha flew over U.S. syndicated television airwaves on their way to the far reaches of the universe, they were received with mixed reviews. Though it has more of a resemblance in characters and storylines to Star Trek: The Next Generation, at the time it was compared to Star Trek, the original series. While the special effects were ahead of their time, Season One of Space: 1999 has a slow-paced intensity in both storytelling and performances that made it difficult to appreciate in 1975. Significant changes were made in Season Two in attempt to make the show more appealing to audiences including cast, set, costumes, and storylines. Sadly, the introduction of Maya (Catherine Schell), an alien who could turn herself into any living creature; some energized scripts; and a more emotional Koenig and Russell could not prolong the journey.
The first season contains some strong episodes including the premiere "Breakaway" where we meet the team and learn how they ended up traveling through space on a runaway moon. "Dragons Domain" is a huge fan favorite, but there is a strong fromage factor that runs rampant throughout the series, and it only grows stronger in Season Two. The second season opens with "Metamorph," which has a sole purpose of introducing the new lead character of Maya. The episode provides no other information as to the changes from the previous season nor does it explain the absence of characters. This would be a sign of things to come as the quality of the scripts declined and eventually led to the demise of the series.
The aforementioned cheese is overcome in Season One by storylines with depth and special effects that are outstanding. As a young man, I recall enjoying what I was seeing but longing for more action. Martin Landau's Koenig lacked the bravado of a James T. Kirk, and Barbara Bain was often stoic in her portrayal of the ship's doctor. Watching the episodes now, I appreciate the science fiction and find that the series does hold up, even when it gets a bit moldy.
These episodes look great for their age and though the music choices may not have been mine, the sound is excellent. I have rarely seen this much bonus material on one release, making it perfect for those who are new to Space: 1999.
They include:
NEW Mission to Moonbase Alpha: An Interview with Actress Barbara Bain
NEW Into the Uncertain Future: An Interview with Actor Nick Tate
NEW Brain Behind the Destruction: An Interview with Director Kevin Connor
NEW Moonbase Merch: A Tour of Space:1999 Ephemera With Author John Muir
NEW Audio Commentary by Author Anthony Taylor on "Dragon's Domain" and "The Metamorph"
NEW Audio Commentary by Space:1999 Series Expert Scott Michael Bosco an "Ring Around the Moon"
Audio Commentary by Series Co-Creator Gerry Anderson on "Breakaway" and "Dragon's Domain"
"These Episodes" – Nearly 100 Minutes of Reflections on Some of Space:1999's Iconic Episodes from the People Who Made Them
"Memories Of Space" Featurette
Interview with Sylvia Anderson
Guardian Of Piri Remembered with Actress Catherine Schell
Vintage Year Two Interviews
Vintage Brian Johnson Interview
Behind the Scenes Footage with Brian Johnson Commentary
Concept and Creation Featurette
Special Effects and Design Featurette
Martin Landau and Barbara Bain TV Promos
Promos for Year One and Year Two
Trailers for Destination Moonbase Alpha and Alien Attack
Blackpool "Space City" Exhibition Advert
Lyons Maid Ice Lolly Advert
Mono and 5.1 Audio on All Episodes
Photo Galleries
16 Page Episode Guide
Recommendation: This new release has everything you would want to travel with the team on Moonbase Alpha for the first time or revisit some of your favorite stops along the way. Shout! Factory will also offer a limited edition set that includes a snow globe featuring an Eagle Transporter landing on the Moon. The globe itself has a 4-inch circumference and sits on a 2-inch base.