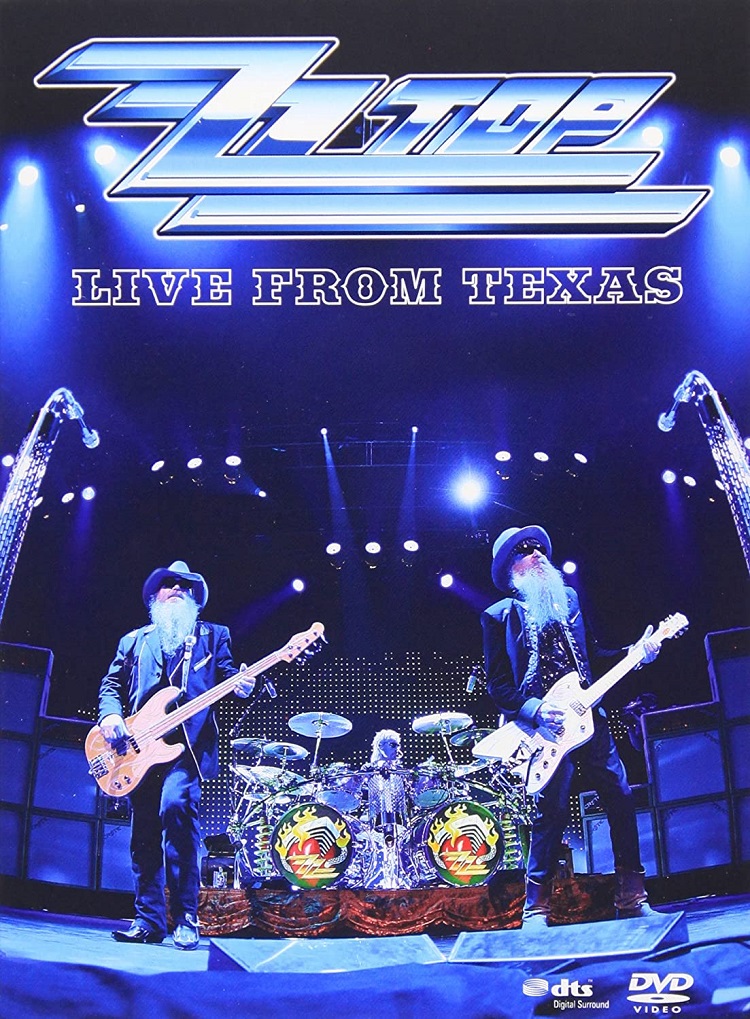 Heading in to their 40th year, that little ol' band from Texas, ZZ Top continues to rock the house with their first live DVD, capturing their performance at the Nokia Theater in Grand Prairie, Texas on November 1, 2007 before an enthusiastic hometown crowd. Although it's been a couple of decades since the trio of guitarist Billy Gibbons, bassist Dusty Hill, and drummer Frank Beard was at their commercial peak, they still deliver a 17-song hit-filled set, 85 minutes of wicked blues and gritty rock 'n' roll that keeps the faithful "beer drinkers and hell raisers" happy.
Gibbons voice has gotten gruffer over the years. That benefits songs like "Jesus Just Left Chicago" and "I'm Bad, I'm Nationwide" but comes at the expense of others because he can't hit the higher register like he used to. Hill's vocals are more prevalent in the mix than they are on the recorded versions, such as the concert-opener "Got Me Under Pressure."
What hasn't changed is how well the band plays although it is possible they are getting better. The rhythm section of Hill and Beard are a well-oiled machine, allowing Gibbons to lay down some satisfying guitar licks. On "Just Got Paid," he uses a bottle on the neck to stretch out the notes and makes the guitar sing. Not only are they talented musicians, but great entertainers as well. Their sense of humor is on full display from their silly synchronized dance moves to the fuzzy instruments.
At about the halfway point, the band slows down the tempo for the ballad "Rough Boy" and the smoldering "Blue Jean Blues." They close out the set with the threesome from Eliminator that helped push the album to be their greatest seller at 10x Platinum and made them MTV stars: "Gimme All Your Lovin'," "Sharp Dressed Man," and "Legs."
They encore with some vintage ZZ Top: "Tube Snake Boogie," which featured some audience participation, an extended and outstanding "La Grange," and Hill taking the lead vocal on "Tush."
The DVD also offers Bonus Features. "Poker Game" is a very interesting discussion about the band's history over a few hands. They cover opening for Muddy Waters, The Rolling Stones in 1972, their songs, the Eliminator car, and of course, girls. "Dallas Show Day" is over six minutes of behind the scenes and the fans tailgating. "Photo Shoot" is four minutes of the band on location. They are both worth looking at least because you can catch Billy without his shades as he is being interviewed for a local news channel and at the end of the day on the photo shoot. Last but not least is ZZ Top performing Jimi Hendrix's "Foxey Lady" from the concert although why it's not included in the set makes no sense.
Live From Texas is a very good DVD and well worth owning, but there are two flaws with it. The first one, minor and brief, is about the performance. Beard makes a misstep with an odd electronic drum noise sounding like a pan flute heard during "Pin Cushion" and "Cheap Sunglasses." The major one is that Milton Lage's direction is horrible. He either didn't understand what he was doing or he left after shooting the concert because the video looks as if editor Marc Schrobilgen was unsupervised and either got paid by the edit, suffers from ADHD, or was on amphetamines while compiling the concert footage because regardless of the pace of the song, no shot stays on screen too long. That's tragic because much like showing a dancer or a fighter, the audience needs to see an artist at work, and here we should be looking at Gibbons in a long shot or his fingers in a close-up as he tears it up on his solos. What we don't need is a shot of him from behind or crowd footage.
Of course, the brilliance of the music more than compensates for the charlatans who worked on this video presentation, but that doesn't explain how so many people could get a producer or executive producer credit yet release such a poorly presented product. The audio is available in Dolby Digital Stereo, Dolby Digital 5.1, and DTS Digital Surround Sound so you can always turn off the monitor and let it play through the speakers and engulf you if you also find the visuals too annoying.