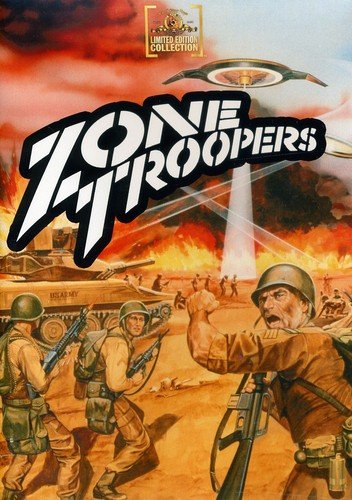 It seems that, if there's a certain movie I want that hasn't been released on DVD yet, all I have to do is find an old videocassette of it and — lo and behold — I find out the very next day that it's due out as part of a Manufactured-on-Demand lineup. It's happened to me several times already, with Zone Troopers being the most recent. Here I was fortunate enough to find a good copy of the film on VHS from the ol' Lightning Video label in a video store one day, only to read the announcement that MGM was issuing the title as part of their Limited Edition Collection the following morning. Of course, I didn't mind: the news was wonderful to hear, because Zone Troopers is a magnificent B-movie from the Charles Band school of filmmaking.
Set in Italy, 1944, Zone Troopers finds four lost U.S. soldiers who are trying to elude the nearby Nazis and make their way to safety. The German forces in the vicinity, however, are not looking for American troops — they're on the lookout for a UFO that crashed in the area (and that was presumably shot down by them), and the alien beings that escaped from the wreckage. Tim Thomerson (no stranger to Band productions or B-movies in general for that matter), Timothy Van Patten (fresh from bombing out in the short-lived TV series, The Master), Biff Manard, and the great Art LaFleur star as the company of Yankees off course behind enemy lines, with several European (mostly Italian) actors filling in as the Nazi menace.
While many "A" movie snobs will no doubt find Zone Troopers to be a silly and throwaway effort, I personally think it's an underrated classic. The screenwriting duo of Paul De Meo and director Danny Bilson, who also brought us The Rocketeer (another great flick), the Trancers series that Charles Band produced (and which Tim Thomerson starred in), and several James Bond video games keep their delightful story very tongue-in-cheek, making way for our military men to fight alongside the aliens in order to defeat ze Germans, and to even punch Hitler in the nose! The usual great Richard Band music score also helps to add the right amount of atmosphere for this science fiction/comedy/war flick, and Glenn Miller's big band classic "In the Mood" is heard over the opening credits.
Thanks to Zone Troopers' midnight-movie status, MGM renewed the rights to the film and subsequently aired a widescreen presentation on Showtime in 2005. Six years later, the title found its way to DVD as part of the Limited Edition Collection, and both the audio/video aspects are splendid ones. The lack of any special features does not warrant any negative reactions from this reviewer, though the fact that the spine of the DVD artwork and the disc itself both read Zone Troppers!
Highly recommended.