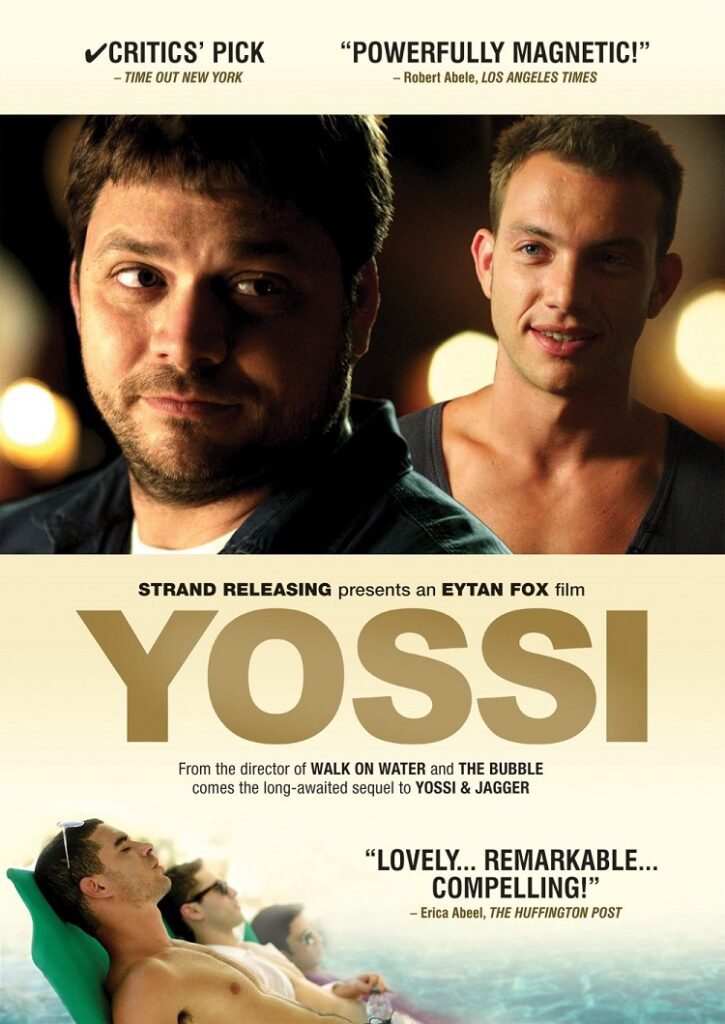 A sensitive, careful and subtle motion picture, Eytan Fox's Yossi is a wonderful exploration of loneliness and longing. This 2012 film is the sequel to Fox's 2002 flick Yossi & Jagger. That picture was well-received for telling a romantic tale about two soldiers at the Israeli-Lebanon border who find relief from the ambush of daily violence.
Yossi is Fox's fifth film and it represents his penchant for careful examinations of romance. It seems an apt continuation of his first project, Time Off. That 45-minute picture was an examination of sexual identity in the Israeli army. It wound up leading to other similar movies in terms of theme, including Yossi & Jagger. That picture led to critical acclaim and box office success in Israel and brought the character of Yossi to life.
Yossi (Ohad Knoller) is now 34 years of age and working as a cardiologist in a Tel Aviv hospital. He is a closeted gay man, for the most part, and is still living through the horrors of losing Jagger ten years ago. To describe his life as melancholic would be an understatement; he lives out his days eluding most social contact, although one attempt at a meeting ends devastatingly.
Yossi feels trapped in his workplace and current social environment, whether it's the nurse (Ola Schur Selektar) attracted to him or the doped-up fellow doctor Moti (Lior Ashkenazi) who wants to lure him into the party regime. Yossi finally decides to take a much-needed holiday. He meets four young soldiers at a rest stop and, drawn to one of them (Oz Zehavi), spends time with them at a resort.
Knoller vividly draws us in to Yossi's wounded existence with a pleasingly modest performance. He is shy and overweight, so he hides from a number of social opportunities despite his lonesomeness. When he does throw caution to the wind to meet someone from the Internet, the fella is not impressed with the fact that Yossi used an old picture on his dating profile.
This meeting compounds Yossi's complications with self-worth and further obscures the good doctor in his angst, sending him spiralling further into himself. This is marked against a sticky summit with Moti and a sloshed girl in a bar bathroom that feels more like rape than anything erotic. But Knoller plays his disquiet prudently, drifting from big expressions of emotion and remaining confined.
Because things are played so carefully and because Knoller restrains his performance well, the minutes of pure joy involving Tom (Zehavi) feel that much more transcendent. Yossi can't believe his luck and struggles with distrust, but Tom's advances have boyish clarity and their romance is a beautiful thing.
Yossi is a graceful romantic film, a rarity in a sea of potent rom-coms that seem to be more about oppression than organic human connection. Perhaps it's the more nuanced approach of Fox that makes the difference or perhaps it's the current of the neon verge of Israeli enthusiasm that drums up life, but this movie is one of the best expressions of humankind I've seen in recent memory.
There are some elements that call back to Yossi & Jagger of course, but viewers will still be able to get an awful lot out of Yossi if they haven't seen its forerunner. The anguish the titular character feels and the solitude it twists him into is a universal sentiment, not something conditional on having details from a previous excursion.
And so Yossi is one outstanding picture. Between Fox's clever and affectionate direction and an extraordinarily delicate performance from Knoller, it's one of the finest expressions of solitude and the value of companionship I've seen. In a world that seems in great need of a little warmth and thoughtfulness, Yossi is just what the doctor ordered.