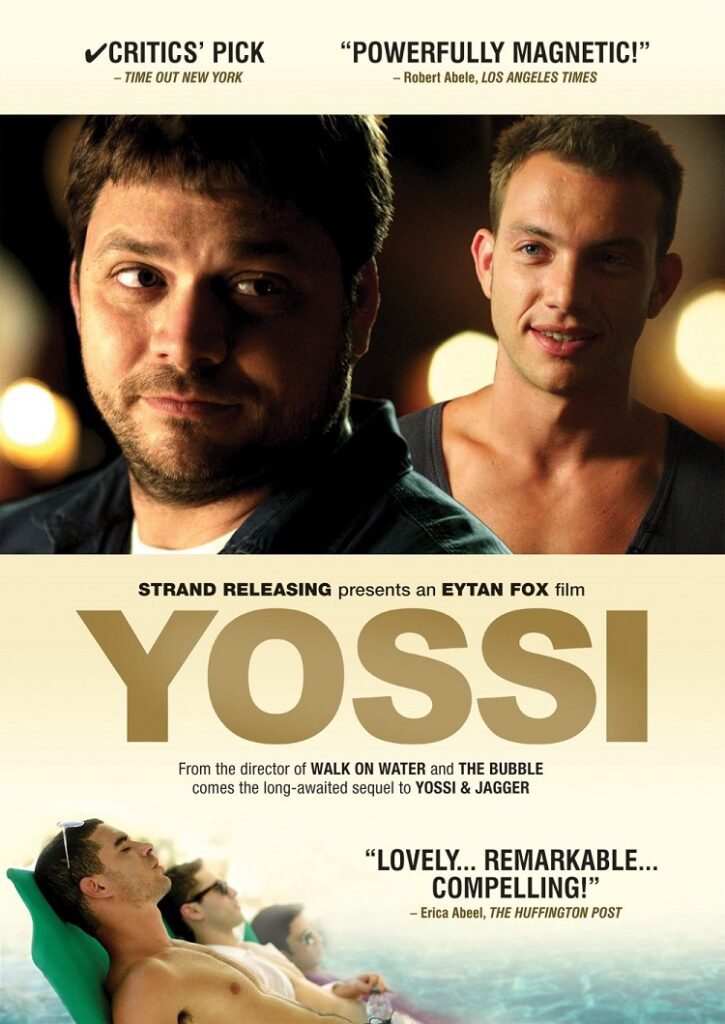 Yossi is the beautiful sequel to Israeli filmmaker Eytan Fox's 2002 film, Yossi & Jagger. The films is set 10 years after the first and looks to find out what has happened to Yossi (Ohad Knoller) after the death of his lover Lior. Yossi has become a cardiologist and uses his work as a way to escape from his life and truly dealing with tragedy. As a closeted gay man, he spends most nights at home cruising dating sites and eating leftovers. Moti (Lior Ashkenazi), a fellow doctor and recent divorcee, tries to pull Yossi into a world of loose women and drugs while his lonely nurse Nina (Ola Schur Selektar) tries to cure Yossi's loneliness through sexual advances.
Yossi's life begins to take a turn when his deceased lover's mother, Varda (Orly Silbersatz Banai), comes in for a routine echocardiogram. Although Yossi seems familiar to Varda, he does not admit that they have met before and keeps the association to himself. It is only after Moti pushes Yossi too far during a night of drinking that Yossi shows up at Lior's parent's house to confess their true relationship.
After outing himself to them, he decides to take a vacation to Sanai. During a quick stop to eat lunch, he encounters four young Israeli officers who invite him to join their vacation in Eilat. Among them is Tom (Oz Zehavi), an openly gay officer who opens Yossi's eyes to a new world and again to the possibility of love.
This is such a beautiful and heartfelt film. Although Yossi is a sequel, the film definitely stands on its own. Yes, the film does fall into the category of gay cinema; however, regardless of sexual preference, Yossi is a beautiful story of loss, growth, and finding love again. The sexuality in the film, while definitely apparent, is not over the top or out of line. The mature and adult subject matter is dealt with in a way that connects it to the larger themes of love and loss.
Ohad Knoller gained weight to truly transform his character from the young pretty officer in Yossi & Jagger into an older man who has not dealt with his loss or his true identity. Knoller is a brilliant actor and embodies Yossi completely. Oz Zehavi plays the confident and openly gay Tom with ease and beauty. Ashkenazi's Moti and Selektar's Nina are each desperate in their own ways but create beautiful juxtaposition to Yossi's struggle. Meir Golan, Shlomi Ben Attar, and Amir Jerassi, who play the other three Israeli officers, offer a beautifully macho contrast to Tom's softer but not effeminate side.
This is a beautifully crafted film in every aspect. Eytan Fox uses music to tie directly into the emotional themes as well as subtle but brilliant costuming to show Yossi's evolution as a man. The settings also move with each character and tell a bigger story to how each lives or fails to live. Fox also does a great job of not placing any one of his characters into an overt type of person. This face gives each character a well-rounded believability.
Yossi is a film definitely worth watching even if you have not seen Yossi & Jagger.. And though some critics may lump this film into a gay cinema category, the experiences of love and loss that Fox depicts in this film are truly universal.