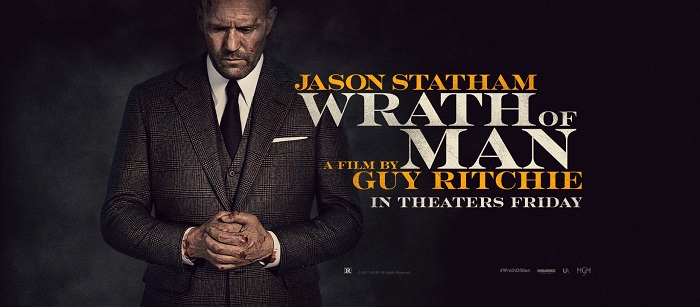 One way to describe Wrath of Man is that it's a Guy Ritchie movie. A machismo action flick with a nonlinear narrative structure that stars frequent collaborator Jason Statham. Devout Ritchie fans who want a simple satisfying action film may be pleased even if it's more of a somber slow burn than his more high-octane previous work. The fact that it has Jason Statham doing what he does best may make this more pleasing for action fans. That being said, Wrath of Man still hardly goes beyond being cookie-cutter action fare.
The story is as follows. A mysterious man known simply as "H" (Jason Statham) takes a job as a security guard at a cash truck company that moves millions of dollars across Los Angeles. One day, while out on the job, H shows a surprising set of combat skills when he and his crew members are ambushed by a band of masked robbers. As it turns out, H's motivation for joining the company is rooted in his pursuit of the bandits who took his son's life. As those bandits aim to pull off one big heist, H looks to settle the score once and for all and seek justice for his son's death.
Things then go as one can imagine. Jason Statham kicking butt and taking names as he seeks justice. Even as Ritchie orchestrates his usual disorderly storytelling style by going back and forth from H's time working for the cash truck company to his life before then to the vantage point of the robbers who murdered H's son, the plot still remains formulaic. In all fairness, when seeing a Jason Statham action film, one hardly goes for the story. You go to see Jason Statham, well, kick butt and take names. He does that as well as he does in his previous action star vehicles except H is a man of fewer words than the likes of Rick Ford from Spy and Deckard Shaw from the Fast and Furious series.
Besides Statham riffing on his action hero persona, the only other actor who manages to stand out in the male-heavy ensemble is Josh Hartnett as H's co-worker Boy Sweat Dave, a man who's casually outspoken and crass yet meek during times of crisis. Then there's Jeffrey Donovan who brings a fair amount of reserve to his role as Jackson, the practical member of the robbers that H is targeting. Meanwhile, Niamh Algar does a fine job as H's other co-worker Dana even if she has little to do besides be the token female among a group of masculine men.
Then again, as stated in the very beginning of the review, Wrath of Man is very much a Guy Ritchie movie. The cast is mostly a sausage fest, there's shoot-'em-up action sequences, the story is told out of order, and Jason Statham kicks all sorts of butt. Only because it doesn't have his usual fast-paced spasmodic editing style, one could say that Wrath of Man is more of a decaffeinated Guy Ritchie movie. It does its job even if it doesn't offer the same kind of jolt that his previous action ventures have.