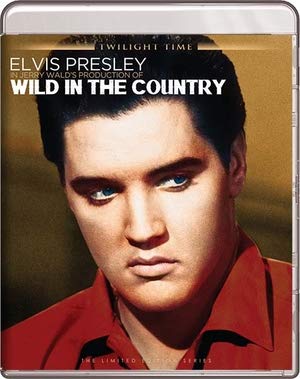 See Elvis Presley run Wild in the Country. Watch him croon as lovely ladies swoon. There's Millie Perkins, Tuesday Weld, and Hope Lange. They're all here, all ears and wild for Elvis. But what's an Elvis film without sinister heavies who want nothing more than to topple the king? That's where John Ireland and Gary Lockwood step up to throw the monkey wrench into Elvis's plans. Wild in the Country isn't actually that thrilling but it is a damn good Elvis picture. 
Glenn Tyler (Elvis) is a juvenile delinquent of sorts. His life with his drunken Pa and brother ain't been so good after his hard-working Ma died. He's a sensitive soul who loves to read and write but he sure as shooting isn't afraid to fight. After beating his brother nearly to death (he deserved it) and fleeing, Glenn finds himself in court where he's assigned probation. As part of that probation, he has to live and work with his uncle who makes "health tonics." Also living there is his cousin (yup, cousin), the sultry and tempting Noreen (Weld). She is a complete contrast to Glenn's longtime girlfriend, the wholesome Betty Lee (Perkins). To further Elvis's girl trouble, his court ordered psychological counselor is the lovely, sophisticated Irene Sperry (Lange). This beautiful widow encourages Glenn to write and explore his dream of going to college which will lead to a  better life, away from the country and all this trouble. She also has Glenn all heart-eyed with her mature, smart self. Quite the dilemma for a talented, handsome, young man.
Standing in Glenn's path are troublemaker Cliff Macy (Lockwood) and Cliff's father Phil (Ireland) who is himself enamored with Irene Sperry. First chance Cliff gets, he causes Glenn grief ever since they were kids. This time, Cliff stumbles upon Glenn and Irene at a motel where they stopped to wait out the rain on their way home from scouting the college campus. There, they get two rooms and only make out once before they tear away from each other knowing it just can't happen between them. Cliff, being the jerk he is of course, reports this back to his father in hopes of making all three miserable (Cliff and Phil have their own domestic issues to work through). Phil then makes more trouble for Glenn and Irene by causing a big public stir which leads Irene to attempt suicide as her reputation gets torn and tossed around town. 
This is high drama, although a bit melodramatic at times. The whole cast does a fine job in bringing Wild in the Country to life on the big screen. Written by Clifford Odets, based on the novel by J.R. Salamanca, Wild in the Country finds a talented, misunderstood young man facing his future in a dead-end small town. He's also torn between three women, a childhood sweetheart that doesn't understand him, a wild-eyed cousin looking to party herself to Hell, and a mature woman who sees more than a lost cause.   
Wild in the Country is probably the last time we see Elvis in a straight dramatic role until maybe Charro! but that's still just tough and cool Elvis with a five-day beard and a cowboy hat. Here, Elvis gets a chance to play thoughtful, sensitive, enraged, and vulnerable; he even stumbles around drunk for a scene. We can see he's settling into his own style, not trying too hard to mimic Brando or Dean as he embraces the role of a young man who longs to be something more than what those around him expect.  
These are very mature, heavy themes for an Elvis movie. Not just formulaic material with mostly throwaway songs added that see Elvis playing the same "tuff," cool character he created on screen with slight variation from film to film going forward. Also setting this one apart is the use of only four Elvis tunes, one for each girl and the title track. "I Slipped, I Stumbled, I Fell;" "In My Way;" and "Husky Dusky Day." All of them are down played and not major productions aside from the opening song. "In My Way" employs just an acoustic guitar while "Husky Dusky Day" is a quick a capella duet with Hope Lange. 
Twilight Time, now defunct, provides a fine eight-page booklet but not much else besides their standard isolated music track and the original theatrical trailer, which is fine as there is always plenty of information easily available online and in print for those wanting to know more about this or any other Elvis movie ever made.  
Wild in the Country was made before the scripts became all the same with slight variation before Elvis perfected that on screen persona he'd play repeatedly with various women and more crappy soundtracks. Some of those movies I truly like and enjoy but Wild in the Country is different in the subjects it explores and the limited use of Elvis songs. The supporting cast is strong and helps fill out the story of a hopeful, young writer who longs to stop living Wild in the Country.